Confo critique please.
---
This is Honey my upcoming 6yr old, NZ Standardbred mare. The last time I posted a critique was when she first came to me and she was incredibly thin and still in an awkward stage.
She is a late developer... so I've noticed she has had a couple of growth spurts over the last year. Her half brother was the same and didn't really stop growing until he was 6.
Things to take into account...
- I know she's obese. She hasn't been in work since March because I fell off her and shattered my leg in a freak accident. We didn't expect to have such a brilliant spring growth this year, so she came out of winter a tubby horse... and despite being on nothing at the moment she's still a porker! She'll be off for re-training soon so she'll lose it with regular exercise. So please, I don't need to hear how much of a porker she is, it's well known!
- I hope the uneven ground isn't TOO bad to critique from ... I don't have a concrete area.
- She has had seedy toe in both front feet, hence why the farrier cut it out. Her feet were just done last Friday.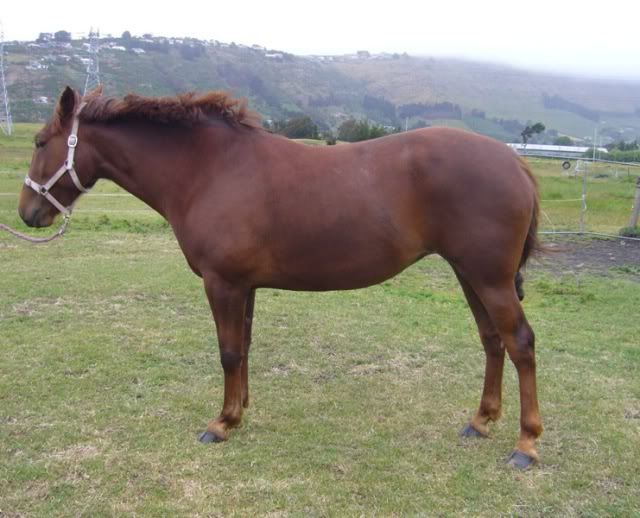 Sorry I couldn't get her square in behind... every time I walked off to take the photos, she'd move away from my friend to try and follow me. :roll:
Thanks for stopping in. I know a few of her faults (heavy on the forehand, straight backed, toes out, etc) but would like to see how she is in the eyes of someone who ISN'T heavily biased
x
---
♥ Seoul Searchin' for the Lovebug ♥
Whats her breeding?
---
R.I.P Red aka The Man Himself 1996-16.01.08
She's a Live or Die horse.
x

---
♥ Seoul Searchin' for the Lovebug ♥
I don't know much about how a standardbred should be conformed but she looks to have pretty solid conformation to me. Other than toeing out a little bit in the back, her legs are nice and straight and she looks very healthy (despite being a little fat LOL).
---
Always remember that feeling of looking at a big, open country over the ears of a good horse, seeing a new trail unwind ahead of you, and that ever-spectacular view from the top of the ridge!!! Follow my training blog:
http://robertsontraining.blogspot.com/
Will do the confo judging after but just wanted to say that i dont think she is "obese" seem to be quite good weight :)
Thanks Hayley... she's a bit of a porker though... would like to see her lighter... she'll get there :) Not her fault she's been left as a paddock puff most of the year cos it "just ain't Mummy" climbing on her back lol.

SMROBS - Most standardbreds these days aren't typical to their breed. They're supposed to be long faced, heavy in the shoulder, and I forget what else :P The Standardbreds in my areas can look like TBs, crossbreds, large ponies etc. So it's hard to say she should look like this certain type, because they've become a versatile looking breed!
---
♥ Seoul Searchin' for the Lovebug ♥
I don't really notice anything major...someone more experienced might be able to point out a subtle flaw, but then again...this is something all horses have, lol. I like her quite a bit. How tall is she?

Also, I feel ya on the broken leg and not being able to ride. I had the same thing happen to me about a year ago, but it was from a skiing accident. Stupid tree. :p
Her back end is a LOT higher then her front end..
I dunno anything about this breed so I'll say no more lol
---
a silent night,wen friends are few,I close my eyes nd tink of u.A silent night,a silent tear,a silent wish dat u wer here♥ Is maith liom cąca milis:) lol
Chesire, thanks! Yeah most of her things are "minor"... she's a pretty solid wee thing. Last time I measured her, she was 15hh... but that was when I first got her last year. I don't think she'll be much higher than that now... her barely existent wither (like her bro) seems to stay around the same height haha. My older mare was 15.1hh (and a half) and she seems noticeably taller, so who knows lol. Ouch on your skiing accident. Mine was pretty bad... can't believe two minutes can completely change your life!

Sillybunny, thanks! She's my baby so I'm glad others can see she's nice too. My gelding is quite the looker and so she tends to be brushed off when they're seen together. Poor Honey Bee.

LaurenOscar, I can see where you can get that from... its not "a LOT" however I don't believe. She is straight backed and so the slope down to her wither does make her look quite bum high. I think half this issue is because she has a lowly set wither. The wind blowing her mane over that area doesn't help much either haha! Thanks though for your contribution :)

Thanks everyone :)
---
♥ Seoul Searchin' for the Lovebug ♥