Confo questions/confo lesson for me
---
This is my daughter's leased paint Romeo. He's 20 years old, a mix between western pleasure lines and cutting lines. His mom is still alive at 30, so he's got longevity on his side. Super sweet personality. She is using him for Western pleasure, equitation, trail, showmanship, and potentially English pleasure and equitation. He has always had a fast trot, but recently my daughter has been able to get him into a beautiful WP jog. He's struggling to go back to an English trot, but he manages. He is a perfect first horse for my daughter because he adores her, and is very willing to learn. I wish I could find his personality in a horse 5-10 years younger. I had to take side shots for fair registration, so I thought I'd ask you guys for some conformation feedback. I read nearly all the confo threads, but I feel disconnected because I don't know these horses, but with the horse I see 3-4 times a week, I thought it would be helpful for me to get some feedback. I have been reading the conformation columns in "Horse and Rider" and "Equus" each month, almost religiously. I find this fascinating and am finally able to look at a horse and start to see the angles, but I'm not at the point where I can tell if they're good or bad.
In one picture he looks kind of roach-necked, but he's not...he has a thick, short mane and it was windy...I hope I did an okay job with the pictures.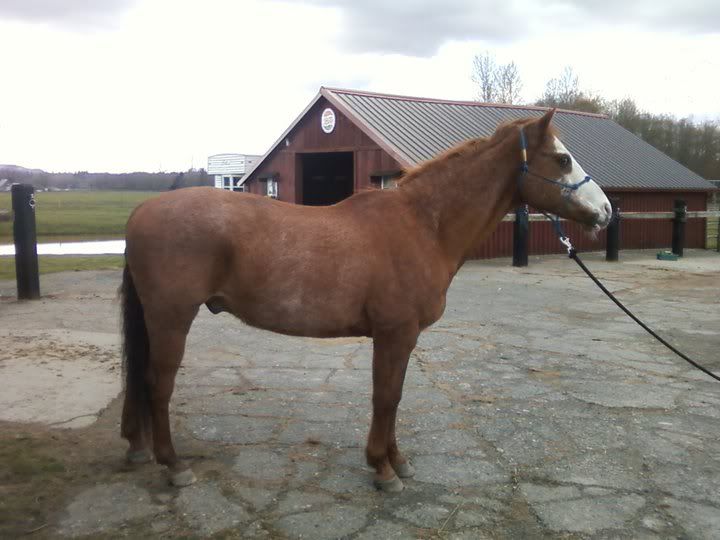 I appreciate any feedback, education you can give me. The first horse buying days are around the corner and I want to be well prepared when I start looking. I'm a learning freak, so I will soak up the information.
---
Joni
---
Last edited by Fowl Play; 04-20-2011 at

10:04 PM

.
Oops,forgot to mention he's 14.2 hh and weighs about 940 lbs. He's been stalled all winter, but worked 2-3 times a week so he's in reasonable shape.
---
Joni
HI mom,

Here's what I see:

He has a nice neck which ties in well to a good shoulder with nice slope to it. The neck is of a good length to his body length (the ratio looks good) and he has a reasonable throatllatch. Being a Paint, it's not going to look as svelt as a throroughbred. He has a cute face!
His back is a good lenght and fairly flat. You will see some negative things about his conformation when you look at his hind quarters and how they tie into his back. Do you see that there is a slight "bump" just ahend of where his pelvis joins his back? It's in front of the LumboSacral joint. This , and the way that his pelvis is very flat (look at the angle from the point of his hip to the point of his buttock and you will see that it is closer to parallel to the ground than would be optimal) His croup is flat and you can see how his tail sits more on a flat surface than on a more vertical one? Flat croup. His stifle is very vertical and the thigh bone to hock is also extremely vertical. VEry post legged. Very! This means he cannot easily reach very far under himself, and may have something to do with why he trots quickly. Since he cannot fold his legs well and reach up and under himself, he cannot carry himself in balance while in movement. He relies more on falling forward and catching himself (the basic mechanics of walking or trotting) and this often means that momentum builds and he has no way to deal with this shift of forward momentum , except to speed up to try and maintain balance. Thus, the rushing forward syndrome.

His canon bones both front and rear are good and short and the hock is a little higher than the knee (good). Pasterns are shortish and good angle.

So, other than the flat croup and postlegged hind, he is sturdily built.
I've noticed his funny bump! Thanks for the info...I've already learned some. What do you mean by post legged? Straight up and down? I sort of notice that. He does not get under himself well.

He does have the most adorable face and always has such sweet expressions. For a 20 year old, he's still playful and curious. I'm eager for more info and comments. I can't wait to look at him in person after reading this. Learning learning learning!
---
Joni
Yes, post legged is what it sounds like. Normally, the hind leg is a bit like an accordian; the femur is the first fold (from hip to stifle or "knee"), the thigh bone is next fold and the canon is the third, with the sitifle joint and the hock joints allowing the leg to fold closer togehter or open out straighter , like the accordian. If the leg at standing is already really straight, then it has less range of motion than a leg that has bigger folds built into it.

He is a good horse for what he does and personality counts for ALOt!!!!!
Overstraight hind legs. Bit of a hatchet neck. Good bone. The very best feature of this horse is his coupling from his back to his croup. It is VERY strong. Note that he is 20 years old and not a hint of a sway back. In addition, he has very low set hocks which is excellent. His pasterns are a bit short, but for his size and type they are fine.

Honestly, considering his age he is a really good horse. He fits together well. Somethings I might not like have to do with my prejudice toward a more dressage type horse like a warm blood and have nothing to do with this nice quality little gelding.
---
There is something about the outside of a horse that is good for the inside of a man.
~Winston Churchill
(or woman!!!!
) Dinosaur Horse Trainer