Conformation
---
Just interested to see what yall think of my palomino Qh gelding. He is turning 17 this week. Just a trail riding horse, no showing, I just want to see what everyone thinks! :) And sorry if the pics are huge..
First two are after his bath today: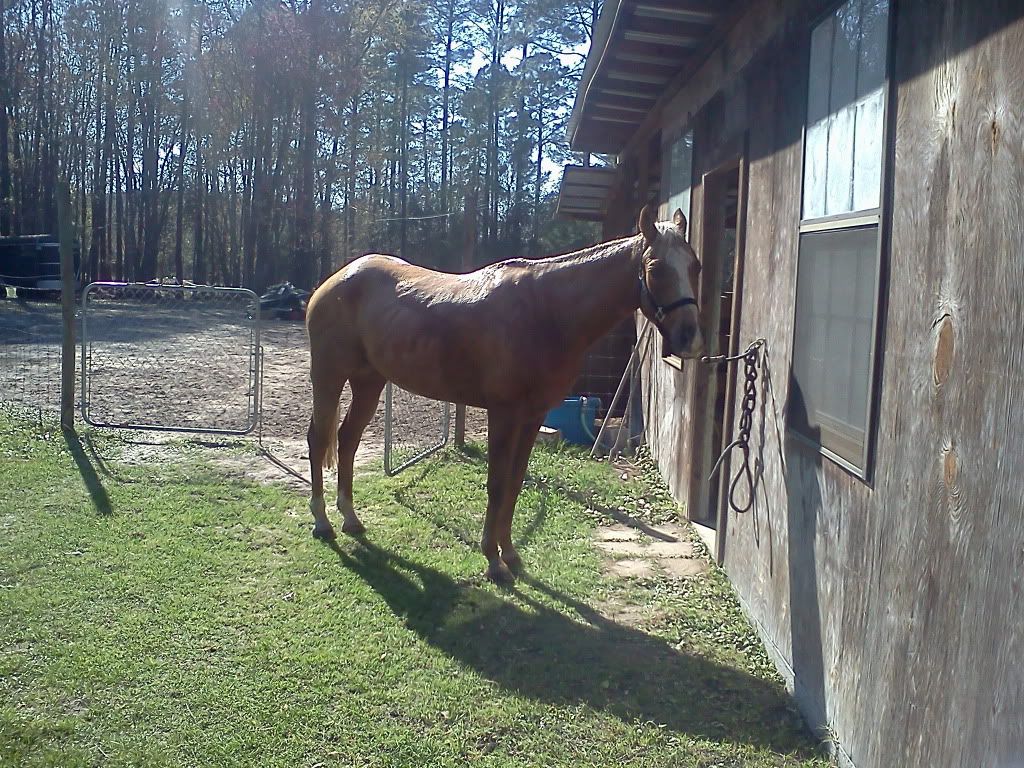 One of the first days at the new barn, in January: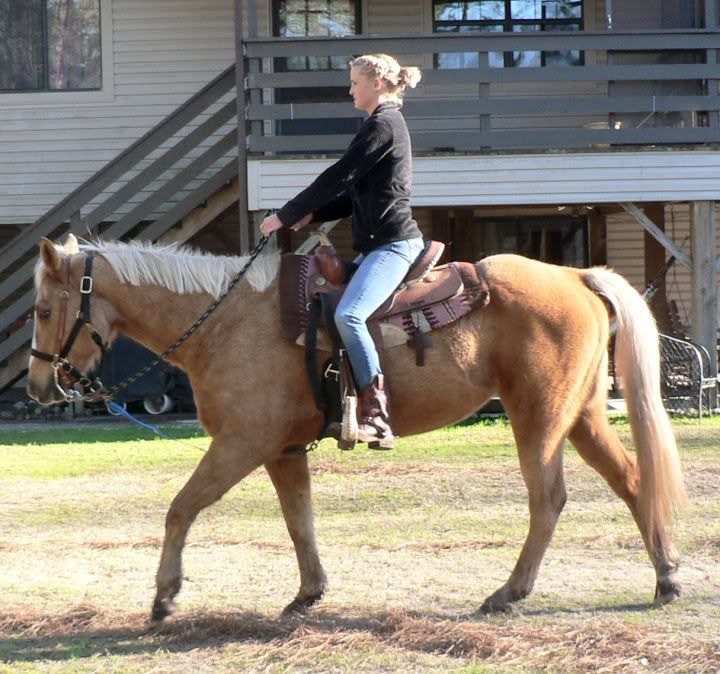 He has wonderful color and seems like a patient hrose. Looks "wise", as many older horses do.

His back legs are pretty "posty" and his LumboSacral joint (where spine meets pelvis) is pretty far back and a bit behind the point of his hip (means it might be a bit harder for him to tuck his pelvis under as is done when hind end "engages"). His back is a little long. Front legs are very nice and straight, pasterns of good length and angle. Large feet (good!) a lovely head, neck a little thin, shoulder good and beefy.

I think he is a lovely horse and you two look made for each other!
Green Broke
Join Date: Jun 2009
Location: Was in Ocala, Fl Now In West Union SC!
Posts: 3,175
• Horses:
1
along with what Tiny said your sadle is way to big for him. It's really crushing down on his withers. A thicker pad might help.
OMG!! you are so right!!!! I didn't even see that I was so focussed on the naked horse in above pic. That saddle will undoubtedly be making white hair marks on his wither. It is WAY too wide, and to be honest, I doubt adding padding will correct it.

My friend had a new lease horse last summer and when she proudly showed hi to me tacked up, the first thing I noticed was the exact same saddle fitting issue, and in fact, it was a very similar kind of saddle, a Billy Cook barrel racer.

She took it off, rode him bareback for 2 months while custom saddle was being made and did chiropractic too. Dakota was very girthy and was acting up something fierce at saddleing time. he has finally settled down into new saddle but it was a long haul for her and him.

Please look into this. Can you put two fingers under the fork of the saddle? (the arch from which the horn comes out of)?
Look at his withers, do you see white hair spots?

Get back to us and tell us what you find.
Agree with everything Tiny said in her critique. I also see the issue with the saddle. Using a thicker or cut-back pad will work as a quick fix for a while, but you should really look into getting one that fits him better. He'll be happier in the long run that way.
---
Always remember that feeling of looking at a big, open country over the ears of a good horse, seeing a new trail unwind ahead of you, and that ever-spectacular view from the top of the ridge!!! Follow my training blog:
http://robertsontraining.blogspot.com/
I know you didn't ask for tack critique, but your tie-down is both too tight and unsafe--you need to use a breastcollar to run the strap through. Does he even really need the tie-down in the first place, though? Looks like a quiet, agreeable guy. And the saddle, as others have said, does not fit.

In terms of conformation, adequate although just the tiniest bit ewed neck, nice enough shoulder, fine front legs. Longer, weaker back and he's lacking condition. I'd love to see him put on just a hair of weight and gain a bunch of muscle along his topline. Steep croup, weak rear, straight through stifles and thus lacking impulsion. Perfectly suitable for trail-riding, though.
I've never had anyone point out the saddle fitting problem, but thanks for pointing it out! I am in the process of trying to sell it to get a trail saddle right now. He has never had problems saddling or while riding, so I've never thought of it as a problem. This is why I am on here, to get that help. :)

I've never noticed white hair marks on his whithers but I will look for that next time I am out there, which will probably be tomorrow.

He doesn't usually need a tie down, some days he likes to be a pain and throw his head way up, but I have loosened it up since the pic.
Amp, You are a good sport! Your horse will thank you. If he is tossing his head, it could be due to discomfort. If a horse is ridden in a saddle that puts a lot of pressure onthe whither bone for a long time, the nerves there can actually die, so there isn't pain anymore, but you don't want dead nerve, then soon you get atrophying muscle tissue. He is a sweet horse and I love your avatar picture , as you look so natural on him bareback.
Thanks :) he's pretty lazy most days. Since we have moved him back to his girlfriend's barn he's been happier and has had more energy, haha. I love riding him bareback so I am just going to do that until I am able to afford getting a saddle that fits him better.
Okay so I measured parts of the saddle yesterday, hopefully the right way, and it's 6 1/2 inches wide. Is that normal or wide for a saddle? Semi or full qh bars?

I will put pics up later that I took while measuring to see if I did it correctly.