I think this guy is pretty. He's famous! lol
Sorry I don't really get this at all. :roll:
---
WHATS REALITY?
Warmblood Stallion.
Sorry, I couldn't find anything. I just looked something up on google, and used it.
Here are a couple of possibles:
#6
Appaloosa Stallion
#7
Quarter Horse
#3 - hard to critique from photo. Very nice though!

#4 - He is famous :) I was going to ad him, but the photo I found had his name. I think his throat-latch is quite thick.

#5 (warmblood) - He has quite long pasterns. He is still very handsome though.
#3-slightly thick throatlatch
#4-Maybe slightly downhill???
#5-looong pasterns. Otherwise near perfect.
#6-Gorgeous! His rump isn't as rounded as I would like, and maybe he has small feet, although it is hard to tell from this pic.
#7-Not as impressed. Short necked, small head, slightly downhill.

Ok I have a mare who has awesome conformation, if I can I will put some pics on today!
#8 My Horse Shes a 5 yr old Morgan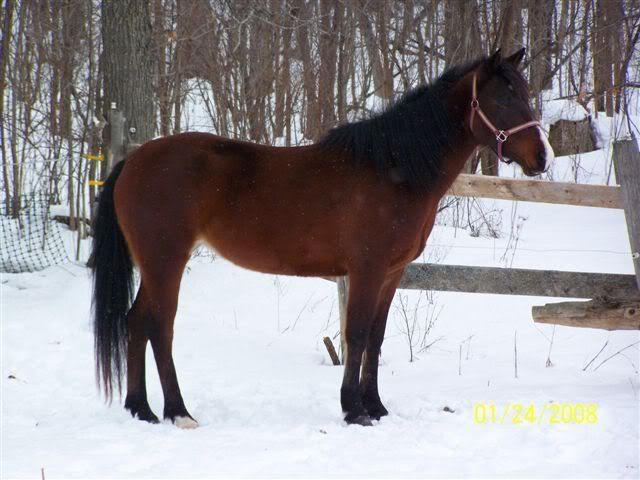 #8-Her withers are slightly higher than her rump. I don't like her hip, it's very small. She is a cutie though.
i noticed her hip was small and i think thats her mane thats sticking up
she still has growing to do lol shes 15.2 now still growing
#9
I saw this picture and just fell in love with him.
His name is Corrado USA
Stats:
born: 1993
height: 16.2hh
Imported Grey Holsteiner Stallion
He does Dressage and Jumping
#9-WOW! I'm going to be very anal and pick him apart just so I can find a fault. His withers might be ever-so-slightly higher than his rump. And his throatlatch is a tad thick.