I did notice his throatlatch, but thought it might be a characteristic of the breed, as I've never seen one in person and i believe that was the first picture i saw of a horse like that.

I didn't really notice his withers tho.

Trying to draw a straight imaginary line with a mouse, is next to impossible for me.
I may be imagining the withers, but his throatlatch is rather large. I'm not familiar with the breed, though.
I'm going to do a bit of research and see if i can find anything about their throat latch
From the looks of it, Holsteiners that are either imported and from Germany, have the thicker throat latches, and horses that are in the US ( like they were born here from an american mom) seem to have a thinner throat latch, but i could be wrong.
There's not a lot of information on that.
#10
6 year old
15.1
Quarter Horse
Mare
#11
http://ushja.equine.com/Horses/ad_de...782cd698af&p=6
***won't let me copy the pic***
#12
Gypsy Vanner
7 years old
Mare
Thats all I have for now...I will do some more searching when I am done with Homework
---
It is not just a horse,
It is the one thing that keeps me from being just a girl
Ooo! This looks like fun!
My two cents:
I get the impression (I may be wrong) that a finer throatlatch is more of an American concern than a European one, if you know what I mean. I never hear people complaining horses' throatlatches are too thick here or in Europe, whereas people from the US I speak to always have this concern, and have practices such as 'neck-sweating' I'd never even heard of before.
Likewise Europeans/Brits mainly often like a larger, straigher-profiled head - it's even desired in some breed/type standards. There seems to be a big demand for fine, often slightly dished profiles in the US.
I've got some pictures of my 'ideal' conformation. They're a bit different to the rest of you guys!
I trawled the web for mountain and moorland champion pics...so much choice! It was really hard to choose my favourites so I'm sorry if there are too many.
We're on number 13, right?
#13
Welsh pony stallion, Rotherwood Casino Royale, British champion
#14
Welsh gelding, not 100% on which section but he's pretty nice. He's given as a breed standard illustration in a lot of places.
#15
Misty Mountain Brynmor, welsh cob stallion.
I love this guy. Plus he has colour. And look at him MOVE:
http://www.wowelsh.com/bryn.htm
#16
Welsh cob stallion, Solstice Blaque Knight. I only found this guy today, but I quite like him. Not QUITE as nice as Bryn, though.
#17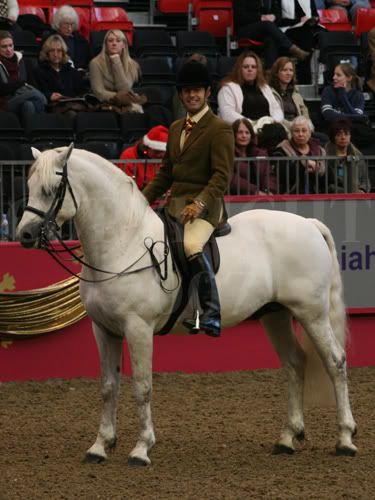 Didn't get a straight on side shot of this guy, but he's connemara stallion. He won champion mountain and moorland at this year's London International Horse Show (Olympia).
Sorry there are so many! I'm terrible when it comes to photos...
Nice picks! I am having a hard time finding faults on some of these guys....others may see more. :)

#10 - hard to tell from picture size, but maybe a little back at the knee? neck a little short? Please disagree if you guys think I am wrong. :)

#11 - very nice! Something looks funny about her crest, but I think it might just be her mane.

#12 - A little butt high?

#13 - nice! can't find anything. Anyone else?

#14 - It might be the photo, but there is no definition at the tie in of his neck and chest - they sort of blend together, and his chest looks quite flat (if that makes sense)

#15 - I know he is a stallion, but his neck is quite thick. Also, his pasterns look a bit on the long side. Is he toed out in the photo a bit on the front right?

#16 - I don't have the eye to see faults here :) anyone else?

#17 - hard to tell from photo, but again his neck and tie in is a bit on the thick side. Could be the breed? Is he toed out in back just a bit, or is that the photo?

Whew! This is fun :)
#10-Theres something about her knees, I think she is a bit under at the knee.
#11-Downhill build, small hip. Nice neck though!
#12-Very small hip for her body, and short neck.
#13-GORGEOUS!!!!! Can't see anything AT ALL! He's very close to ideal! I love welshes, too.
#14-A bit pigeon chested, otherwise very nice.
#15-Maybe a bit downhill, his neck's a bit short and thick for my taste.
#16-Not a fan of his hip, and his neck is rather thick and short.
#17-Hard to critique, very nice from what I see, though.
Very nice picks! This is very fun!
Oh my goodness--you guys are good! I know a good looking balanced horse when I see one--but I can't tell you what is wrong when there is!! GOOD JOB
So far, #13 is the only one that has not been challenged! :)