I'm not challenging #13, but i don't really like his back how it like swoops in. But it's not like anything bad, just my personal taste.
Just a note for Warmbloods:

Many people actually look for a horse that has withers slightly higher than the hindquarters, as they are built uphill and can easily get off their forehand :)
---
The lovely images above provided by CVLC Photography cvlphotography.com
Here are my entries:
#18: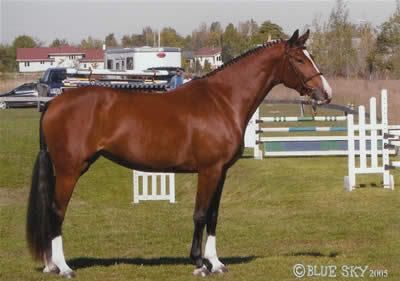 2002 Dutch Warmblood Mare
#19
1995 Dutch Warmblood Stallion, 16.3hh
---
The lovely images above provided by CVLC Photography cvlphotography.com
#18 and #19 look pretty nice! I have looked back at them several time to try to find a fault that I could comment on.

#19 - pasterns are a tad long maybe? And, his hooves look weird to me, but I am sure that is just the farriers style.
#18
VERY nice. There's something I don't like about her stifle/gaskin though. It looks long and weak. Could be lack of muscling - she doesn't look unfit but her legs look very slender in comparison to the rest of her. Then again, she's only a babe in the pic and not in work yet. I'd love to see her now she's all grown up.

#19
The way they tilt pictures to make a horse look more uphill makes me suspicious. He doesn't LOOK downhill, but then again why do it? It makes the horse look worse, not better. Arrgh. /rant
His pasterns do look EVER so slightly long/weak. Not as major thing. Shoulder could be better, but overall he's gorgeous.
20- Gayfields Miss Lydia Pinkham-section b mare
shes the blood bay
21-Kentchurch Chime-welsh cob stalion
22-Carolinas red fox-section b welsh stallion
---
-Audrey
Okay, I am by far not a conformation expert, so others feel free to jump in with critiques :) :)

The new pics are all Fabulous!

#20 - the photo is pretty small, she is really pretty! No faults are popping out at me. Others have a stab at her. :)

#21 - I know he is a stallion, and it might be his breed, but his neck is SOOO thick right near the tie in to his chest.

#22 - I don't know if it is shading or something, but he looks really disproportionately thin at the flank area.

#23 - (posted by arastrangrider) Gorgeous!! I am not sure of the breed standards for Arabs, but the croup/rump area is supposed to look like that right? I cannot see anything wrong with that beauty :) I love looking at Arabs.