i don't know if this is an idea but can you make a trailer?!

Sounds like hay isn't the best over there but wish I had hay that cheap here!....big bales go for like 12 a bale...not bad but more than I like to pay..we have 60-70 lb bales of super green clover hay that smells amazing!..it was 5 a bale..more in my price range but I have paid 10-11 a bale before.
she has a knife neck, maybe a little high in the front, but other then that i think she looks great nice slope to her bum, nice legs ans strong back.. and oogd job buying her from an auction, you might have savd her from a sloughter house.. i always go for those kind of horses :)
Green Broke
Join Date: Oct 2010
Location: Some times Llanelian - North wales, sometimes Hull in East Yorkshire (UK)
Posts: 3,679
• Horses:
5
Quote:
Ok, I have to disagree with several posters before me. This filly is not cowhocked or camped under. In fact, her legs are her best feature. Her front legs are very straight and neither too narrow not too wide. Pasterns are normal, if the tiniest bit long. Angle is good, hooves look good.
Erm actualy to me she looks extremely upright in her shoulder, she looks to be Back at the knee and upright through her hocks. To me she does look camped under.
I would not have given her a second look.
I agree that her quietness may be due to lack of food so please be careful whilst feeding her up.
I also agree with the other posters that she looked better before.
---
RIDE your horse FORWARDS and keep him STRAIGHT


Do you feed your horses separately?
---
100% Anti-Slaughter and PROUD of it!

I don't know where you are in NC, but there are companies that rent out trailers by the day from about $35 a day.
Trailer Rentals - Trailers of the East Coast
If that is not close to you, do a google search for your area.
i'm near the Hickory area. honestly renting trailer never crossed our minds. but i'll definitely pass it along to my mom! yes we feed them all seperately. when it was warmer we waited around for them to eat. now we just give the slower eats their food first, wait for them to get half way done and then give the rest their feed and then get outta the cold quickly.
---

Baby, Sparta, Carmen, Henry, Hooch, Mercedes, Butterscotch
ok. so to set everyone straight. i am getting pictures uploaded to photobucket now. to show you guys these horses that ARN'T mine and are very skinny, the ones that i can't really do anything about.. idk what to do about them. and also the newest conformation type pictures of MY horses to show that they ARN'T skinny and are taken care of.
---

Baby, Sparta, Carmen, Henry, Hooch, Mercedes, Butterscotch
I don't think she is horribly skinny, skinny but not to the point she looks neglected. I agree with everyone that she looks different from the auction pics. Davinci started losing weight because I was free feeding and the mares were picking through all the good stuff (alfalfa) in our hay and then chasing Davinci away from his hay before he could get it. So we have to feed him by himself once a day.

We'll probably ending up feeding them seperatly for every meal once the pregnant mare is in the herd just in case.
---
100% Anti-Slaughter and PROUD of it!

yeah. in any case if that happened Adelaide would be the one chasing the other mares away and taking their feed.
here are the pictures of the other 2. snowflake and Red
Snowflake is Sparta's mother and while Sparta is mine. snowflake is not. and idk what to do to get her owners to take better care of her. and it looks bad on us as they are in the same pasture as our horses.
so here is snowflake when we first recieved her fat and sassy while pregnant. and do remember that snowflake is well into her 20's possibly late 20's
When she first came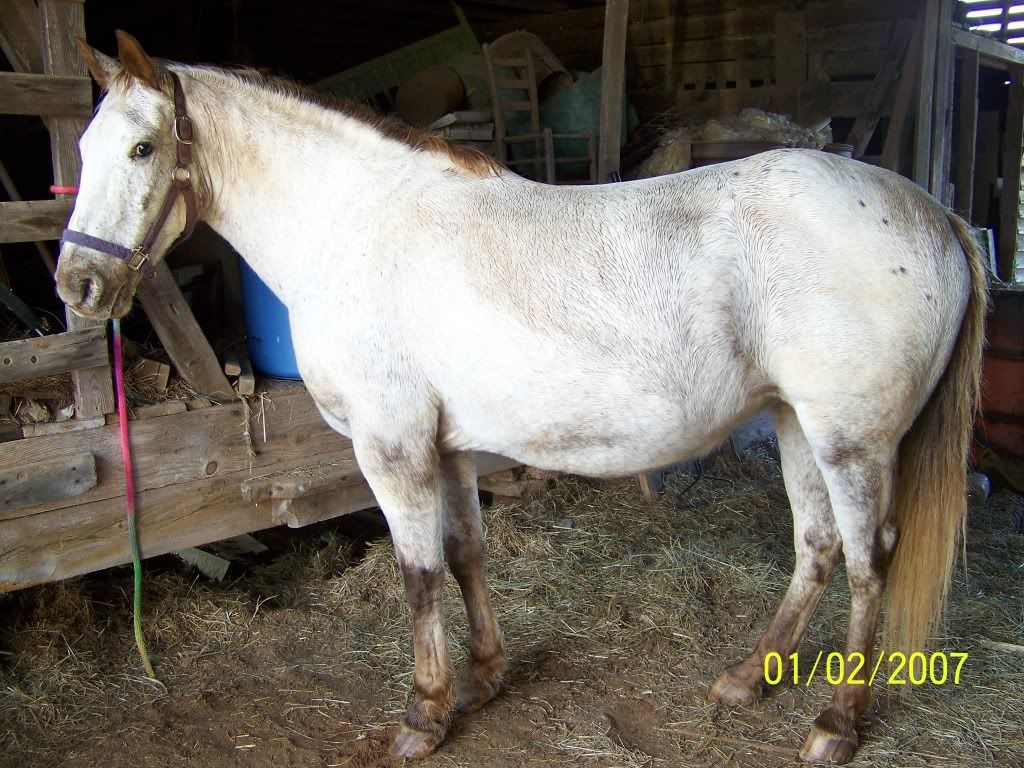 Even a Cresty neck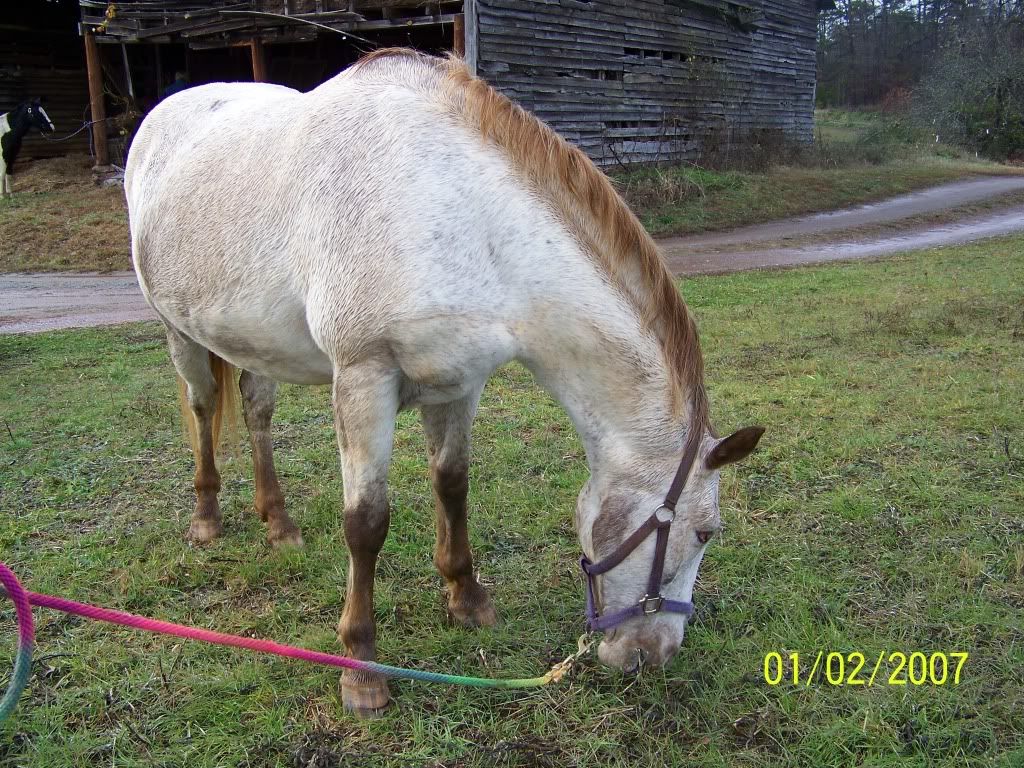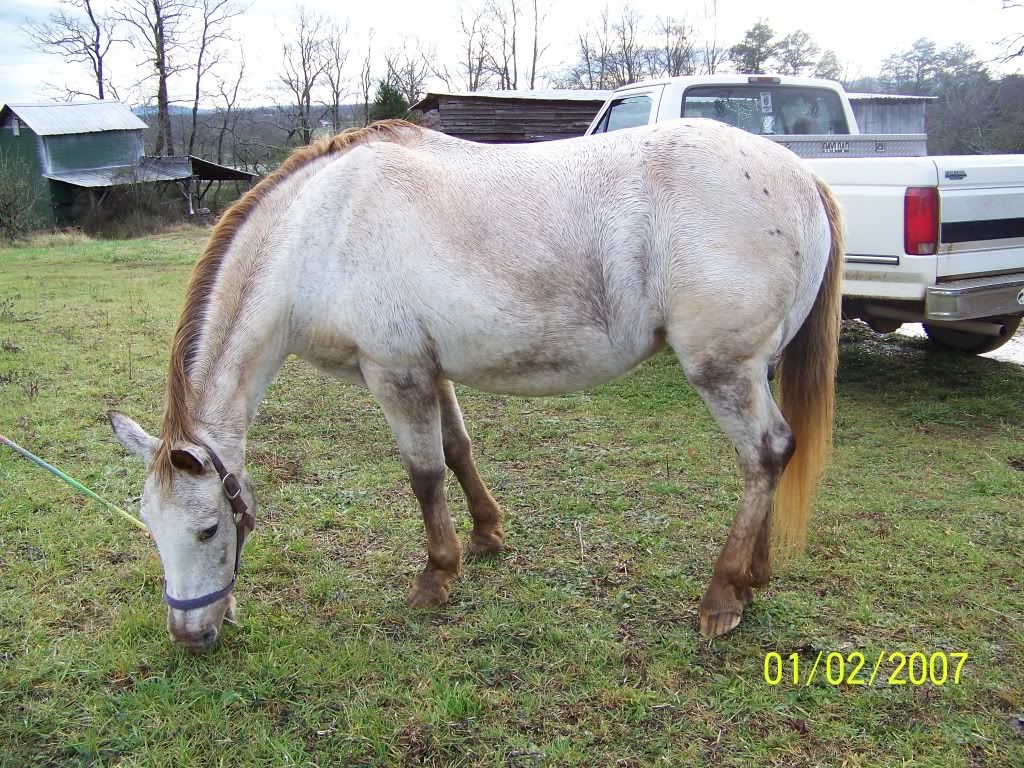 she was in our care here as she was pregnant with my foal. so technically here she was my horse. after March 9th when Sparta was born they had care of her. and this is what happened, this is what she looked like about 4 months in their care.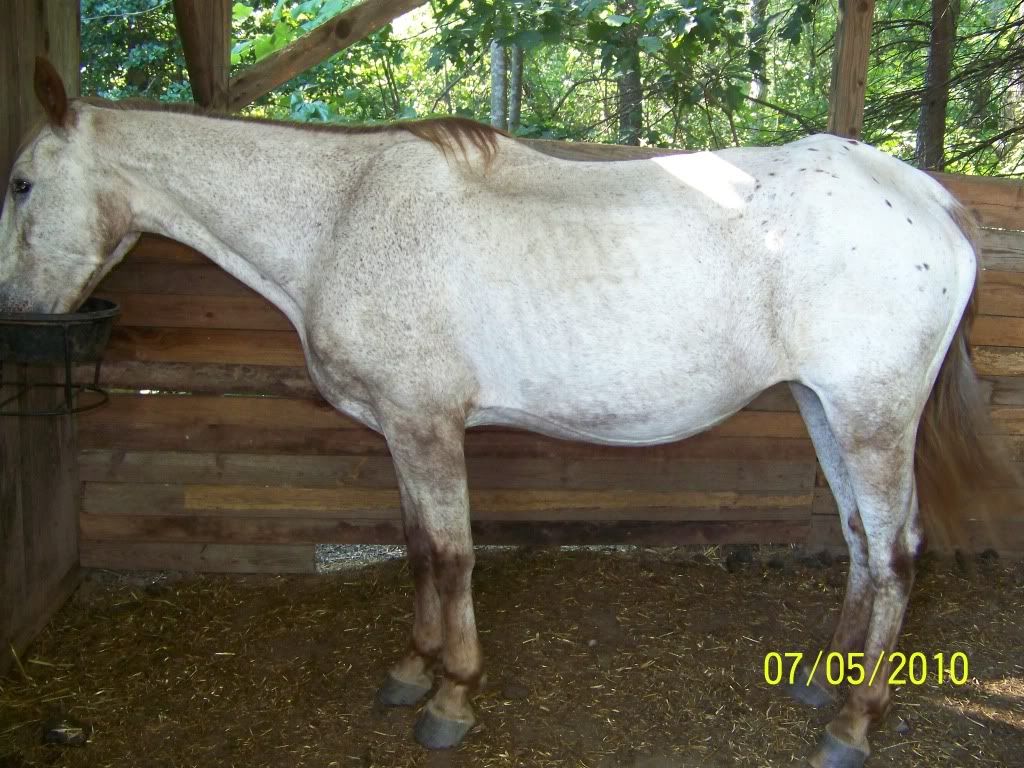 we offered to move her to a huge 25 Acre pasture and pay 35$ a month US pay for HER horse to gain weight because of the poor thing. and they told us no... after she got so skinny i thought she was going to die we just took her there and paid, and told the lady after we moved her. she was not happy, and after a month of them being over there she brought them back. while they were there (snowflake and red, i'll get to him later.) they gained about 100-200 pounds, here are the pictures after they were there about 2 weeks. mind you the picture above isn't how she looked WHEN we took her there this was about a month maybe a little less. she got ALOT worse than the picture above. these next pictures are after 2 weeks of being at the 25 Acre pasture. so they had put on a little bit of weight and were beginning to look better.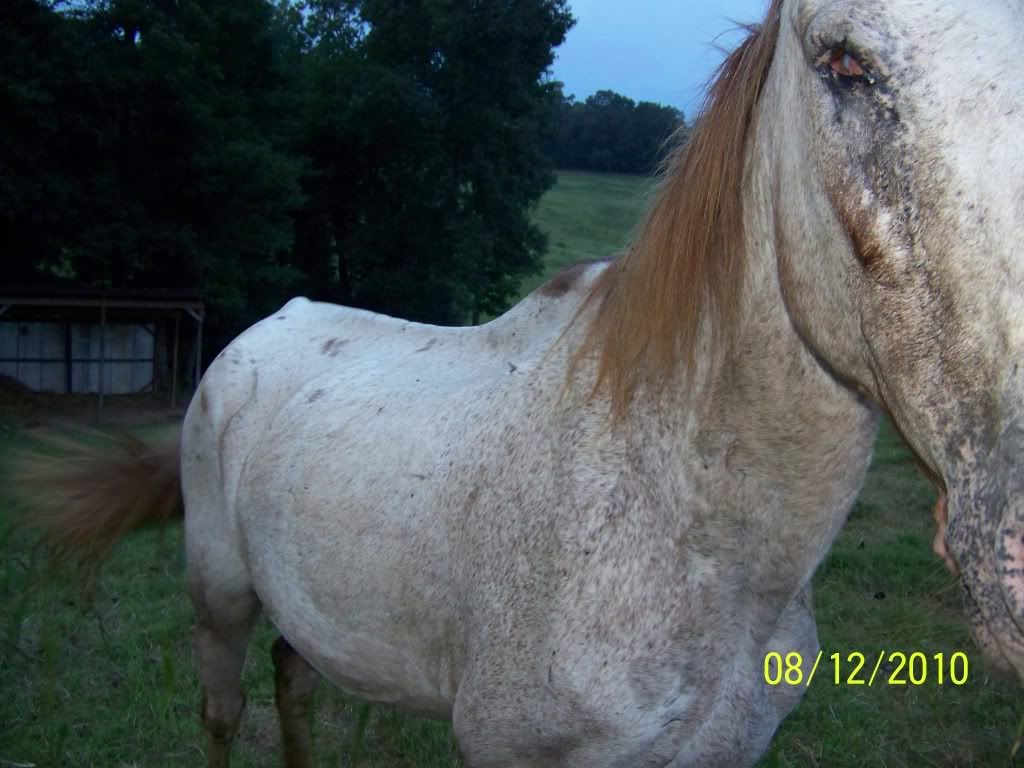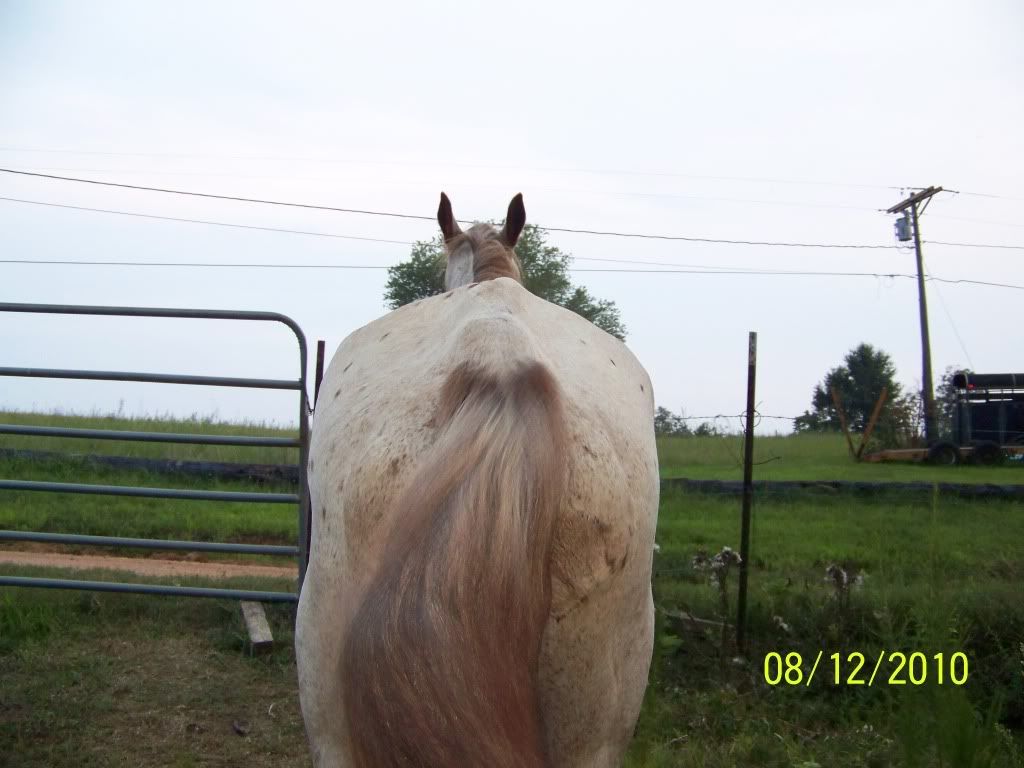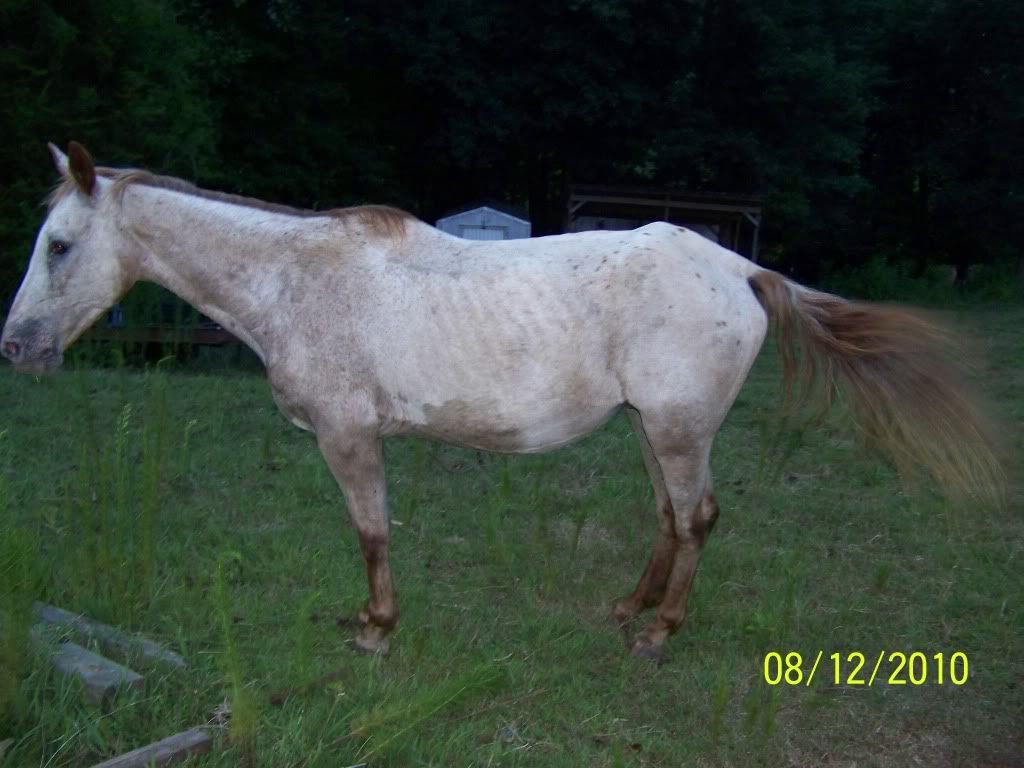 And here are her Neglectful owners riding her. when she is so skinny..
i'll post Red Next.
---

Baby, Sparta, Carmen, Henry, Hooch, Mercedes, Butterscotch
i don't have any pictures of when they first got Red, but they bought him skinny from an auction for 190$ he was super skinny and some huge lady was riding him, but they bought him because he was cheap and "well behaved" when actually he's a pig and a bully. the only pictures i relaly have of him are from after he was at the 25 acre pasture for 2 weeks. and pictures of them riding him when he was skinny.
here are the pictures from the 25 acre pasture.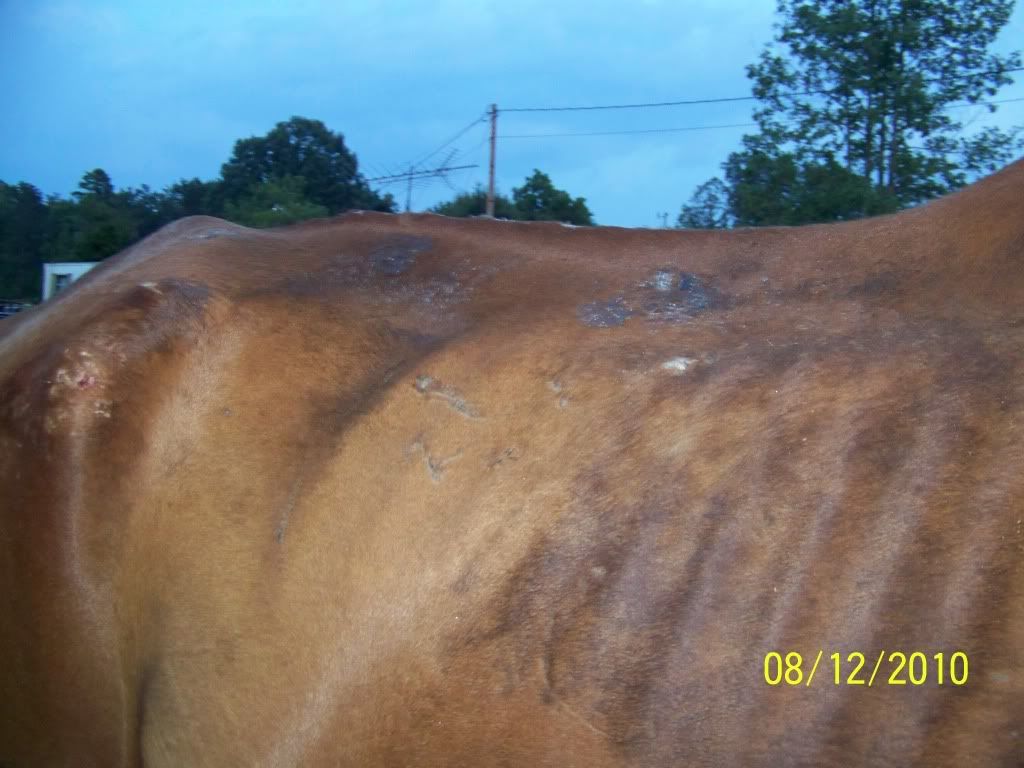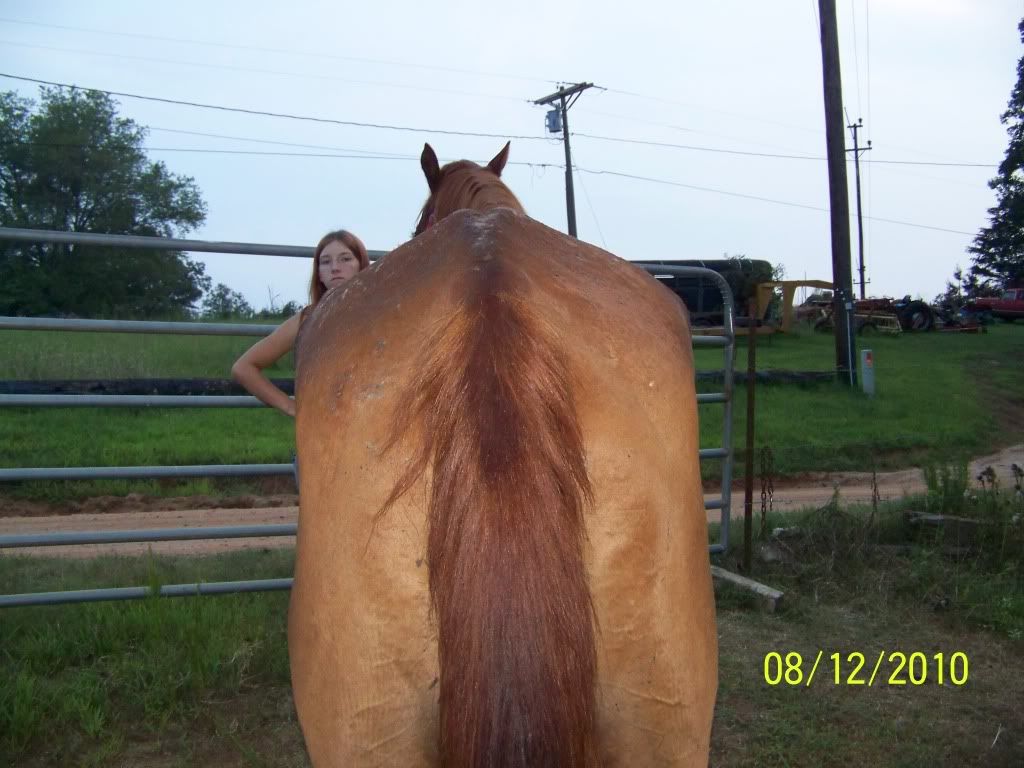 Yes thats me in the picture. we were the ones taking pictures for documentation.
if you seen the thread with the super fat horses that my friend owns the HUGE oen that looks like a hippo.. if you look down at the bottom of the hill you will see those big horses
Him being ridden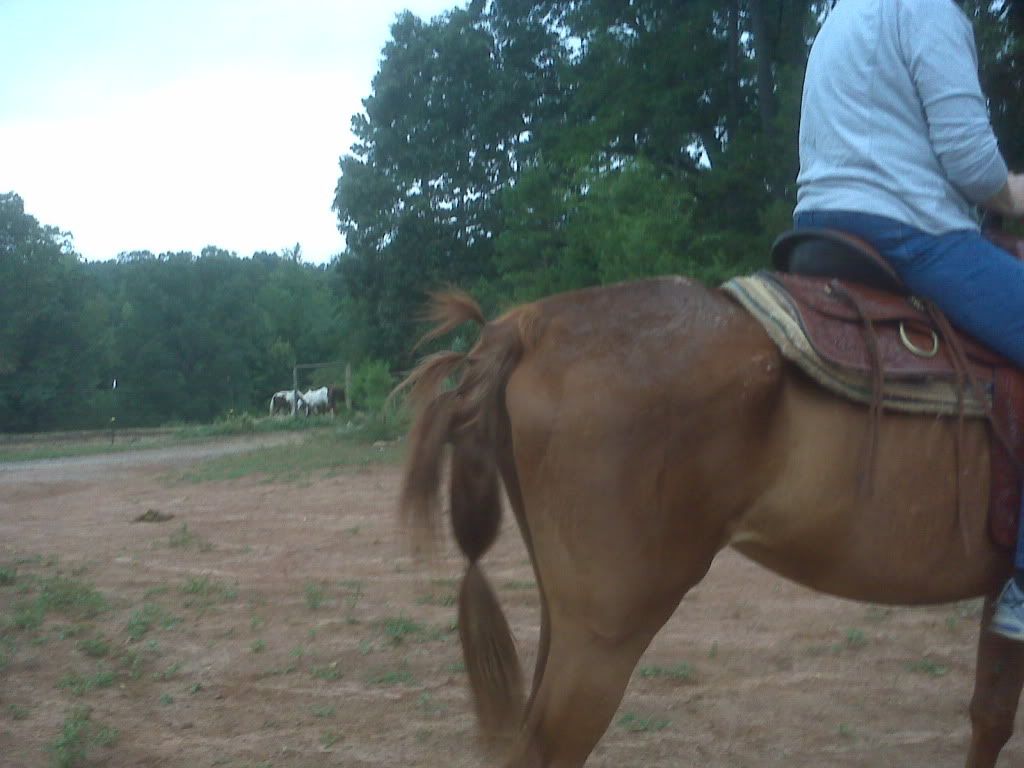 Next i'll post a picture or 2 of each of the horses that are and have been in my care.
---

Baby, Sparta, Carmen, Henry, Hooch, Mercedes, Butterscotch