conformation critique? How much would you pay?
---
Here is my 10 year old Quarab gelding.
I have gotten some comments at my barn that he has good confo
and to do halter classes with him.
but i would love your opinion!
so what do you think?
and how much would you pay?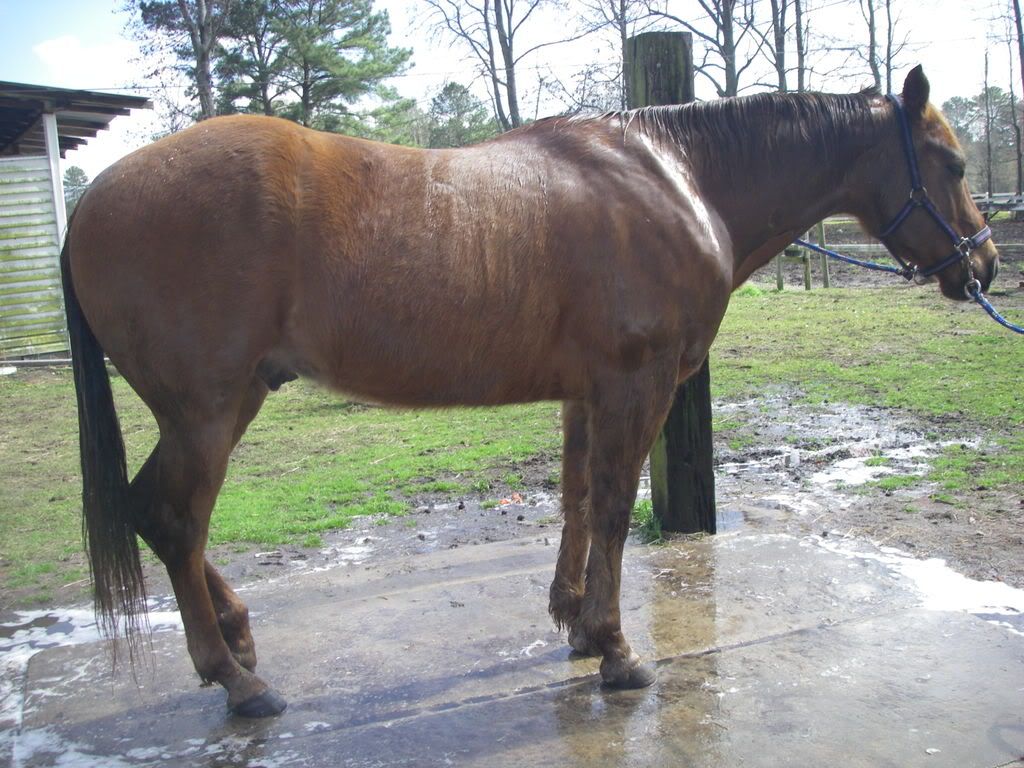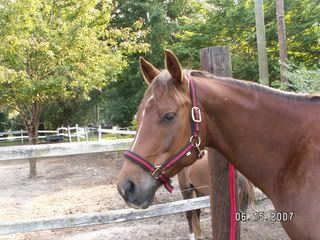 ---
-brooke
Hello!

I don't see anything that really pops out at me but then it is really hard to tell with these pictures. Try to get some when he is squared up and standing on level ground. He has a very attactive head.
here are some more: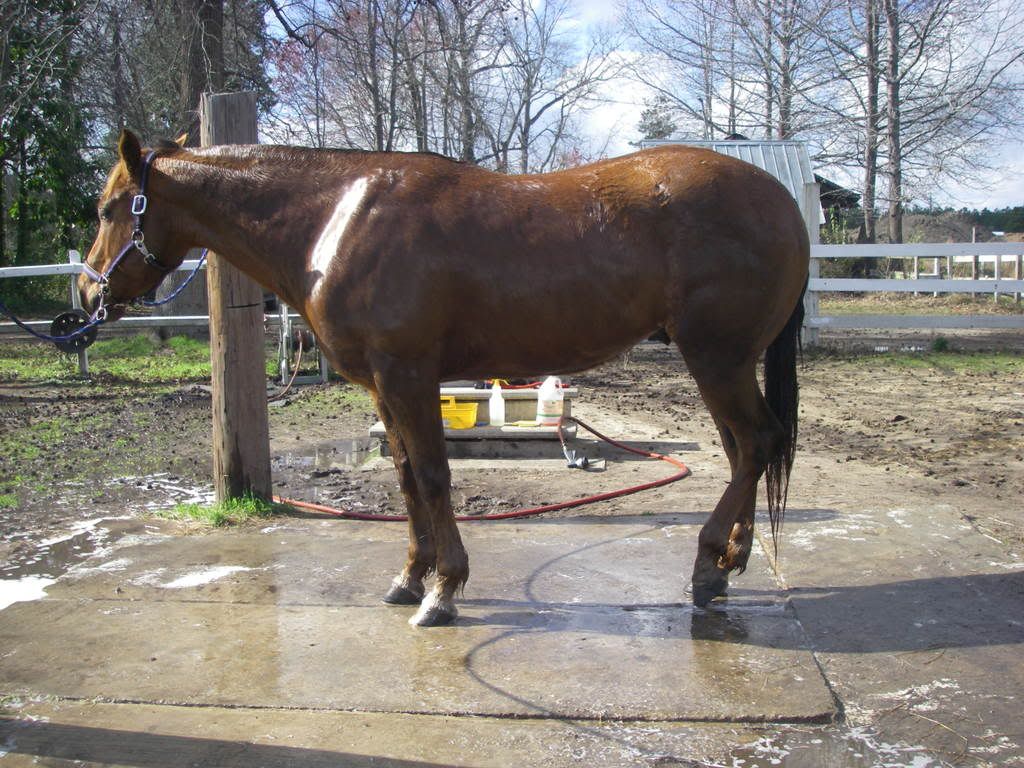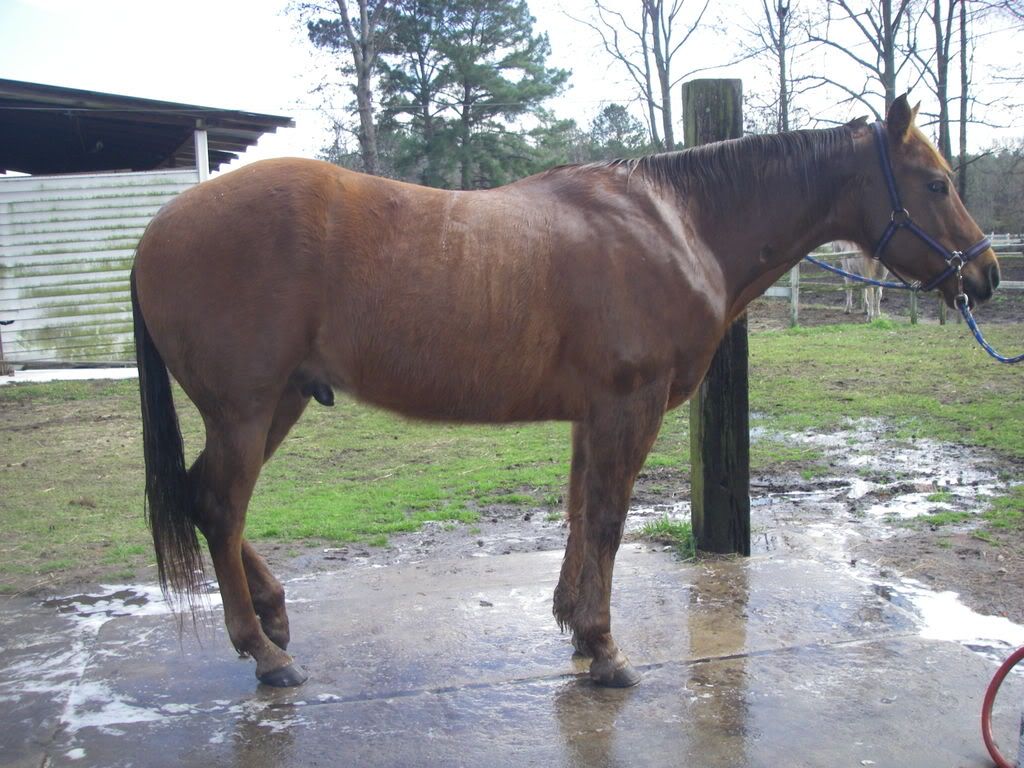 ---
-brooke
well he definately stands under on the front, fairly thick neck but that's all I see. He does have fairly good conformation though..

As for paying, if I was looking for a good conformation horse then I'd say maybe $3000 since the horse market is pretty low at the moment...but I usually look more on attitudes and personalities of horses rather than their conformation.
I love his markings on his face!!!
I think his neck looks great!

I do think that he puts his front legs way to far under himself.

Tell me a little bit more about his training and such then I will be able to give you a price range that he would fit in (in my area, Alberta, Canada)
Yeah his face markings and his sweet nature was the main reason i bought him
i was just going to use him as a trail horse, but now im showing lol.
he is trained for western pleasure, we have done a few schooling shows, here are our placings:
novice western pleasure 13 & under: 3rd. (out of 6)
novice gelding halter class: 1st. (out of 7)
green horse western pleasure: 2nd. (out of 3)
novice halter 13 & under: 5th. (out of 6)
i think we have done fairly well.
---
-brooke
hes beautiful, and he looks evenly built, as in his butt and his chest look evenly muscled. really kind looking face.
im trying to get myQH more even looking, he was gelding when he was 9 so his chest is HUGE and i cant get his butt even haha
welli rekon that he is beautiful
---
3 barrels
2 hearts
1 passion
Green Broke
Join Date: May 2009
Location: Winnipeg, Manitoba, Canada
Posts: 4,510
• Horses:
2
He's definately a beautifully built horse. I really love Quarabs, it's such an awesome cross, I haven't met one yet that didn't have a really solid and good looking build.

However, I don't think he's halter material. It's always worth a go, but he isn't what I'd call "halter" material. Mostly because it's almost become an unwritten rule that halter horses are technically useless for anything actually related to work :roll: I'd assume you'd be showing him in open local halter classes? That may be different, it varies HUGELY from region to region. Depends on what the judge likes and what he's up against. It's really impossible to say how he'd do because it's hard to say what he'd be up against, being a crossbred.

I say try entering a few and see how it goes!
---
Quote:
I hope God tells her to smash her computer with a sledgehammer.
very cute guy! just one question, if his back leg bothering him? if you notice he's holding the same foot up in almost every picture, I would check it and see if there's any heat or anything.
very cute, looks like a winner!