Conformation Critique Please
---
She is15 mths old. She may be a little off right now as she is higher in the hips from growing.
The first picture is of her when I first boughther in February.
The other pictures are recent. I will try to get some more where she is squared up more.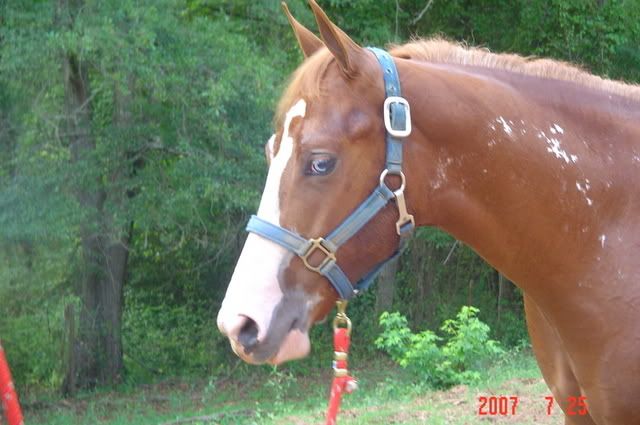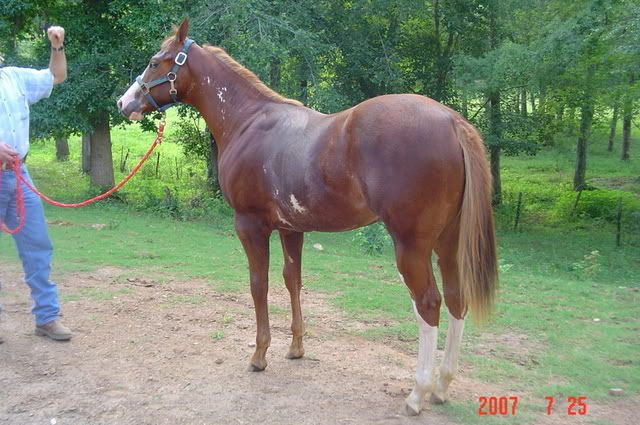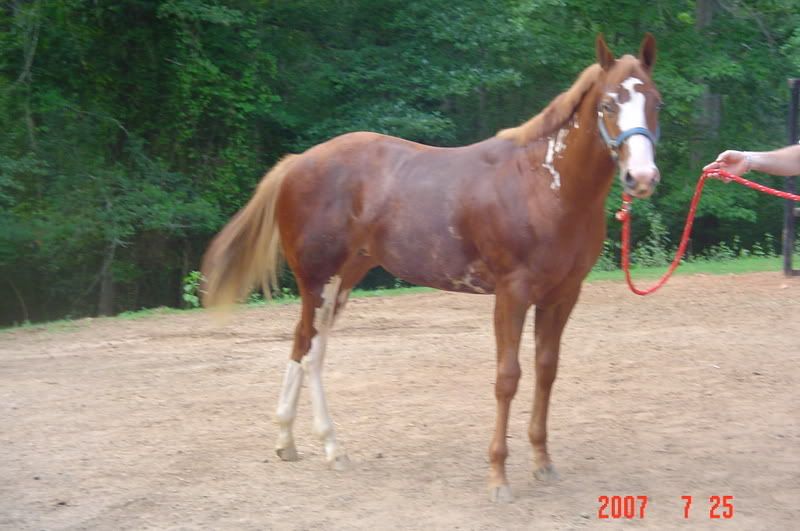 i love this horse!!! it has beautiful eyes, how much does a horse like that cost?
It would be hard to put a price on her.
Ok...I'm no expert, but bear with me.
The first thing I notice is she has very upright pasterns and extremely small feet. This is a fairly large conformation fault, but also very common in Quarter Horses (which is what she is???). She doesn't have any halter lines behind her, does she? She also looks post-legged behind, but that often comes with upright pasterns, as well as toeing-out, but that could just be the photography. She could be a little over at the knee, but that could be her age. Her neck is set on a little low, but that shouldn't hamper her and is even desirable for some western events.
She has a lovely shoulder and quarters, and a very pretty head. She isn't camped out = good. I'm impressed with how level her topline is at this age, considering her breeding. And she has a very pretty head!
Can I just ask, would you ever consider breeding from her? And if so, will she be tested for frame?
I agree with Kyani regarding the too small feet and that it's definitely a flaw that is commonly accepted in the qh halter horses. Wrongly so, as these animals don't last long in the performance world.

She's very upright in the pastern, but she's not post legged; she's standing very under herself in back, which is sickle hocked.

Head and neck are nice, although a wee heavier through the throatlatch than I'd like to see.

She looks to be a little over at the knee, but they sometimes will outgrow that.

Nice shoulder and hip!
i see it too, just a question with that....smaller feet then the barrel can't that cause nurvicula? (spelling) i know that up northi n canada we had a big problem with that
---
HOME IS WHERE THE HORSE IS.........
She is a registered paint and out of obsessed to impress. She has halter in her bloodlines. I placed 1st 2nd and 3rd at the APHA show a few weeks ago.She even beat some aged mares. They didn't have a yearling class so I had to put her in the mare class. This was her APHA first show. I have placed mostly 2nd this summer at our local shows. She was a little cow hocked when we got her and are working on that. I have only had her for 6 months and took her out of a not so good enviroment. We have started sweating her neck also. I bought her to show and breed with my stallion (when she's old enough). I still think she has the most beautiful head. Thanks for all you opinions.
Kool not bad, make sure you have fun with her.........
Her feet are small, looks good I just don't like paints