Conformation and fitness, pic overload!
---
Hello everyone!
This is my turning 2 Clyde and TB/Anglo Arab filly, Kern.
She's pretty fat right now, so she's just been put on a fitness schedule (much to her dismay!).
Feel free to pick at her, I think I know much of what is wrong with her physically, but extra eyes don't hurt.
left side: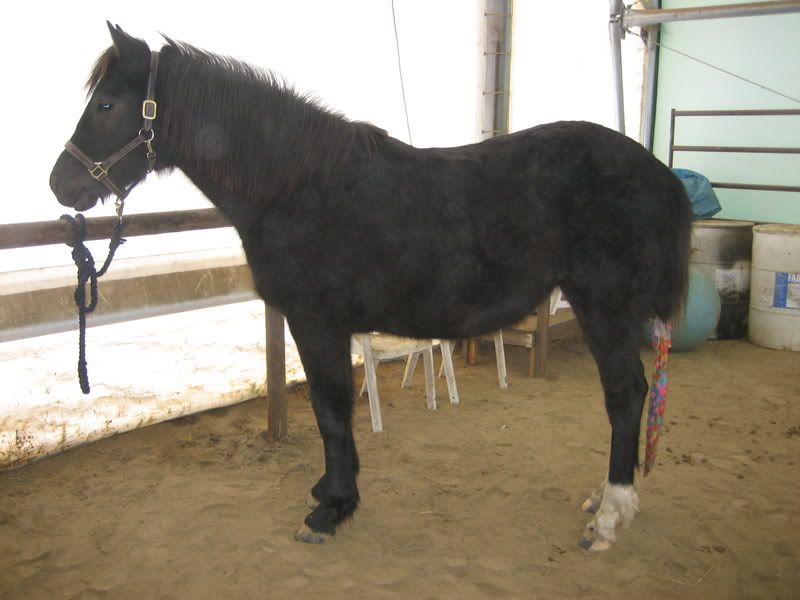 right side:
better one of her neck, sort of.
front: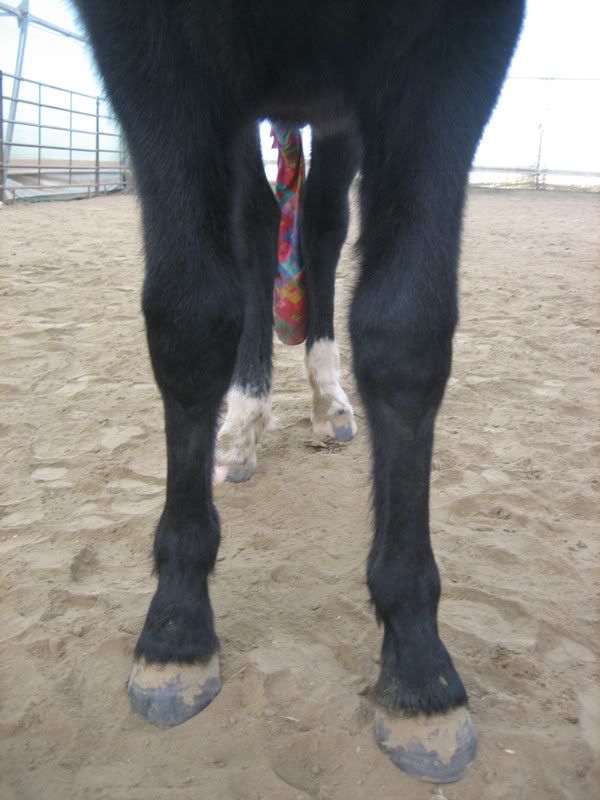 back:
her belly from the start of winter: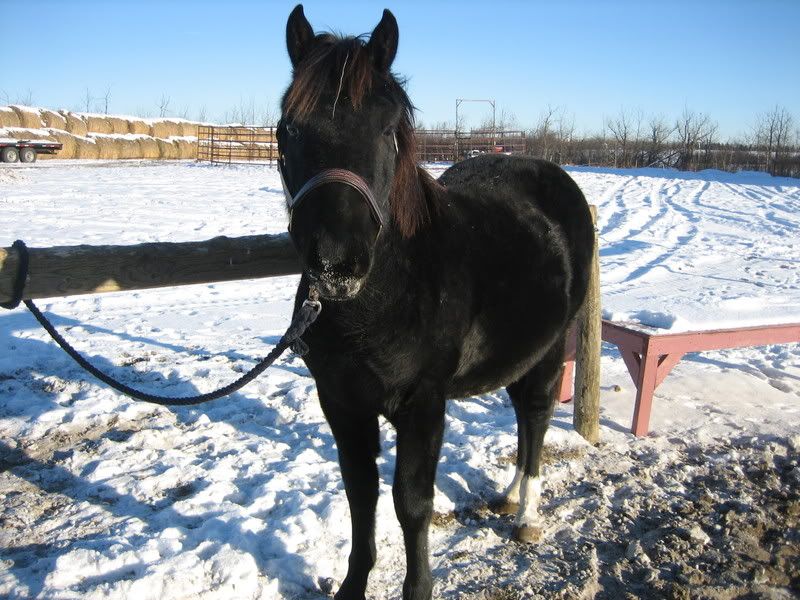 and dirty face, because before the bridle was on she rolled and we worked on giving to the bit, and she was fantastic!
I don't see any Clyde in her whatsoever.
She's definitely not a full half clyde - I agree.
The people I bought her from picked her up at an auction when a pmu farm was liquidating, they only had clyde and clyde cross mares.
Well for starters, I sure think she has a cute face! She is a tad chunky in the throat latch. I love her shoulder angle. She appears to be butt high-but she's 2 and will more than likely grow out of that. She appears to be slightly back at the knee, and she is cow hocked/toes out ( although i heard that is common in drafts and preffered). Overall I like her (especially her head!), and don't see anything wrong with her that would prevent you from doing what you'd like, and I think she will look absolutely magnificant with some muscle tone!
She has the cutest face!!

And I love that halter!! Where did you get it/what brand is it?
Trained
Join Date: Sep 2007
Location: Hatton Vale, QLD, Australia
Posts: 5,227
• Horses:
7
i definitely cant see any clydie in her but it doesnt mean its not there :)
she looks cow hocked and i agree that her throatlatch is a little off. she does seem downhill/butt high etc but she may grow out of that in time.
she is very cute
good luck with her
---
"I whisper but my horse doesnt listen...So I yell!!...He still doesnt listen"
He's splay-footed and cow-hocked. He is rather chunky and he seems a little bit sickle hocked. But he's a cute one.
---
"Doing what you like is freedom, liking what you do is happiness."
Certainly no Clyde in her what so ever.

She has a pear-shaped butt. Her stifle is way way too high, but that might be because she is young. Goose rump. Looks to be calf kneed. Deff. splay footed. Has split up hamms its seems. Nice gaskin muscleing. Cow-Hocked. Built down hill. Very nice shoulders. Long pasterns.. Adorable.
Adorable face!!!!!! I'm not good at critiquing and the only thing i could really see was her throat latch but other people already said that ha ha ha
---
It is not just a horse,
It is the one thing that keeps me from being just a girl
Equina - I think the halter is Weaver made, but I can't quite remember. It's a leather one.

She is actually closer to 20 months, so coming two. She been doing lots of uneven growing the past couple months, getting even and then her butt shooting up again. Despite being cow-hocked she moves really nice, and while I know she'll never grow out of it, her legs have gotten a lot straighter since I first got her. She also moves them completely straight(which I think is odd), no interfering or paddling in/out.

It kind of looks like she's either camped under in the pictures, or she's standing under herself. In a few months I'll get some more and see if there's a difference in how she stands and her weight. I don't think she's truly calf-kneed, but I'm always close to her so I never really look.

.Delete. - I must say, I have never heard the term "pear butt" and "split up hamms" before, so I have to ask what they are.

I will add too that I see her back pasterns a bit posty. Her front ones seems to be at a smaller angle then her shoulder. Could that be why she looks like she has longer pasterns?

Annnnd, since everyone thinks she is definitely nothing clyde-like, I will as you all: what breed mix would you think her to be if you just saw her sitting in a field?

Thanks everyone! She always makes the cutest faces and is so fluffy and fat right now - I have so much fun with her! Just curious to know.. Yowzaa this got long fast!