Conformation Game 2!!
---
I would like to start another conformation game. I personally have been trying to learn how to judge conformation. I think that some rules will help this game move along faster.

Rules

One picture at a time. Ask a question about the conformation of the horse and whoever responds correctly gets to post the next picture.

EX. is this horse pigeon toed or calf kneed?

user XXFR responds with correct answer so XXFR posts next picture.

I think just trying to pick out ONE thing about a horse can help you retain that knowlegde and identify it in the future.
---
When In Doubt Let Your Horse Do The Thinkin
Quote:
Originally Posted by spookychick13
What Lone said.
I will gladly start!!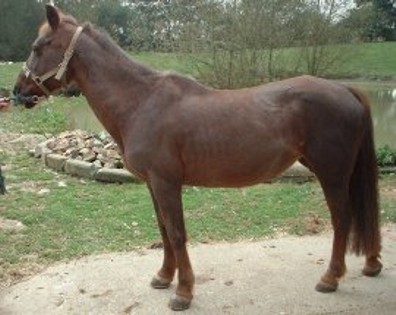 What is wrong with this horses' neck?
It has an ewe neck.

What is the term for this horse's wither?
---
Last edited by MN Tigerstripes; 10-18-2010 at

08:57 PM

.
Shark fin?
What is wrong with this horse's back legs?
---
Doc Hollywood: A Dun Deal.
---
I'm so busy, I don't know if I've found a rope... or lost my horse...
Yes she has a shark fin. It has a straight shoulder?
What is the term for this horse's breast and what effects does it have on the horse's movement? Sorry if that last question isn't fair, but I think it would be cool to add in the effects.
p.jpg
Green Broke
Join Date: Oct 2010
Location: Some times Llanelian - North wales, sometimes Hull in East Yorkshire (UK)
Posts: 3,679
• Horses:
5
It is pidgeon breasted:
Bulky breast muscles and legs set under the body decrease the efficiency of stride and swing of shoulders, hastening fatigue. It may interfere with the front legs, forcing them to move to the side rather than directly under the horse. It causes a rolling gait that slows the horses speed, especially at the gallop.
What is wrong with this horses front legs
Over at the knee... and the worst front legs I think I have seen rofl poor baby.
What's up with this back?
---
Mods, grant me the serenity to see the opinions I cannot change, courage to change the ones that should change, and the wisdom to spot the trolls.