Conformation Of My Oldenburg Gelding?
---
Here's My Oldenburg Gelding Petey:
This was taken when he was about 8, and he is 10 now, so he has since filled out and gained for muscle.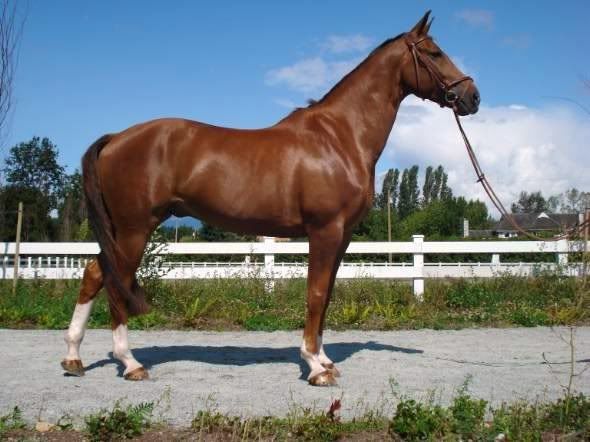 Please judge his conformation!
I don't know a thing about the breed standard or type, so won't comment there. I will say that as an example of a generic horse, he is built exceedingly well. I would like to see more angle to his hock, and a hair less angle to his pasterns. A stronger back and flatter hip would be nice, as well, but overall, he's a horse I'd be proud to own.
His fetlocks have gotten better, because we let the heals of his hoofs grow out more.
Also, he usually doesn't carry his head all that high. ;)
The thing that stands out to be is how high in the wither he appears as well as having a very sharp slope to his shoulder. He has a slightly steep slope to his croup as well, though his legs look pretty good, straight and sound.
---
"If a horse fails to do something that is because he was not trained to do it. If a horse fails to do something properly that is because he was not trained properly."
www.wildestheartart.com