Confy Critique please
---
This is a 6yo OTTB gelding. I used to be his groom and I bought him when the owners retired him and now I don't know what I'm going to do with him.
These are just some quick shots I took, and I'm just kind of looking for some opinions. I was by myself and I didn't have much time so these are all the pics I could get, I will be getting proper ones in the very near future though.
Don't pick about his pasterns too much. I brushed this horse since he was two and he doesn't normally look like that. The farm farrier did him last and he's and idiot, so I need to get my farrier to fix him. He is a little upright, but not that bad. He's also had almost a year off due to an injury hence the lack of conidtion. I'm ready to start training him and getting him into condition which is why I'm wondering which direction I should go with him.
Again, just looking for some opinions on the few pics I got. I know what I think, but I have this nasty habit of not being able to look at a horse properly when its mine
LOL
And yes, he is very tall. 17.2h in fact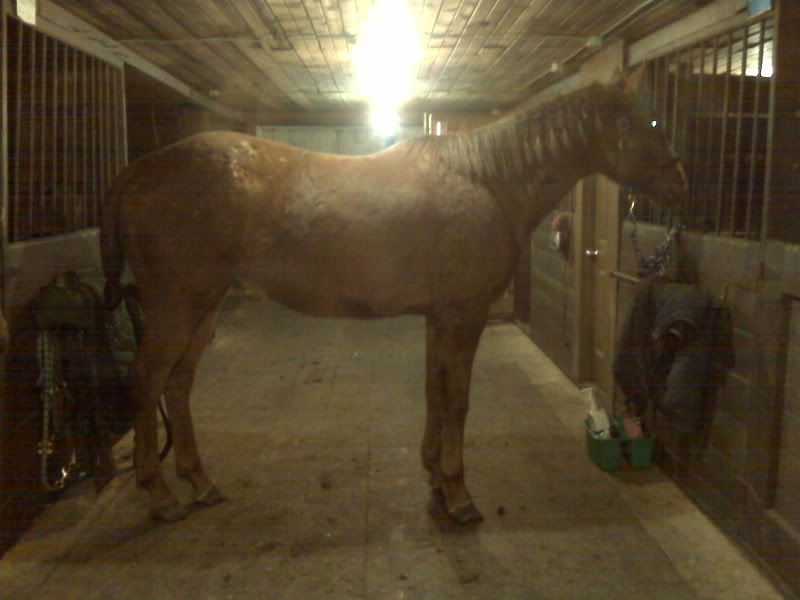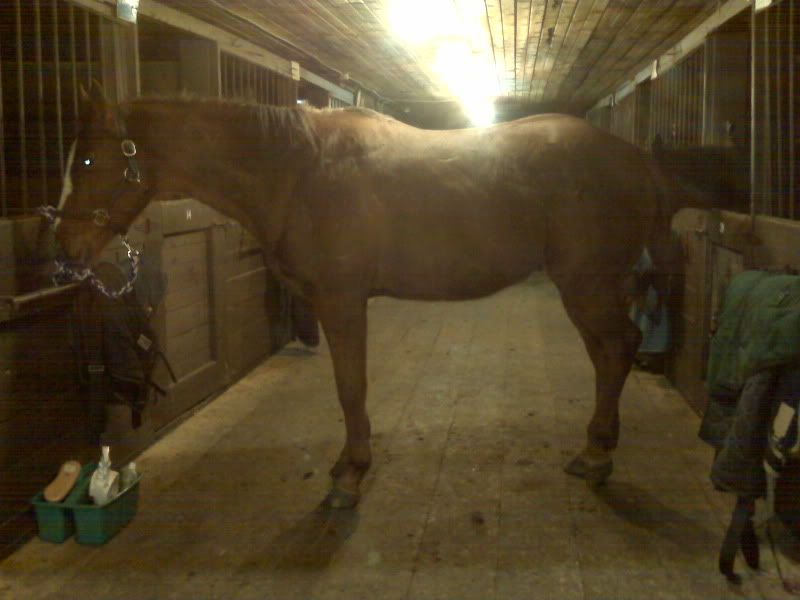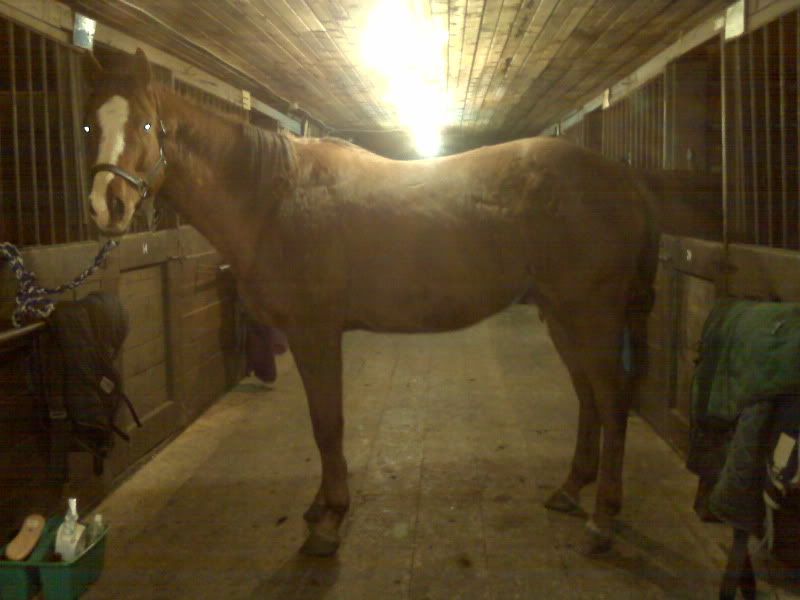 No critique, but I think he's a very pretty boy!
Hes a very pretty boy.
I think he looks like hes toed out a bit in the front hooves, and then he looks a little down hill and short-necked.

I cant put my foot out on what else he may have. :) but its all good because hes a beautiful horse
From the wither back, I really like him. Slightly butt high, but not terribly. Well balanced, good shoulder. Good topline with a defined wither and a "home" for a saddle. Good pastern length. Slightly post legged behind, and toes out behind more than is desirable. Looks like he's overdue for the farrier in this pic, might look better after he's trimmed.

The worst flaw evidenced in the photo is his neck - high neck set and insufficient muscling on the top side. You haven't done him any favors standing him up in the barn aisle - he looks cramped and it exaggerates the neck.

I would suspect him of being a horse that travels with head and neck up and hollow and inverted. Training and fitness can overcome that, but it will be harder for him than a differently conformed horse.

It's best to include head on photos of the front and tail on photos of the back for a thorough analysis
I am bad at critique. First thing that sprang to mind is he looks HUGE...or you have very low barn ceilings lol. But then I saw he's 17.2 ;)

Is he cow hawked? he looks kinda toed out in back to me.

I look like he looks like a very cute boy!
---
~Horses aren't a hobby, they are a lifestyle.
Website
No crit from me, but I like him He looks like he has a lot of character.
If you don't mind my asking what was he laid up for? Just curious.
I think he has a nice face.
The only thing that stood out for me was his neck. Others have already mentioned that.
He is a big guy.
:)
Hp
He looks like Alice after she ate the cookie in that little barn. He dwarfs everything! No crit from me, i'd love to see some more pics after you start to work him, I'd like to see the changes. Oh, and can you come to my barn and groom my horse? His tail and cute little plaits make me jealous.
I just want to say that I think it's great when grooms get to own the horses they have rubbed on at the track when their careers are done. You know as well as \i do that no one knows this guy better than you bacause of all the time and effort you have invested in him already.

I think he's a peach, and looks like he has load of potential!
---
~Lindsay~ Mom of 2, wife to the goldsmith, doula and childbirth educator in training, life-long horse dork
His shoulder is a bit steep......
hes a cutie!!
---
I was a dreamer
Before you went and let me down.