Critique...
---
Okay, so I'm seeing tons of photos of horses here, and I'm thinking that it's really, really difficult to critique some of them due to the photo angles and such, so I thought I'd start a little thread with some photo tips.
Mind you, I'm not a pro in the least, but sometimes just a few little things will help tremendously in getting your horse to look just a bit better for the camera.
Because I've got just a few minutes right now, I think I'll do a couple pics/pointers at a time and just add to them as I go.
First off, while I may like this spunky look on Quiet Storm, there are a couple of things that make it difficult to critique. One, the cluttered background. Putting your horse in front of something less distracting would be a simple thing to do. Two, having her set up with all fours on the ground would be nice! As it is, it gives the impression that she's over at the knee.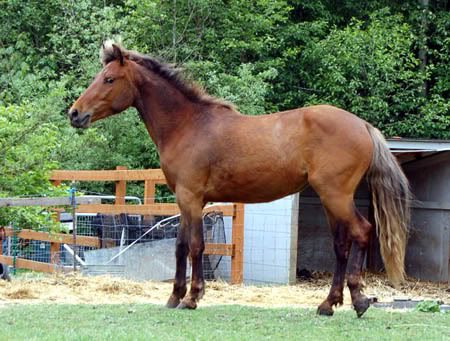 Another important thing to remember is the angle from which you're taking the shot. In this picture, Quiet Storm looks heavier in the front and has a weak rear end because I'm sitting slightly out to the front of her.
Thirdly, keep in mind the height of your horse. Although to our naked eye a horse may not look small, the camera lens tends to make them shorter. Quiet Storm is just 13 hands, but you'd never know it in these photos because I squat down and aim my lens just behind and a wee bit higher than her elbow. In the photo below, I'm not standing on anything to give me a different view, just standing up as she's trotting towards me. Even a tall horse will look shorter once you're looking through the lens of a camera. Go ahead, try it!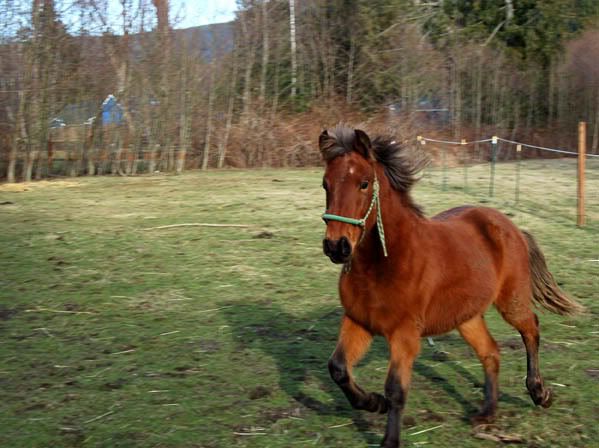 I don't know if any of you have seen that 'fugly' horse blog, but the person who runs it has been lifting photos from the internet and using them to critique and run people down regarding their breeding program. Terribly unethical, if you ask me, to lift other people's photos, but she does. Might as well put your best shots out here instead of giving her the opportunity to blast your baby in front of hundreds of readers
I'll be back later with a few more if y'all are interested!
Fugly comment -
Good picture or not, the conformation doesn't change and nor will their harsh critiques.
I know their critiques are ... blunt, but the website is hugely educational and has a wonderful point behind it - to stop backyard/poor breeding.
Beyond that, you've made a very good point and I'm glad you made this post. I hope a lot of our members read it and take your advise into consideration. Critiques will be more accurate and easier.
I noticed that you put some (very good) examples of what not to post as a critique. I thought it may help to post good pictures for critique as reference. =)
I am assuming the last pictures by 'Kristy' were youngsters..... Very Nice
I'm personally not a fan of the fugly site; I don't think it's ethical to lift photos, and she's tends to be more mean spirited than educational, IMO. She knocked one owner for having a 'narrow chested, legs turned out at the hock and knee' filly and making up their own registry so that they could get more money for her. Truth was, it was a young horse, so of course the chest would be narrow, and it was a poor photo, so really difficult to judge the legs. On top of which, the breed wasn't made up, she just didn't bother to search and find out it was real.
In motion....
If you want to show your horse's movement, it's probably best not to give this as an example: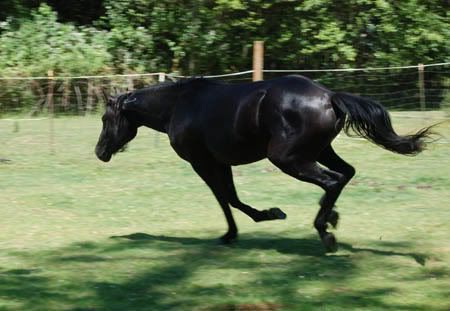 I love my horse, but really! Where the horse is in their stride, combined with the angle you're shooting at, is going to make all the difference in the world. With this photo of Jet, I was standing up instead of squatting like I'd mentioned doing before. Even though she's a 16 hand horse, I'm tall enough to have made that photo look even worse. You may want to just sit outside with an assistant behind you waving a towel or something to get your horse to move for you and take 40 or 50 photos like I did with Quiet Storm, below. (Digital is wonderful!)