Critique this 3 yr old
---
Hey everyone- what does everyone think of my boy?
I posted some pics when I first got him, but they were not the best for a conformation critique. This one's not the best, but its better than the last one and it was difficult to get him to stand still
.
He is sickle hocked, but I have been doing stretches and excersises suggested from a therapist, and he is comming along really good- the hocks are not angled as much as when I first brought him home, so I think its working.
He also is over a bit in the shoulder, but that is just the way he was standing at the time, he usually stands square in the front.
ps- dont mind the skinny-ness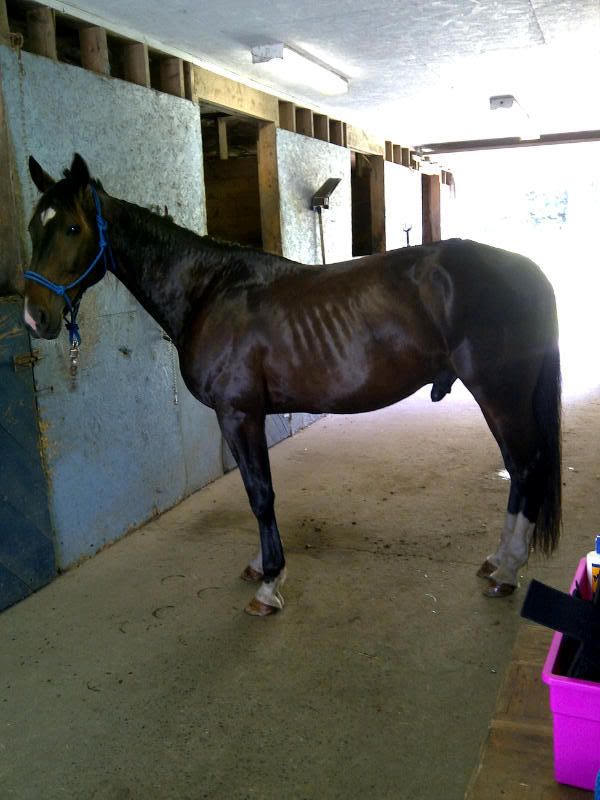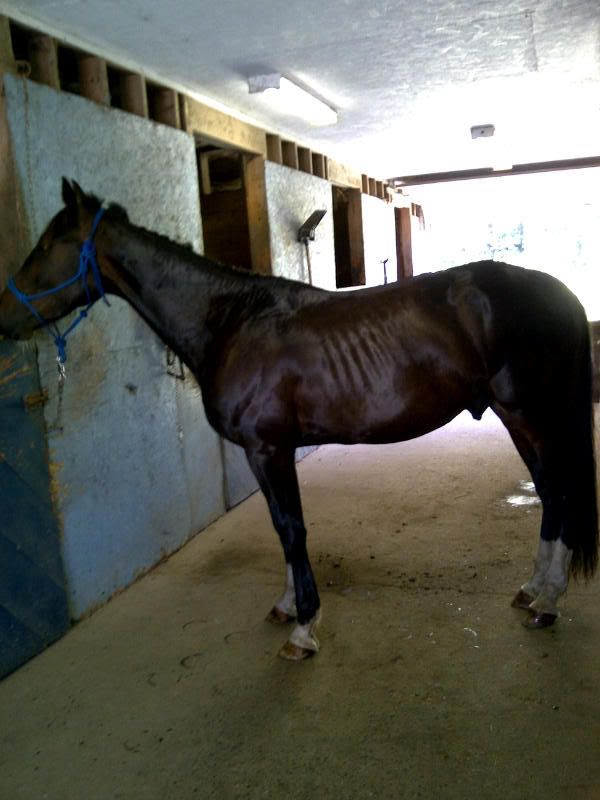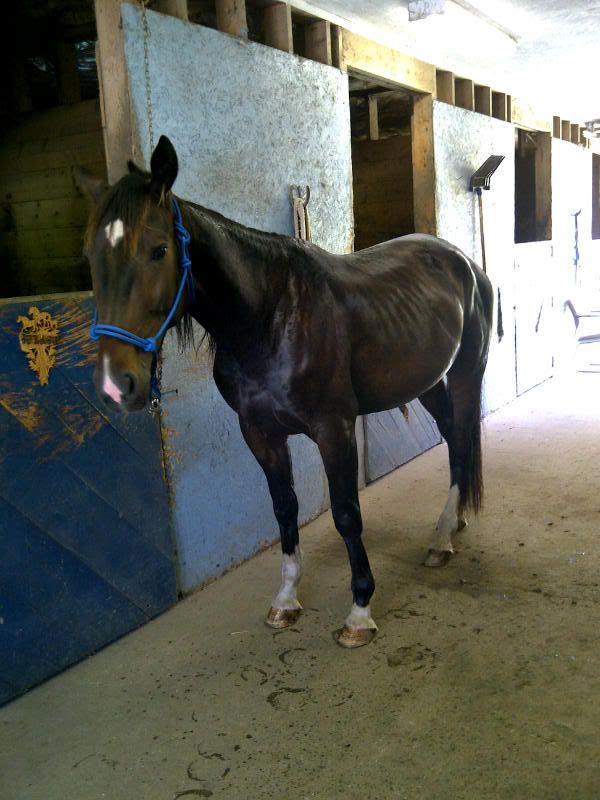 The only thing i can see is his front legs are set a bit wide and looks like he may be pigeon toed. He is very handsome(:
---
Im the bomblike tick tick
He is what breed?
He is calf kneed, meaning back at the knee. He definintely is sickle hocked and I think it is part of his conformation. j Sometimes horses stand under with the hind leg and look sickle hocked but they are actually standing that way only due to pain in the back or feet. He might have some pelvic/back pain, but you would know that by the way he moves. His loin area is pretty far back and his croup is a bit short and flat. His neck length is good and shoulders look good.
He has a lovely face and a sweet looking disposition.

He does look toed in on the front left but maybe that's just the photo.
Thanks for the replies. He is a standardbred. Was raced a few times then apparently fell in the paddock and injured his front left tendon.
He is sound at the moment, but I have not ridden him yet due to his poor weight.
Someone mentioned that he may have been standing with his back under to try and take some weight off his front end when his tendon was injured, but I do not know much about that.
He is a bit toed in on the front and one back leg- the farriers comming out this weekend to take a look and see if there is anything she can do for it.
Posted via Mobile Device
He needs a good deal more groceries. He is thin and that does not help him at all.

He is sickle hocked and calf kneed as well as tied in below the knee. Back is a bit long and the coupling is rough. He has a pencil neck that could be improved with more groceries and with maturity coupled with correct training to build the top of his neck.

None of this will keep him from being a decent riding horse for trails and pleasure.
---
There is something about the outside of a horse that is good for the inside of a man.
~Winston Churchill
(or woman!!!!
) Dinosaur Horse Trainer
Thanks for the replies everyone. This woman showed me how to measure them today to see how tall they will get. I measured him at 16.2 hands- that seems a little big though, so I must have done it wrong (measured from the joint in the middle of the knee, to the top of the hoof) He was 15.2 when I got him a month ago, and in the past month he has grown like a weed (back end has gone up approx an inch). I guess now that he's getting some good food, his body is trying to catch up in growth.
He's gained quite a bit of weight in the last month, but still has a long way to go.