Critique?
---
How's Lacey looking?
I know the last time she was critiqued people were saying she needed more muscle and I'm wondering how she's looking.
I'd also like to know about any "faults" you think she might have, just cuz I find that stuff interesting. Haha
I know that's she's weirdly butt high and I think her back could still use a little muscle but I can't see anything more than that. Haha
This is the picture people were saying she needed more muscle in (she was standing with her front legs in a really funky way...) :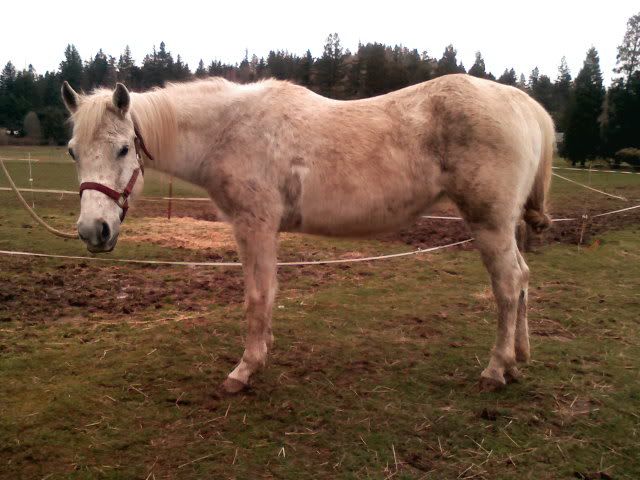 This one is from April (I don't have a good more recent critique picture):
And here's one from last week to look at muscle/topline wise:
And just for cuteness factor:
Lacey in her 4th of July bling. She hates pictures.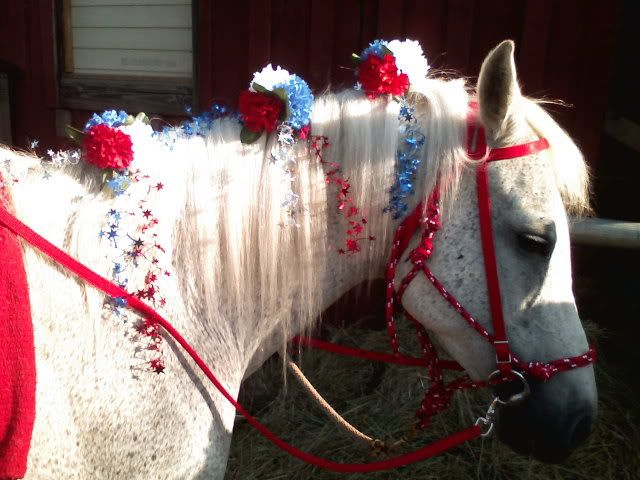 ---
Fabio - 13 year old Arabian/Lipizzan gelding

~
Rest peacefully, Lacey.

---
Last edited by Wallaby; 07-09-2009 at

12:06 PM

.
What a transformation there! I can't believe it's the same horse. I'm not an expert in any way, shape or form, but she looks pretty good to me.
---
Horses are God's apology for men.
Her topline looks much much better! You really turned her around!
---
Adcat's Star "Addy"- 5yr old TB mare.
WOW congrats on that. dont you feel great knowing you have made such a difference!? she is looking amazing. good luck to you with her she looks like a sweetie
---
okay wow those look like three different horses lol
she looks good.
HAHA I have to agree it looks like three different horses :) Topline is way better - shes lifted her back nicely - And she looks all round more healthy and fit

well done :)
she looks awsome!!! good job
---
quarter horses.....simply the best
Started
Join Date: Mar 2009
Location: Middle-of-Nowhere, Illinois
Posts: 2,225
• Horses:
1
Everyone else pretty much said it. =D
She doesn't even look like the same horse. Her topline looks 100% better, and she just looks healthier and better maintained in general. You've done a fantastic job with her. Kudos!
---
"A musician must make music, an artist must paint, a poet must write, if he is ultimately to be at peace with himself.
What a man can be, he must be." Abraham Maslow, 1968

Wow...she looks amazing!! Good job!!!
Love the 4th of July Bling!!
---
"The ideal horseman has the courage of a lion, the patience of a saint, and the hands of a woman..."
Aww, thanks! She used to be severely obese and she hadn't been ridden in 2 years when I got her (last July) so over the winter she had kinda gotten to the point where she had lost the weight but still hadn't gained any real muscle. I'm really proud of her. She's a special girl, who would guess she's 24? =P

Random question: How tall do you think she is? I'm about 5ft 6in or a little taller and that's me in that last picture... I always figured she's probably 14.3 or 15hh but I really have no idea what certain heights look like. She's a little shorter than my shoulders...
---
Fabio - 13 year old Arabian/Lipizzan gelding

~
Rest peacefully, Lacey.