Critique 7yo QH, Jumping?
---
I need to get videos of us jumping, I know. I'll work on that.
He's currently schooling 2'.
He jumps rather flat and I like to say he "superman's" the jumps lmao 'cause he likes to stretch his legs out instead of tucking them about half the time.
I'm working on getting him to work underneath himself through the courses, and round up through the jumps, but that's definitely a work in progress.
How high do you think he could go based on conformation and stuff?
I'll get better pictures hopefully today.
Yes, I know my jumping position is godawful in this picture, my (old) trainer decided to tell me to plant my fists on his neck (which I failed to do even that in this picture.. totally wasn't prepared for that jump if you can't tell by my face x.o) the night before the show, so my position sucked the entire time. It's much much better now (especially my release).. I think. I know my elbows are at least. I also think he just sort of.. took a big canter stride over this jump and didn't actually legit jump it.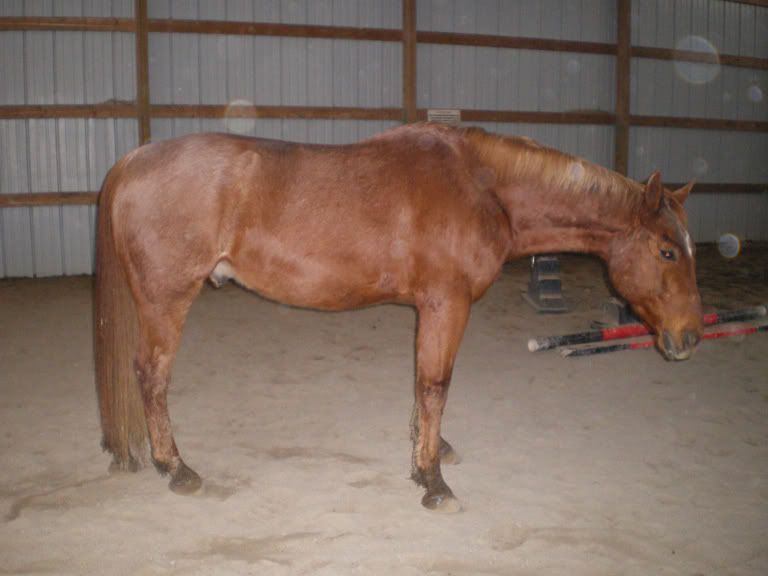 Also, any suggestions on exercises to get him to round up O/F?
---
Fly Without Wings
beautiful horse. i dont have any advice though, just had to comment, very pretty
If you want pon to round up over fences first thing first you need to let go of his face.
For the knees, grid work, grid work, grid work.
For both getting him to round over fences and getting more knee bend one big thing that you're going to have to change is the jump height. Horses don't jump over 2' fences, they just kind of stride over them. With that little air time it is tough for a horse to really "jump".
Before you move up the fence height, you really need to get balanced and ride the horse to the fence, over the fence and after the fence so you aren't getting left behind (like in the picture) or over jumping. I would recommend a lot of no stirrup work and a lot of perfect practice. Perfect practice means that you are riding every single fence and you yourself are going to be working hard to be perfect every single time. Things I like are you are looking up and you aren't flopping about. Otherwise you need to relax, grab mane if you're unbalanced and ride.
As for the horse's conformation, it's not really a determining factor of success at this height of fence but I can't see any major flaws.

Good luck!
I agree with anabel - grids grids grids - with no reins, no stirrups, get you in balance and find your center of gravity over the jump, learn to jump w/o reins so that you learn to let go over the fences, w/o stirrups to learn to keep your lower leg secure, riding in two point for whole lessons at a time to sink into your heel and get your legs stronger, etc. That will also help your horse's form over fences b/c even with just 2', grids set with very few strides in between - and eventually add in a bounce - will keep your horse focused and encourage him to balance and tuck b/c there simply isn't enough room to get strung out and long. Good luck - he's a cute horse and I don't see any major conformational issues that would cause him to not be able to do at least 2'6" - 3' in time with the proper training (you'll know better after grid work and you get him and you more balanced and muscled).
Thanks for all the advice, I will definitely be trying that.

@anebel: my jumping and especially releasing O/F has MUCH improved since these pictures, and yes getting out of his face has definitely helped. :P I will definitely work on some no stirrup work, I haven't done that in a while x.o

@CJ82Sky: holy crap, entire lessons in 2pt? I think I might die .___.

Oh, one more thing. Any suggestions as to how to get him to stop.. hitting the jumps with his feet?
---
Fly Without Wings
---
Last edited by Ne0n Zero; 03-29-2009 at

09:26 PM

.
couldnt have said it better than anebel and CJ82Sky
---