Critique Angus's conformation?
---
So this is Angus. He's my 4 y/o thoroughbred, who's going through some late growth phases since I bought him. He was malnourished as a youngster.
He's filled out/grown more since these pictures were taken.
Be nice, I love him lots so I don't want him ripped apart or anything.
First pic is when we bought him, second is about 3 months ago, third is a week or so ago. Doesn't really show confo, but how much better he looks :)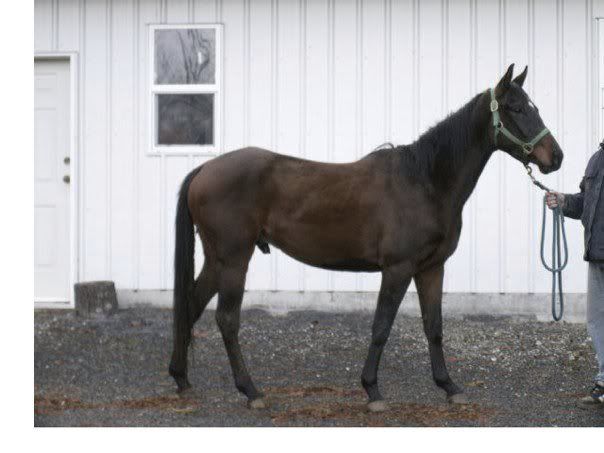 Nice changes ! You can really see the improvements. He looks good. you can really see his high butt, funny how he is growing still, but isn't the rule that they grown until they are six years old!
You have done a great job, the horse looks wonderful. I'm sorry but I don't know how to judge conformation but when I first rolled down before reading I sort of thought eeeh not sure but then the next picture shows a beautiful horse.
Thanks guys :)
Just the result of good food. We haven't started building muscle up yet, since he's not broke.

He's levelled out a bit since the middle pic was taken, he's growing pretty fast.
he has overall good proportions, hes got a nice chest, neck ties in nicely and decent shoulder angle, his legs are a good size though his fetlocks look slightly long to me. Hes not terribly bum high but if hes still growing he should even out.

i like him.
Hes is definately more filled out. You can definitely tell. He looks much happier and shinnier now. I cant say much about confo- the pictures arent in the right angles and such. They really do show improvement, great work!!
if you want to know about conformation.......the bad is he's too long in the loins, a bit set behind in the hocks and his neck is underdeveloped (not really a confo issue) and his shoulders aren't quite as slopy as they could be, none of these are major issues the extended loins may cause back discomfort in later life but otherwise he'll be fine.
on the plus he has close to perfect cannon to fore arm ratio and he has nice definement of his belly :) hope this was what your after, dont wait to long to break him in and have fun :)