Critique Bandit Please!!
---
Ok, so I'm taking a big risk putting this on here, but I'll go for it. I tend to take critique and/or advice personally, but I know I can't do that anymore. I tend to get defensive, but I know I have to stop. I took these pictures today and thought I would put them on here and have everyone critique my baby, Bandit. He's a 3 going on 4 y/o QH gelding. He's not going to be a "show horse" but I'd still like to see what everyone else thinks. Ok, so here we go.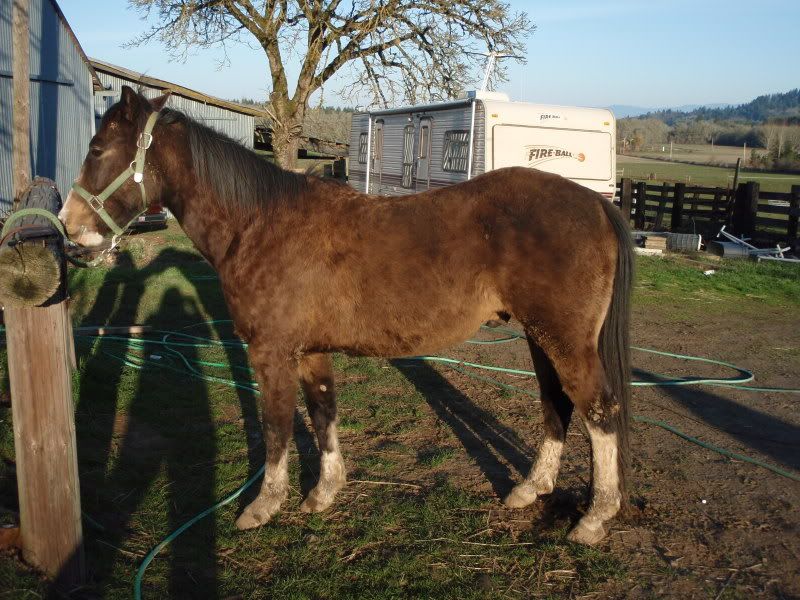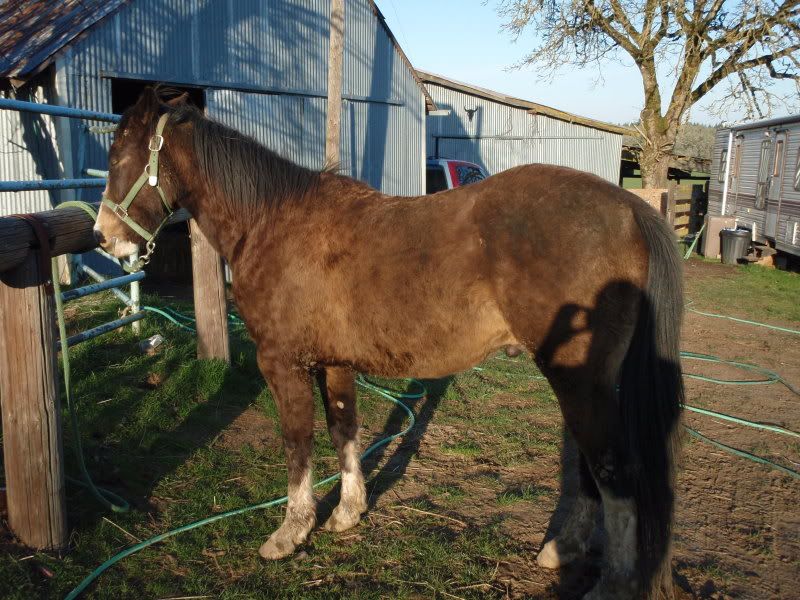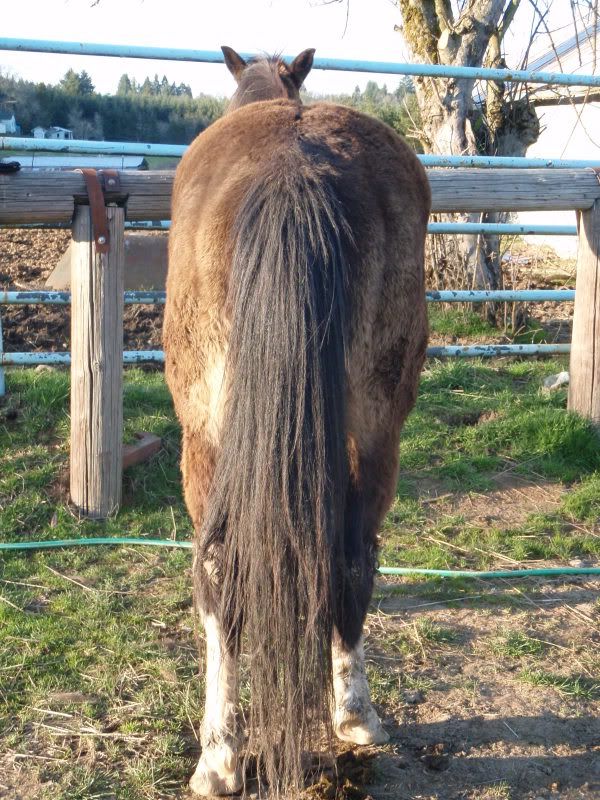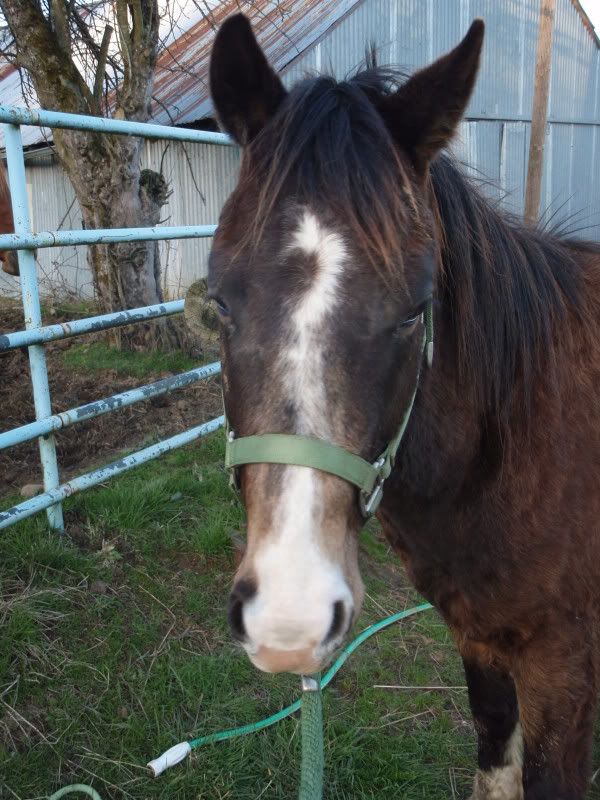 I couldn't take pictures from the other side because of the sun, so I hope these will work. I had just free lounged him a little so he looks a little torked off...Owell tho, it's good for him!!
---
~*~*~*~No hour of life is wasted that is spent in the saddle ~*~*~*~
Hes butt high and he could use more muscle.
---
Bailey's Mountain
6 year old tb
He is REALLY butt high...He's not done growing though as he's still fairly young....At least I hope not anyway. lol So hopefully he will even out. As for the muscle issue, we haven't really been able to work this winter as I have to trailer 20 miles to an indoor arena. I have no doubt though, that he is going to be a fairly sturdy boy after he gets going in his workouts.
---
~*~*~*~No hour of life is wasted that is spent in the saddle ~*~*~*~
Yep, he is a little downhill. With him being almost 4, it is kinda unlikely that his height will change much more. His pasterns are a little short but I would rather have them short than long. He looks like a pretty nice little horse and will definitely fill out when you start using him all the time. He also looks to have really good feet and bones.
---
Always remember that feeling of looking at a big, open country over the ears of a good horse, seeing a new trail unwind ahead of you, and that ever-spectacular view from the top of the ridge!!! Follow my training blog:
http://robertsontraining.blogspot.com/
So far I have found out that the horses out of his bloodlines are late bloomers. His dam was as well as her dam and the sire as well as the sire's dam. So I still have a bit of hope. I'll be happy if he makes it to 14.3hh. He's at 14.1 right now. Not as tall as I like, but that's not a make or break, especially with him! I think we may have just a couple more inches, but who knows! I also agree that his pasterns are on the short side, but I too like them shorter than longer. And as far as his bones/legs/feet go he has some pretty sturdy support! He doesn't have the thin little chicken legs that my boyfriend's mare has...THANK GOODNESS!! :)
---
~*~*~*~No hour of life is wasted that is spent in the saddle ~*~*~*~
I don't like his pasterns
Butt high
Something about his neck throws me off.

Overall though, I like him. I think he will look nice once he fills out and he's got a cute head :)
Thanks. His neck is a little shorter than I would expect for a horse his size.......My boyfriend and I were just talking about that yesterday! Anyway, I think he should be a pretty decent looking horse after I work him up....My boyfriend REALLY likes him, and he said that if I ever THINK of selling him that he would buy him from me. lol I don't think I ever could sell him though. And as for his head, I agree. He's a totally cutie pie!! :)
---
~*~*~*~No hour of life is wasted that is spent in the saddle ~*~*~*~
He has potential, just needs to grow into himself. He is such a cutie though. He looks like he will end up as a nice horse. Amazing tail, nice and long and thick, ugh i wish i could get duchess's tail to look like that.
---
quarter horses.....simply the best
Thank you! His tail has grown 8 inches since I bought him in late August of last year! I loooove it! He is a doll. I couldn't have asked for a better horse.
---
~*~*~*~No hour of life is wasted that is spent in the saddle ~*~*~*~
He's downhill, I don't know that he's going to grow enough to make much of a change there and there's something really odd with his neck. It looks too short and it just doesn't tie in with the rest of him. He needs a lot more muscling on him. Maybe that will help with his neck looking so small. Muscling will help his hindquarters as well. I like his four stockings.