Critique Beau!
---
7yo QH Gelding; I ride him H/J and a bit of Dressage
These are all from last summer; he's been worked a lot since then and probably has a better topline now.
I don't have any *good* conformation pics; I will try to get some if I go out to see him today. (:
Bloodlines: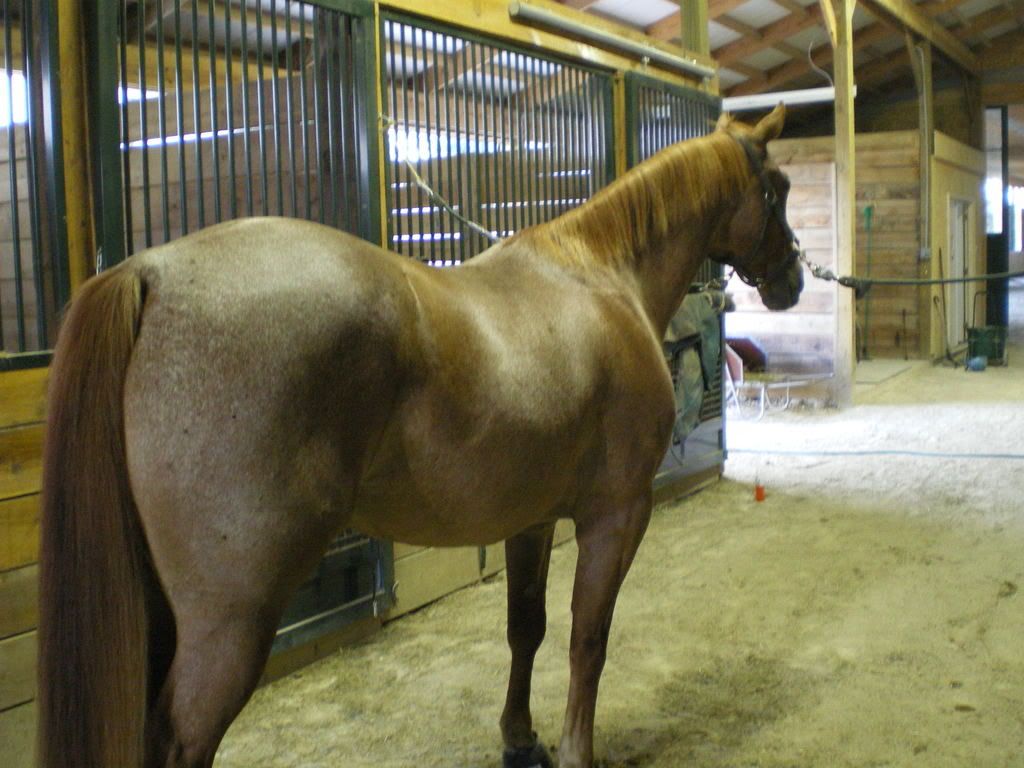 He actually isn't downhill, but the angle of the camera makes it look that way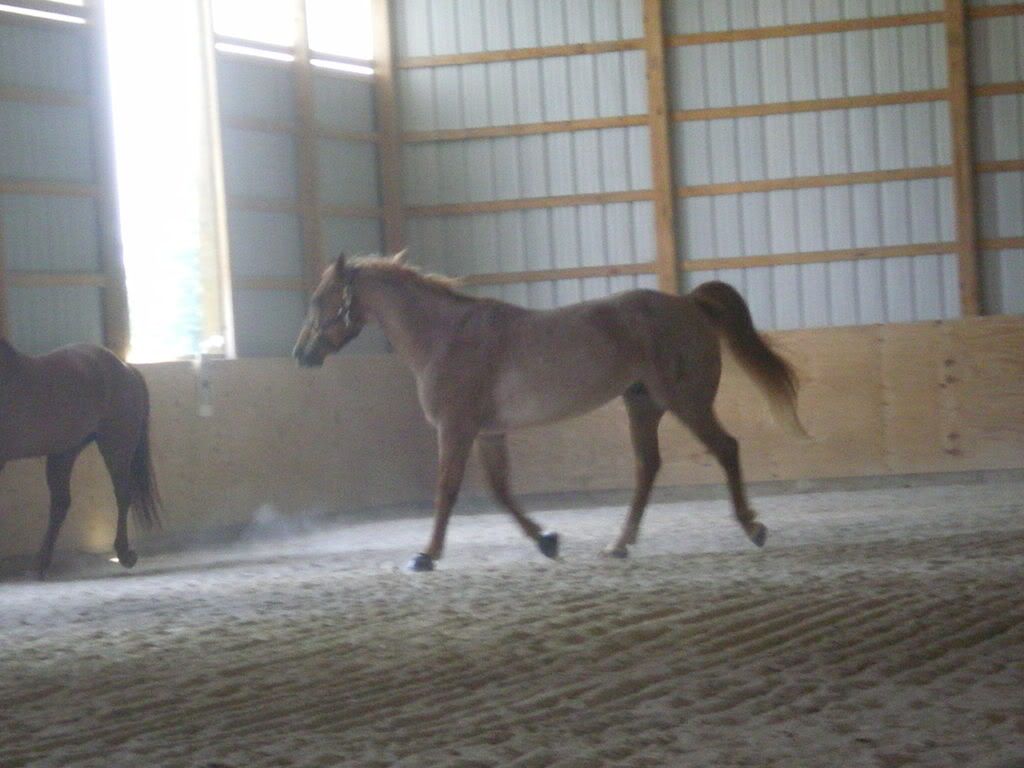 You can kind of see his neckline in this one.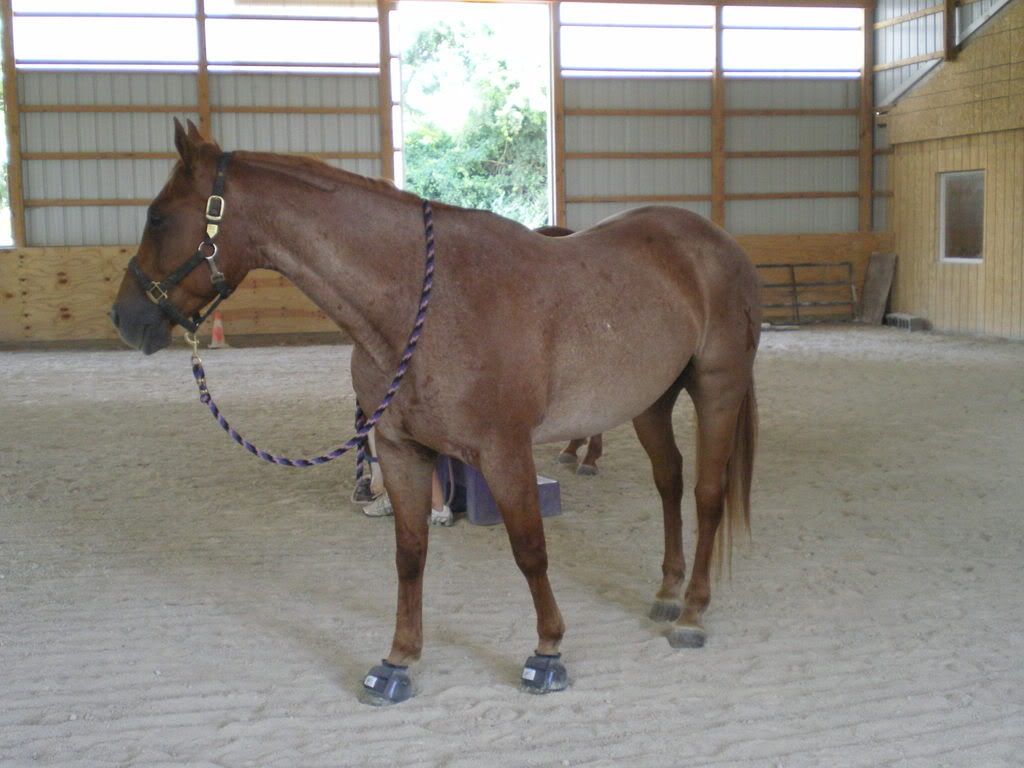 ---
Fly Without Wings
he is a real cutie!

from what i can see tho i am no expert he is nicely proportioned, in the pic of him moving he looks slightly bum high but that is mostly likely with the movement/arena footing etc.

once again tho, real cute guy
I love his color and his face. Remarkable bloodlines!
New picture; maybe this will help?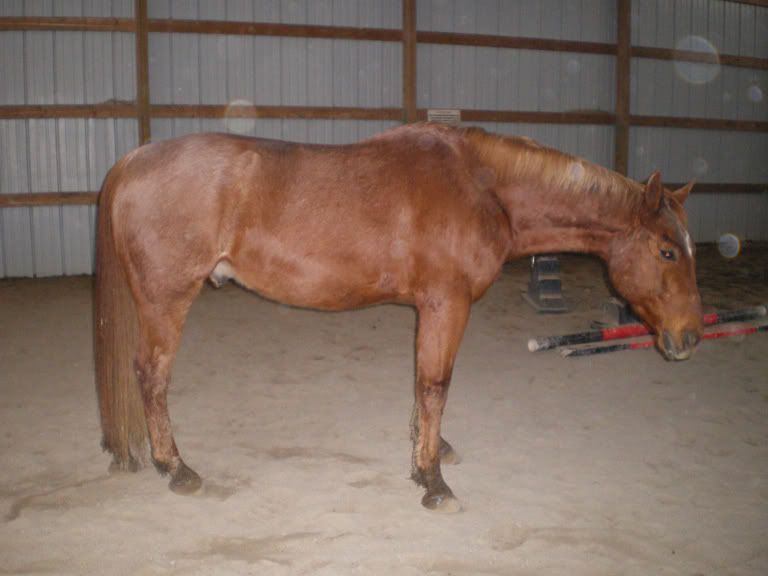 ---
Fly Without Wings
i love his blood lines. He is bred to be a cow horse but good he looks great
He has a long back and is a little cramped under in the front. He looks a tad uphill. His neck doesn't look quite right, maybe too short. It could just be the picture though
Banned
Join Date: Dec 2008
Location: At my house, or stable, duh!(Michigan)
Posts: 2,479
• Horses:
3
He is long backed, a little uphill, and appears to have a short neck but that could be the picture. He looks a tiny bit hame-headed and his hocks look a little straight to me. He looks like a sweetie though and he is bred very well. Beautiful color.
He's pretty nice overall. I don't know QH bloodlines so I can't comment there, but it seems like a few people above did so I hope that helps lol.

As for confo, he's got a big shoulder and lacking some in the hind. He's long in the back, with a low set neck and big-ish head. I'd like to see more definition in the hind end and a shorter more sloping shoulder to give him more reach with his front end and help him lighten on the fore. His stifles are weak and somewhat straight, so I'd say with some hill work that should improve, as the rest of his hind legs look nice, with good bone and angles.
As for the head and neck; he was in the middle of turning his head toward me when I snapped the picture, so that might be part of it. If you can see, his head is turned slightly towards the camera; you can see a bit of his eye ..bump? on the other side of his star.

First time I've ever heard him called uphill lmao. Every picture I get of him he doesn't look like .. the way he actually looks.

If I had more hills around my barn I would definitely do hill work. He lost some of his bum since I left my old barn because I used to take him in the field and run him up and down a slight slope.. wouldn't really call it a hill; and we used to go back on the trails ALL the time which was pretty hilly.

What would you suggest doing since I don't really have much access to hills at the moment?
---
Fly Without Wings
---
Last edited by Ne0n Zero; 01-20-2009 at

04:14 PM

.
Similar Threads
Thread
Thread Starter
Forum
Replies
Last Post
Beau

eventer_beau

Horse Pictures

17

09-05-2008

10:10 PM

New photos of Beau

Sara

Horse Pictures

16

08-14-2008

04:39 PM

Introducing Beau!

eventer_beau

Horse Pictures

12

07-30-2008

06:52 AM

Beau Under Saddle

FGRanch

Horse Pictures

22

07-12-2008

08:40 PM