Critique Brandi
---
Here's a compliation of some videos throughout this year. (PS. there is bridleless at the end of the video)
Let me know what you think of her :)
We just finished her up this year (she was broke, but not finished in the reining manuvers), she's 8 years old by Footworks Finest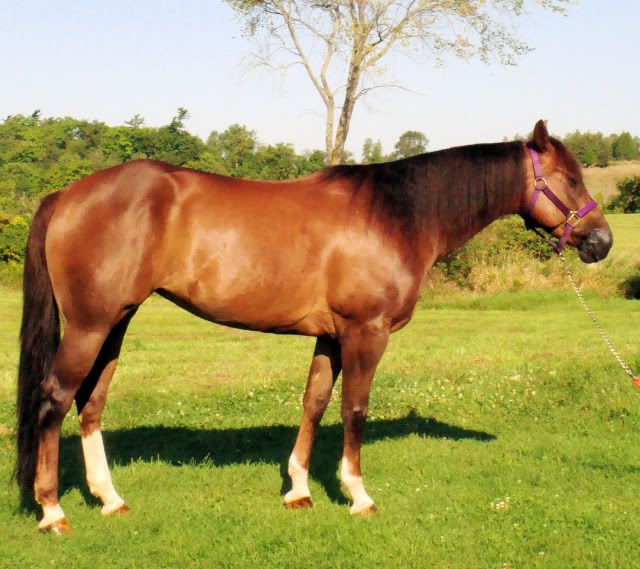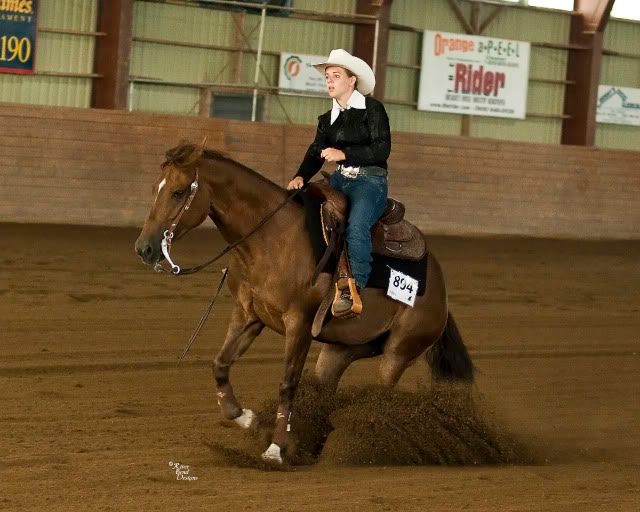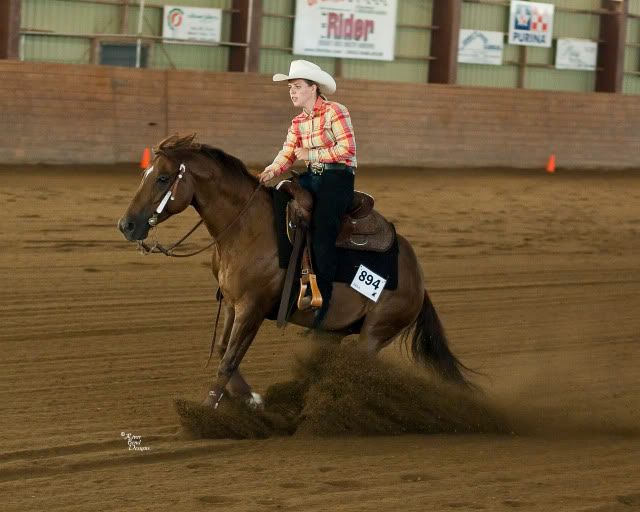 She looks nice from a conformation standpoint! Gorgeous, too!
I'm sooo excited; I've been riding my whole life but my horses aren't reining horses.....so my uncle, who lives in Colorado and trains and breeds reining horses for a living, invited me to learn reining at his ranch nect summer! I'm so excited!
(sorry, just had to share!:))
Green Broke
Join Date: May 2009
Location: Winnipeg, Manitoba, Canada
Posts: 4,510
• Horses:
2
That is some **** fine training! Gorgeous mare and I LOVE your sliding stops - nice curve, perfect balance, and you're off her face. A friend of mine just took pics and posted on Facebook of a local Western competition - the photos made me want to stab our local reiners in the face. These are so-called TRAINERS in massive curb bits with dead set stiff necks and gaping mouths as they haul on the bits. Just disgusting. So refreshing to see someone doing it right!
---
Quote:
I hope God tells her to smash her computer with a sledgehammer.
Thanks :) :)

We did have an issue of gapping mouth, but it leads back to previous experiences and her not liking the bit. We've ALWAYS tried to stay off her face stopping, sometimes you do have to take a hold of them but its not something we work towards ahha. She would gap even when your have her on a full drape. We found a bit she likes though, and the most she's trusting us the less she does it.

Thanks for the comments, we worked hard on her this year and it wasn't easy and there is still MAJOR room for improvements. But a habit can take a few years to break.

I really love her though, next year I think everything is going to come together, I think she'll be at the point were all the pieces fit and it gets easy for both of us.

She really hasn't been with a trainer since a 3 or 4year old and never got completely finished. So she's really green reining wise, pretty broke now though. That just started coming and its a great feeling!!

Next on the list is getting her to relax her head down on the run downs and the stops, but again I think thats something that will come with time and persistance.
Very impressive! You two work great together. I hope more people watch your video so they understand that you can do very nice work without all sorts of harsh bits and gadgets.
Thanks :) :) It hasn't always been an easy rode this summer but I love riding her. I think next year will be even better because I haven't even owned her a year yet.

I do use a ported bit when I show her and ride her in a bridle. But for the most part if we want to work on collection and all that we put her back into a snaffle of some sort. Because honestly you don't want to be messing around to much in a port/shanked bit if you don't have too.

Right now I'm actually riding her in a lighter bit, it's shanked with a low port and she loves it.

I don't believe that a harsher bit is going to get you ahead in anyway. If your horse can't do it in a lighter bit you just have more work to do. Then for showing you need to find a bit your horse likes, and sometimes that ends up being the bigger bit.
very cool! i Dont know much about reining but seems like you two are doing very good with it especially for only doing it a shorter while!
she is really cute .. how tall is she?

she looks a little butt high but it might just be where she is standing ..

but you can send her to me if you ever get sick of her :)
---
:: Karley ::
Tucker WB/TB- 11 yr
Speedy QH/TB- 22 yr
She's about 14hh-14.1hh not exactly sure which one haha.

And she is a little bit butt high, doesn't seem to affect her too much though. She can get on her forehand a little bit if you let her, but honestly what horse won't if you let them?