Critique Conformation... HONESTLY
---
I would love everyones honest opinion of my horses.. I will post pics.. and tell me what you HONESTLY think. Im not concerned about my feelings.
La Storm: 9 yr old Appaloosa
L A Malibu Maui: 3 yr old Appaloosa
(she was about 2.5 yrs old in these pics)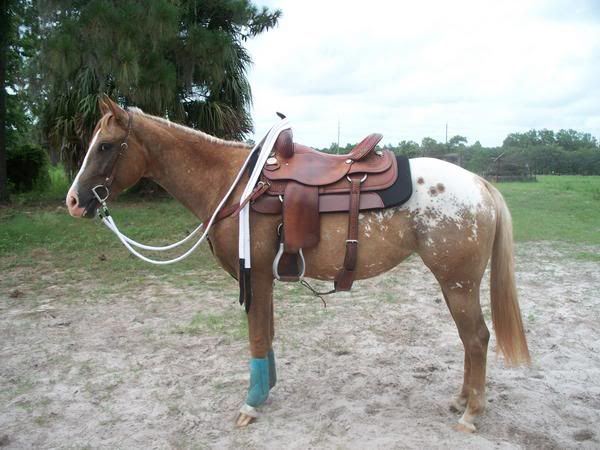 ImHeirrisistibleToo: Almost 2 yr old Appaloosa
(he was only 1 yr old in these pics though)
WOW! Your horses are stunning!!! Your mare, L A Malibu Maui, is my favorite :). She is just beautiful!!!
---
"Don't turn you disabilities into a crutch, turn them into legs and run with them"
Try to get better conformation pics, then we will be able to better tell.
---
Last edited by White Foot; 02-24-2010 at

02:04 PM

.
Thanks for the compliment.
It is hard to get confo pics... as I have a place of my own. And Im the only one ever out there.
And only my mare will really stand for pics to be taken...
Can you tie them? That's what I did with my gelding the first time I took confo pics.

I can't see a lot good or bad based on the pics. They're all pretty horses with nice color and no life altering faults (that I can see anyways). The 1 yr old is butt high, but not surprising for his age. All of their shoulders seem fairly straight as well.
Terrific headquarter, with a lot of depth. Low set hock. Both good/typical for a western or working ranch horse.

Very prominent wither, with a curious dip behind the wither. Seems to be a chronic lack of muscling? Very difficult to fit a saddle to correctly. Shortish shoulder, neck tied on high on the shoulder, slight ewe or underdeveloped neck. All this together means he is built to travel somewhat hollow and inverted; will be difficult to get him to round up.

Cute head, more refined than a lot of apps.

Nothing that would keep him from being a useful pleasure horse or competing locally.

Hard to critique the yearling, other than the obvious butt high, which is typical for a horse that age.
They will tie. They just wait till im far enough away to take pictures... then the move to some god awful angle. lol.

Yea... that is one thing I hate about my gelding. His high withers. And he was VERY hard to fit for a saddle. But the good news... when hes working... he does manage to flatten out his back.