Foal
Join Date: Jul 2007
Location: In my horses stall, feeding him cheez-its
Posts: 109
• Horses: 0
Critique Cross country pic
---
This was Watsons first time jumping cross country, so don't be too harsh on him...
As for me, let me know EXACTLY what I'm doing wrong...I need to be yelled at.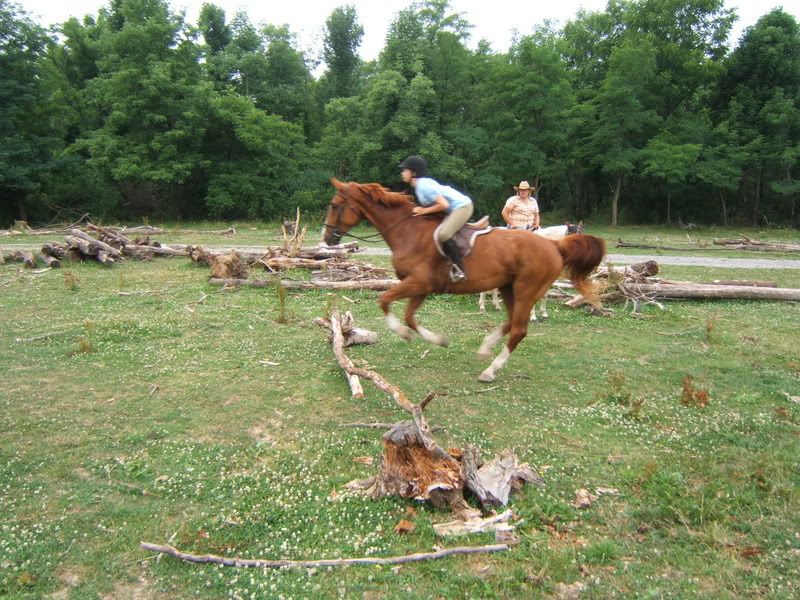 I think you look fine for cross country! How old is your horse? He looks great too!
i think u both look fantastic for the first time well done
You look wonderful,the only thing i see is that you can open your hip angle,so you're jumping with your hips and not your knees.

Well done!
It looks like you are jumping ahead slightly but it may be because you are jumping with your knees. Also, if you brought your leg just a little bit forward it would bring your upper body back so it doesn't look like you are jumping ahead. You also need to close your fingers, I have the same problem cause you don't know you are doing it until you see it in a pic. But i do like your uper body a lot, and you look like a great pair.
---
It is not just a horse,
It is the one thing that keeps me from being just a girl
Foal
Join Date: Jul 2007
Location: In my horses stall, feeding him cheez-its
Posts: 109
• Horses: 0
Thats what I noticed. And Watson is 15, so hes getting up there.....

Thanks
if thats his first time at cross country...well done!! he looks great just wondering...how big was the log? or sticks should i say