Critique Fatty.
---
This is Abby. Many of you have heard me tell stories about her being a jerk. If you haven't, she's kind of a jerk. Very mareish. Anyway, she's an 8-year old Paint/Quarter Horse.
These are the best pictures I could get. It was also after riding, so the mark on her back was sweat, then she rolled, so it's a big dirt patch.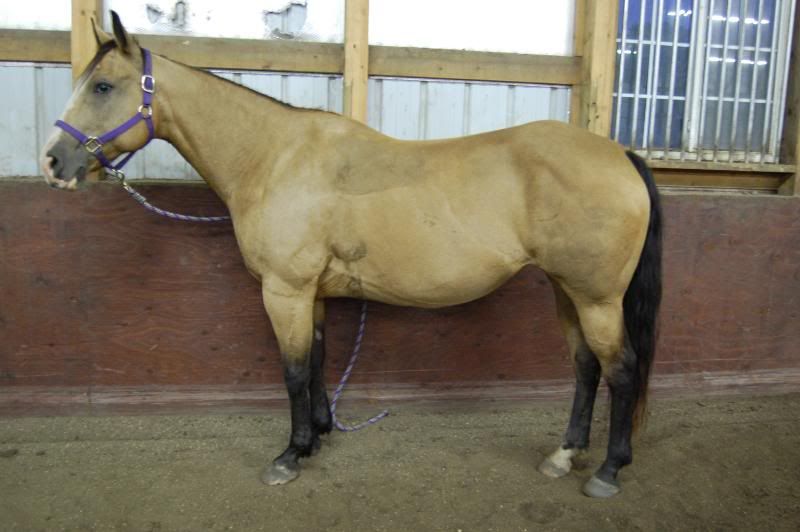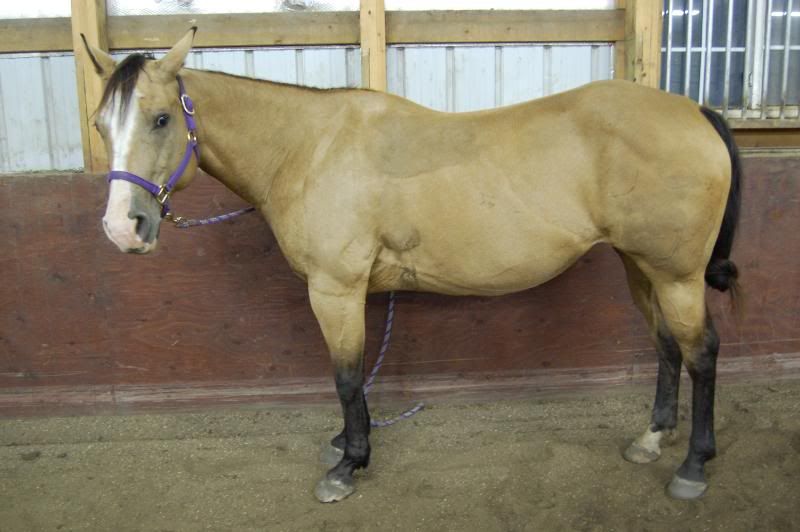 She has giant feet. They do need to be trimmed a bit, but they're still huge.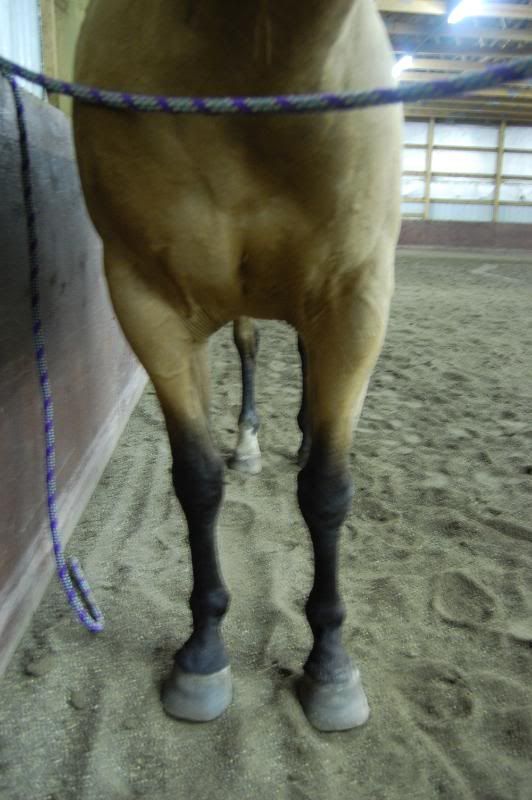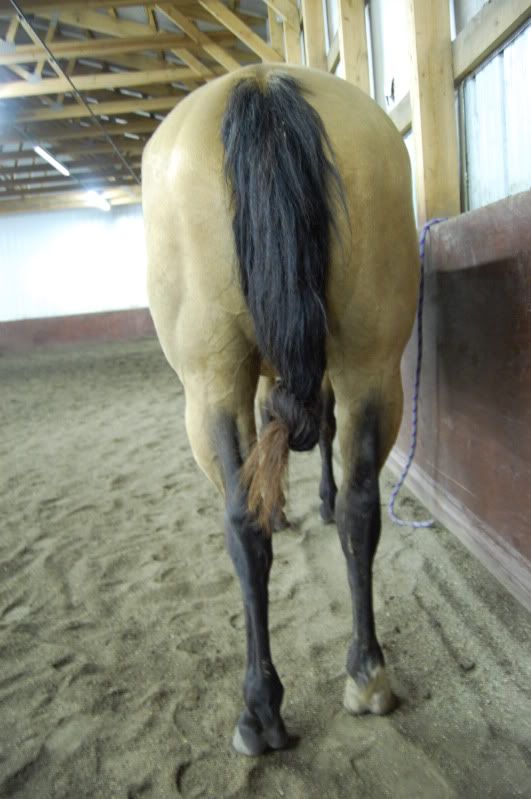 "Srsly, Mom. Let me go outside and eat supper. This is getting ridiculous."
Cute horse all the way around. Front legs do turn out. A little steeper in the pasterns than ideal, but solid leg structure otherwise. Could use a hair more angle to the shoulder. Long back. Hip, again, on the steeper side, meaning it's a twinge weaker than it could be. Hocks a little high and a little straight. Nice mare.
Showing
Join Date: Jun 2011
Location: Cariboo, British Columbia
Posts: 11,737
• Horses:
3
Exactly what Bubba said. I like this mare, I am not a big fan of buckskins, but I like how she looks. Nice horse.
her feet look of a normal size to me. She is very pretty and has really straight legs (I mean not crooked). Long back and a bit downhill. She isn't fat, though. Do you always call her fatty? I call Mac "chubs" at times, then I say , under my breath to myself, "takes one to know one."
Thanks, guys. I'm surprised the pictures turned out as nicely as they did. She is terribly unphotogenic. I have a picture of her that looks like a TB gelding..
The barn I board at is full of Halter bred Quarter Horses with teacup hooves. Compared to them, she has draft feet.
She knows her name is Abby and responds to it, but she usually can't hear the difference between Abby and Fatty. However, I only call her Abby to her face and when I'm around other boarders. If I'm talking to my BOs or the other people I do chores with, she's Fat Ass.
---
Quote:
Exactly what Bubba said. I like this mare, I am not a big fan of buckskins, but I like how she looks. Nice horse.
lol I LIVE for buckskins <3 my fave horse at the stud i halp out is a buccky stallion and i ride one sometimes too
VERY cute horse <333!! Love her face
GO us bucky lovers
I think Bubba pretty well nailed it Po, though it looks like she turns out a bit on her hinds below the fetlocks.

She has the same square toed thing in her fronts that Lily has, but that might just be the pic.
No, it's not the picture, that's how her feet grow out.

Thanks, guys. I knew she had a long back and steeper than ideal shoulder, but that was about a far as my conformation knowledge went.