Critique filly ...
---
Please critique this 18-month old filly. Western pleasure and HUS bred, AQHA HYPP N/N. She is currently 14.3 hands, both parents close to 16 hands.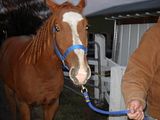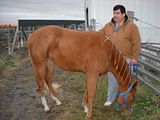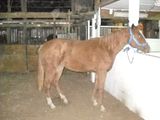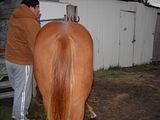 The pics are rather small. I like her markings.
ahahaha, niced face marking, its cute. Yeah, the pics r small so i may be wrong about this but from what i can see in pic 2 and 3 her back hocks turns in... thats not good conformation. In the last pic u can see that her rump is quite... non-mussley (LOL) but i think thats a foal thing, she should fill out nicely when she's a bit older.
---
Conformation is about so much more than if the legs are straight.

I like her. She very well balanced with her hip and shoulder angles matching. Her neck ties in well to her shoulders, however I would like to see just a tad bit more length to her neck (could be the bad photos). I think she will do well for you! She's the type who will want to carry her neck level, just make sure you keep her legs correct throughout her training.
---
http://www.cedarviewpainthorses.blogspot.com
Home of:
Perfect Jin N Scotch - 2004 APHA Palomino Overo Gelding - Western Pleasure and Showmanship
Hanks Rainy Sky - 1998 Black and White Tobiano Paint Gelding - relaxing rides and blazing trails
Overall shes a very good looking animal. What I can see with the provided pictures is: 1) little over at the knees 2) slightly cow hocked. But in general she is a very nice filly. Well balanced, and very pretty head and neck.
She has a sharp angled head and neck, it doesn't have a graceful curve, just straight. Her hind legs look really angled, like they are more under her than they should be? It's common for western bred horses to be cowhocked =]

I love her nice broad chest though =] She is pretty, good luck with her =]
---
Lettin' the cat outta the bag is a whole lot easier than puttin' it back. -- Unkown

Overall she's not to bad. I'm not digging those legs though. She is slighly sickle hawked and perhaps cowhawked as well. She also look over at the knees. I could be wrong on all of these it's hard to tell without correct conformation pictures.