Critique first pony! and help please?
---
I want to know all of your opinions on my first pony secret. She doesnt live at my farm anymore, she is now a brood mare down in Tennessee.
She's a Tobiano paint mare. She was named Highest Pointed Grand Champion pony of the year 3 years in a row! She's 14.1 hh. I wish i could have her baby, or have her back. . . . this was one pony who cared more about anyone than herself. My nephew, when he was just a baby, i brought him out to the farm and he was in his stroller and Seek rocked the stroller back and fourth and nuzzled the blanket and she put him to sleep! :) she had such a personality. I want her back really bad but i dont know how to ask the farm lady.
my friend insisted me to let her take Secret to her farm in TN because she had a bowed tendon, but i didnt want to sell her to someone i didnt know. Thats how much she means to me. and so we shipped her down there.
I visited her this past summer and i thought she wouldnt remember me, well. . . she galloped up to me and she hugged me with her neck and whinnied to me!
and just this past october, my friend told me the DAY OF that "secrets being sold to a brood farm" without telling me before. Because if i would have known about it, i would have paid everything to get her shipped back up here.
I want to get in contact of the brood farms owner. I dont know the lady, everything. Thats not the correct thing to do.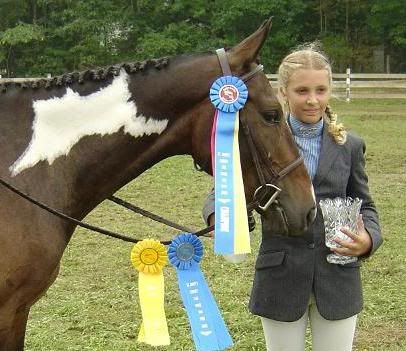 (her very first show in 02')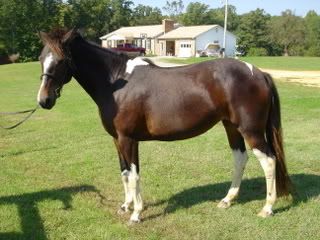 (again, first show in '02)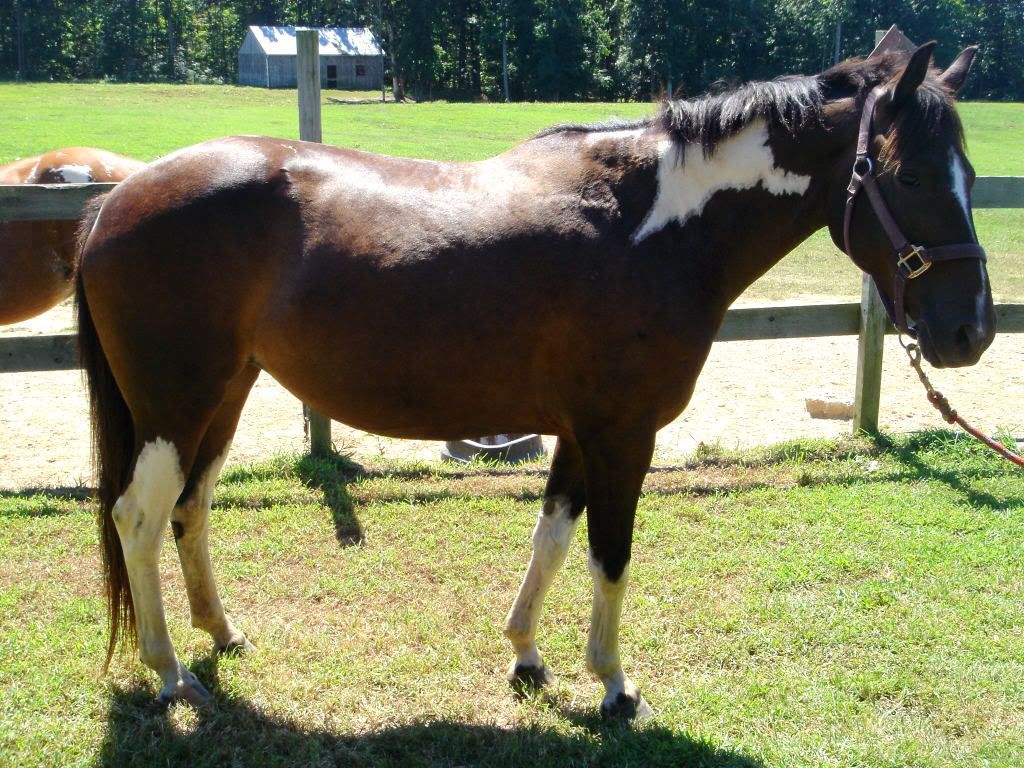 ---
--casanova;<3
`95 adopted thoroughbred gelding
my entire worrrld;
---
Last edited by chelssss(:; 02-05-2009 at

02:41 PM

.
oh and some more info:
before i shipped her, she all of a sudden went dead lame at a show. out of the blue- she hadnt been ridden in 2 years. because we went through 6 vets, 4 farriers, and no one knew what was wrong with her. They all said bowed tendon, artiritus, and she was only 8 at the time.
well when i went to visit down in TN, we took Secret and my friends horse on a trail. and of course i figured she's still lame. i cant ride her.
she was so excited to be out again. she loved having the saddle on her. we used to bring her in the arena with us at her old farm in MD and she trotted and canted with us. and even jumped to show off haha!
and we galloped, jumped, EVERYTHNIG. . . she wasnt lame after that!
---
--casanova;<3
`95 adopted thoroughbred gelding
my entire worrrld;
BUMP:
sorry this is suppose to be in the critique forum!
---
--casanova;<3
`95 adopted thoroughbred gelding
my entire worrrld;
Banned
Join Date: Dec 2008
Location: At my house, or stable, duh!(Michigan)
Posts: 2,479
• Horses:
3
not the best to critique! if you could get some squared up pics of the horse that would be better!
She's a beauty! She looks a little over at the knee, camped under in the back and she appears to have a pretty short back. She's adorable though! Too bad you had to sell her.