Critique freejump with my horse
---
Hello all, I'm looking for comments on how my horse's jumping looks. He's jumping a little over three feet in the picture. He himself is almost 16h. Just so people know, he is a Tennessee Walking Horse, 5 1/2 years old. Sorry that the pictures are a little blurry, the dust was everywhere, and I'm not a great photographer under normal circumstances, lol.
ANY comments welcome, please just don't be rude :)
P.S. Does his neck seem too thin to anyone? If yes, how would that impair his ability to perform in jumping?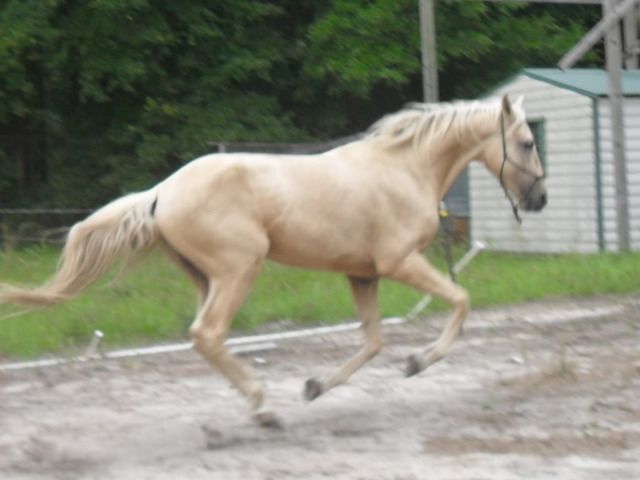 sweet! got a nice scopey jump on him x
---
Keep your feet on the ground when your head's in the clouds.
Thanks! He's scopey when he is energetic, but some days...lol, it's almost like he realizes he can crash into the jump to make it shorter, rofl.
He is a good jumper. However you don't jump tennesse walking horses they may be able to do but it kills there back after doing it for awhile. That is at least what I have always been told. However people still do it so don't let me stop you I just never would. Also my friend has one and she doesn't jump him for that reason.
---
somewhere behind the rider you've become the hours of practice you've put in & the coaches that have pushed you is the little girl who fell in love with the sport and never looked back. ride for her.
:) Tennessee Walking Horses can jump the same as any other horse. I have been in the breed for several years and I know several breeders--none of them ever had problems with the horses that were jumped.
He looks quite nice. Any horse with a confirmed walk, trot, and canter can jump very well. The problem might come if he switches to a TWH gait instead of a trot or canter. He could still jump, but it would be hard for him to have the proper engagement to thrust with his haunch for a bigger jump. At least, that has been my experience with gaited jumping horses.
Thanks for the input everyone!

Allison Finch--Yes, that is what I have experienced as well. Fortunately Dimey has a great canter, and prefers cantering to anything else(he is a BAD gaited horse, lol) so I always jump him from the canter, and he doesn't mind a bit.