critique horse conformation!
---
He's just a backyard horse, but I want some critique on him b/c I'm curious. I think he looks pretty good, I just want other opinions!
rear end pic...he's the appaloosa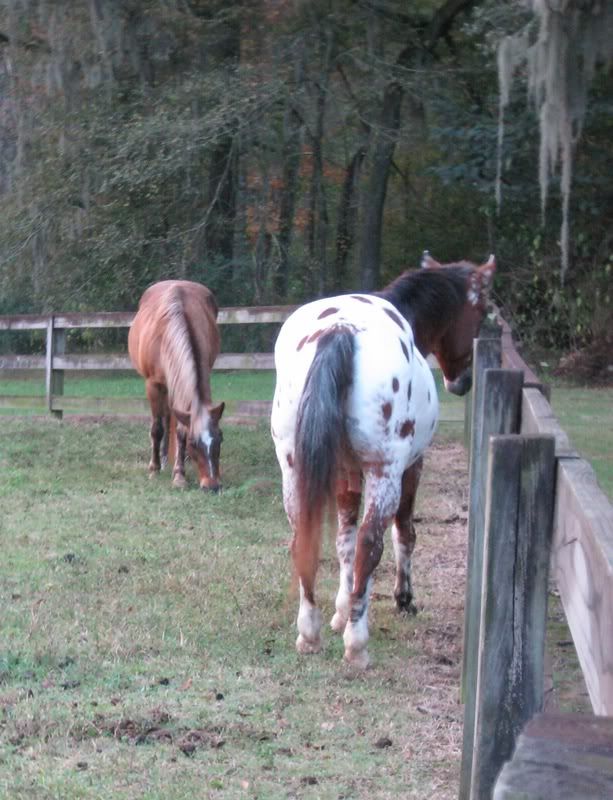 apache with his boots on.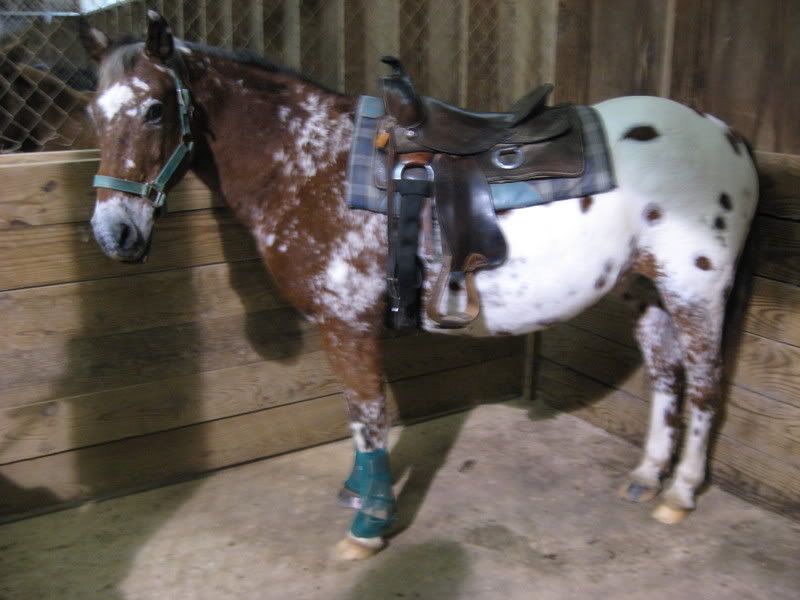 apache without his boots on.
That's all I have right now, but I'll try to get more later!
the biggest fault i see is his crest. other than that he is very pretty colored.
---
~A truly Fancy Pirate-Pirate-By All Time Fancy-Bay overo yearling.
~Mia-6 year old Thoroughbred mare. Ex polo Pony
He is very front end heavy. Otherwise, he looks good.
---
WHATS REALITY?
Yearling
Join Date: Sep 2007
Location: Delregans Way Performance horses QLD AUS
Posts: 773
• Horses: 0
Hey how you goin... your horse is alil cutey lol
I love your horses length of rein, he has a great length. I think he is pretty good formed... Just the faults i picked up, is that his back is a tad to long, and i dont like his straight back legs. He looks like he has a bit of age on him...is that right... he looks like a wonderful gentlemen hehe
---
Delregans Way Performance Horses
Bundaberg, QLD
Australia
It's really hard to tell b/c of the saddle, but is he a slight bit sway-backed? The saddle pad is pretty far up, so it might just give that illusion, but now I'm curious. The only other thing I'd comment about is an angled croup, other than that he looks great for what you're doing :) best of luck with him!

ps I love the coloring!
---
The lovely images above provided by CVLC Photography cvlphotography.com
thanks guys!
---
i love the critique and compliments!

JustDressageIt-Thanks! I love his color too! He is kind of sway-backed, but the pad makes him look even more so! I don't like his angled croup either!

Delregans Way- He is older...around 20 I think. He is a perfect gentleman when it comes to kids riding him, but when I get on him, he's fun! I've always said his legs look really straight!

BluMagic- I know, he is front-end heavy! I had never noticed that! He's got a big belly too! I don't have much time to ride him.

Tessa Bear-Thanks for the critique! The reason why I love him is his color and sweet disposition!

Thanks again guys!
I have to admit...he's a beautiful appy boy!!!!
---
WHATS REALITY?
He is cute. I'm not usually a fan of appy's but he's really cute! I would say everything that everyone else has said, but I think he looks just fine, nothing really wrong with him at all, just minor stuff that he can't really help anyway,...cept for the belly! teehee! Good luck with him!
---
Have you hugged your horse today?
He has lovely flashy coloring! Just a wee bit chubs
I feel like he's sway-backed (pad and saddle kinda hide it). And has hay belly. Lol! Other than that he's in good condition and compact.