Critique of horse I am trying to sell
---
Meet Kiddin Fancy Dee, aka Fancy. She will be 6 in March and I have been trying to sell her for about a year now :-/ I was hoping to get some critiques on her and see if maybe I was asking too much, or if she had any obvious flaws. The video is from when I came home from my first year of college and she hadn't been ridden (nor had I) in about 6 months!
She is APHA registered, not spooky, very smart (almost too much for her own good!), flashily (<--?) colored being that she is a light roan (hard to see in picture), trailers, stands for farrier, etc.. I guess she would be considered green broke, but she has been successfully ridden on the road and even competed as a 2y/o in the Futurity class at the Texas State 4H Horse Show. She does have a bit of an attitude and can be disrespectful at times. I am asking $1750, but am open to negotiations because I realize this is a high price for a fairly inexperienced horse.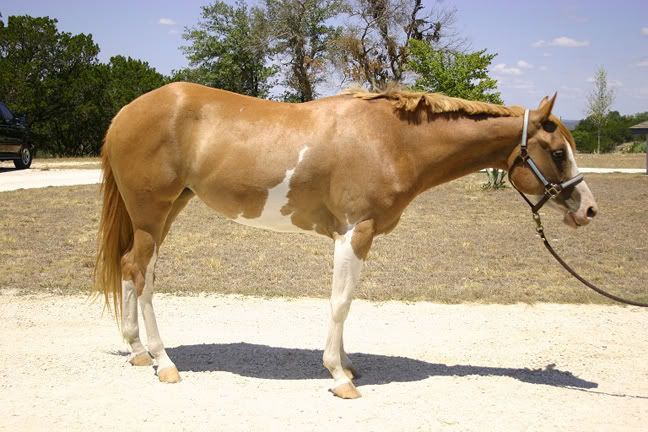 This might belong in the confo thread?
I don't think I would pay that much for her. I am seeing a horse with minimal training (From the video, it looks like all she knows is circles) and particularly to the left I see her dumping on her forehand. I also see her bracing against you on the stop and backup, which would get better with a lot of suppling and flexion.

Also I would be very interested to see all four conformation photos, and a closeup of the front legs. I have eyesight issues and the zoom on my laptop doesn't work for some odd reason, but I see something not quite right there. Long fetlocks maybe, or long toes? Does anyone else see it? I generally try to avoid conformation critique because of my bad eyes, but I'm interested to see what a more experienced conformation critiquer has to say.
---
Pssh.I didn't pick up the wrong lead
It's called a counter canter...
...A very advanced maneuver.
Thank you for the reply. Like I said, that video was after not being ridden for 6 months haha but yes, she has had minimal training. Mostly that's because the only place I have to work with at my house is that round pen :-/ (which could explain why she is so much on the forehand?) I made a post about this in the tack thread, the reason she is bracing against me is her sensitive mouth. It gets sunburned and chapped really bad and even that O-ringed snaffle makes the corners of her mouth bleed sometimes. I'm not sure if it hurts her when I pull back, or if she is just being stubborn. My question in the tack thread was if a bosal might work better for her... Would you happen to know?
About the legs, I think her hooves are just a little too grown out in this picture. Could that be it? I've also always thought her pasterns are a little too straight and possibly long. I only have a shot of the other side and some random ones: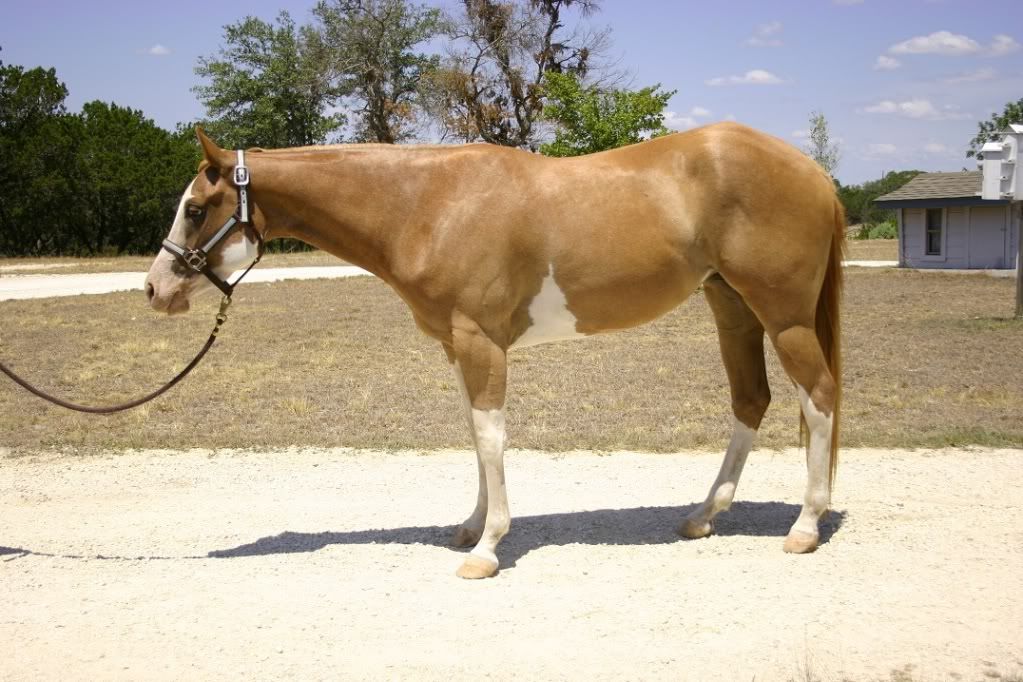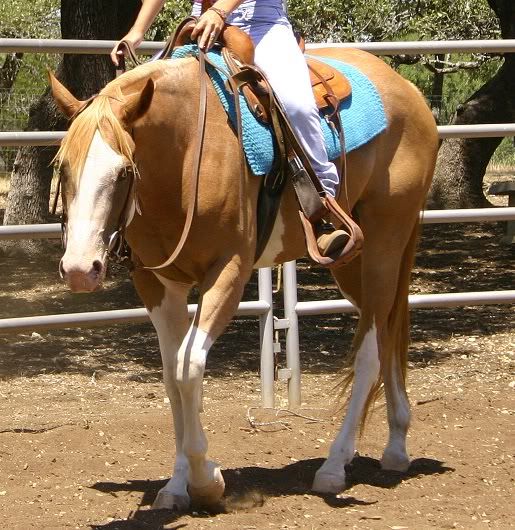 I actually found these more recent ones on my computer: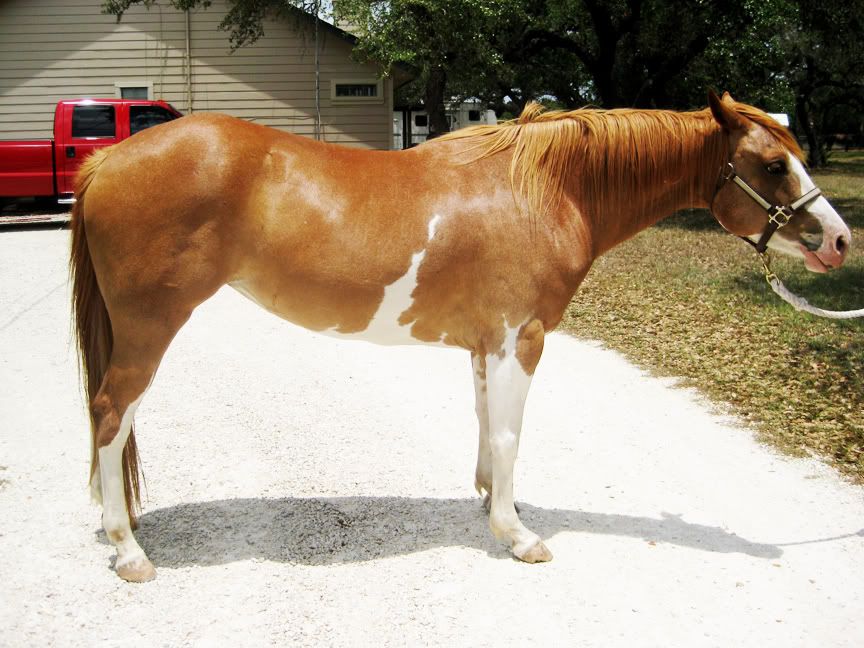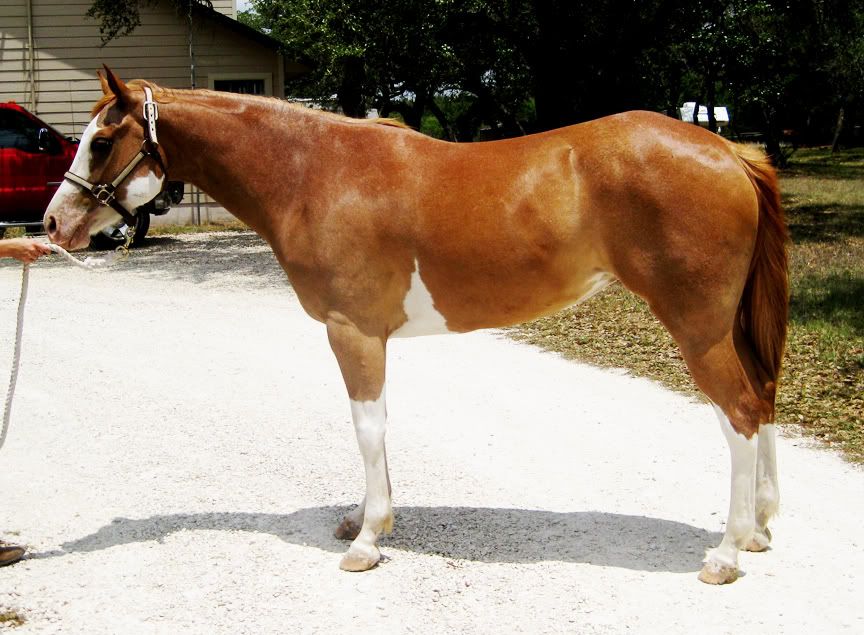 I see that she is sickle hocked, long cannon bones, butt high & downhill, long back, ewe neck and looks a tad cow hocked. SHE IS A GORGEOUS GIRL THO!!
Yes, I think you are asking too much. She is a lovely mare, but she is quite green, and it doesn't seem like she has many miles on her. Especially in Texas, the horse market isn't great right now. However, she does look like she has potential with more training, so that keeps her worth up a bit.

Sorrel, I think her toes are just a tad long....her pasterns are also a bit low-slung, but nothing that would be a deal-breaker (for me, at least).

If she takes to the bosal well, that could definitely help her out. I would try it and see how it works for her.
There are several reasons why horses don't sell in a years time. I think the primary reason is value for the money.

A seller needs to do their homework and know what horses of equal looks and ability are selling for - not their asking price but actual money in hand. Too many sellers put "potential" as value - truthfully, it is worthless.

Sellers also think too much about how much the horse has cost them in care and training - you will never get that back out of the horse at the level that most horses are at.

Time of the year is also a consideration as well as local conditions. Texas has gone through a devastating growing season and hay is very very scarce. People have been selling off livestock at firesale prices.

I'm afraid that if that were my horse, I would be asking 1/2 of what you are and take the best offer that came along.
---
I'm not arguing with you, I'm just explaining why I'm right.

Nothing sucks more than that moment during an argument when you realize you're wrong.

It's not always what you say but what they hear.

Quote:
I'm afraid that if that were my horse, I would be asking 1/2 of what you are and take the best offer that came along.
I have to agree with that. If you've been trying to sell her for about a year, obviously there's something about her that people don't like. And if it were me looking to buy her, I'd start with the price. Most people looking to buy don't want to spend a fortune, especially in this economy. I would maybe start at 1000, possibly less, and go from there.
---
Thank you for feeding us years of lies. Thank you for the wars you left us to fight. Thank you for the world you ruined overnight. But we'll be fine, yeah we'll be fine.
What I'm seeing in the video is a very green horse who is just kind of going through the paces. She's too fast and strung out for Western Pleasure, yet to slow and unresponsive for reining or cutting and her conformation does not lend well to any speed events such as barrels even if you could get her too move. Definitely not breeding prospect either.

Plus, as the other's said, she does have a few big conformation flaws that would also get in the way of someone being successful in a show or 4H arena.

She is a doll, I love her head, and she has fabulous color. I do see her as a wonderful trail horse and a lovely casual riding horse for someone who just wants to hang out on trails. Unfortunately most people don't want to pay a lot of $$ for a "just for fun" sort of horse.

Horses like her go around here from 200 to maybe 600 if the person were lucky.

But this is only MY opinion....like I said, she's a doll and actually something I would look for as a horse for my daughter who just want a "for fun" horse to ride on trails.

My advice is this, try to work with her over winter if you can. If you can put her in a little training, even better... you might get her collected up for WP by spring if it's done correctly. People are more likely to buy in spring than winter, after the hay crops come out as it's harder to feed horses over winter, especially if you can't use them until spring anyway. So long story short, if she were my horse, I'd put work into her over winter and try again in spring with a slightly lower asking price. I think if she's looking a little more like a WP horse you may have some lower level 4Hrs interested.
---
Last edited by Cinnys Whinny; 12-22-2011 at

10:36 AM

.
Thank you all for your critiques! Sometimes it takes a fresh eye to look over a horse! It is very muddy here at the moment, and like I said, I only have the round pen to work with. However I am determined this summer to really try to finish her off! There is a new arena opening up by me in April so when I get home from college I will have a real place to work with her. Hopefully a new type of bridle will help our sessions be more productive.