Critique/judge...Might be fun!
---
Hey guys!
A couple weeks ago my horse and I went to our 2nd show (for all of you who gave advice about keeping her calm at a show I really appreciate it she was so much better this time)! We showed over fences that were 18" (hah yeah I know not much but we are show newbies lol). One of the classes I was in consisted of me and 5 of my friends. We have photos of each of us and I got their permission to post them and get some critiques/opinions and anything else you want to say. So that gave me an idea that I think might be kinda fun for you guys. Ok I will post 2 photos of each of us and you guys look through them and critique each of us. Then say how you would have placed each of us (for example: rider#_-1st place, rider#_-2nd place, etc) and explain why you placed them that way and what they can fix to get a better placing (in your opinion). I would say constructive critiques only but you guys are never mean so I don't think I have to worry about it (I appreciate that). Okay so here are the photos, CRITIQUE EVERYTHING YOU SEE
! And if you have any other questions or need more info on whatever feel free ask away =]! Oh and I know they are at kinda bad angles but please try your best.
I hope this is fun for you guys because I am excited to see the results and think it will be really helpful!
Rider 1
Rider2
Rider 3
Rider 4
Rider 5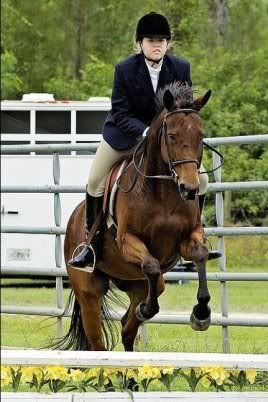 Rider 6
Thanks so much!
OK.. this is going to be long. If I dont explain something right, please feel free to ask for me to clarify.

Rider #1
Her eyes are up and looking ahead to the next fence, even if the jump isnt right in front of her; always a good thing.
She needs to shorten her reins and bring her hands up along the crest of the neck, following her horses head over the fence. Grabbing a hunk of mane will help to keep her hands where they need to be if she is agraid of snapping him in the mouth.
It looks like her leg has slipped back a bit and caused her to come in front of the pommel; shortening your stirrup a hole, and roll your whole leg so your toes are pointed ahead ( a slight angle is fine when jumping, it helps your calf to grip)

The horse has a cute expression and looks like he is enjoying himself. His legs are hanging which is not ideal, it can be dangerous and cause him to knock down rails. It could just be that the jumps are low, so he is not putting much effort into it.

Rider #2
EYES UP! In both pics your eyes are down, this is a bad habit; when you are coming up to the jump focus on something past it, and keep your eyes on it until you land on the other side.
In the first pic you have caught your horse in the mouth and he is not happy! When you go into your two point, run your hands up the crest of the neck and grab some mane. It looks like you may have got left behind on this fence as well which has caused you to grip with your knee and pitch yourself forward.
The second pic is better; you are more with your horse, but you are standing in your stirrups a bit; try to let the motion of the jump close your hip angle.

The horse is like the first one, has dangling knees; probably because of the height of the fence and he is just not putting that much effort into it.

Rider #3

Your eyes are up and you are looking ahead: good work. Your release is better than the first two, you are following your horses head over the fence. Your leg has slipped back, try putting your stirrup up a hole; when you are standing the bottom of your stirrup iron should hit the top of your ankle bone.
This is a cute horse, his knees are together and he looks like he would be a good little jumper.

Rider #4
In the first picture you are standing in your stirrups, try to let the motion of the horse close your hip angle. Your release in the first pic is good, you followed your horses head; try to rest your hands on your horses neck for support and grab some mane.
Your eyes are up in both pics and looking ahead; good job. But close those fingers on the reins :P I have seen many people drop the reins because their fingers are open (to be soft with the reins your fingers do not have to be open!!)
In the second picture you have gotten left behind, and cause your horse to hollow out his back and jump this fence flat.
Your horse has a cute jump (in the first pic) and really tries to arc over it. Once you are able to go with him a little better (this comes with practise and experience) he will arc nicely over them.

Rider #5
Eyes up and ahead: good! Your stirrups are too long! Shorten them about 2-3 holes. Because of the long stirrup you are way out of balance with your horse. Your release is good; the best so far although your reins could be shorter; you want to relase over the fences but still have contact so you dont drop the horse after the fence.
Once you shorten your stirrups the rest will fall into place.
The hore is cute; but again is dragging its feet.

Rider #6

In the first pic you got left wayy behind. This caused you to catch your horse in his mouth and land on his back.
The second pic is better; but you are still a little behind him; grab some mane to help balance yourself. And keep your eyes up!
Your horse is very cute and has great potential.

In every pic (may be repeating myself): They are all dragging their front feet - not a big deal, probably just the low fences, so they dont feel the need to put in a lot of effort (the guy i ride wouldn't even jump it - he thinks he's too good for anything under 2 ft)
Eyes up guys :P Eyes are crutial; they allow you to see what is coming and what is going on around you. Keeping them up also keeps your center of gravity lower allowing your seat to be deeper and more secure.
And don't forget to grab a hunk of mane; I've been jumping for almost 8 years and still grab it when I need to!

Keep up the good work; Your turnout is fantastic!
ya I agree they arn't really releasing and some need to shorten their stirrups and reins, and learn to fold a bit more, it looks like they are standing in their stirrups.
Well, Stepher did a great run-down of all your equitation and jumping styles. I'll just throw in my two cents of things I noticed that are probably minor details. I tend to focus on minor details! ha-ha

Rider 1: She looks like she's really trying hard and concentrating on her job. Her boots fit nicely and make her leg look long and sleek. I don't like the training reins (with the D-rings).

Rider 2: I can't get past the eyes-on-the-ground thing! Maybe she's fallen off so many times that she's preparing by finding a soft landing zone! Her horse is nicely groomed and fitted with appropriate tack.

Rider 3: Is she wearing her older sister's show clothes? Helmet looks like it's too big and has tipped forward. I could stick my arm inside the gap of her boot. But oh well, her form looks good and it's an adorable horse!

Rider 4: I love that she's looking where she's going! Although, might be another case of an ill-fitting helmet. It's kind of cocked to the side and maybe even slid back a bit.

RIder 5: Her reins are very loose and sloppy! But I give her brownie points for that because I do it too! Better than knocking him in the mouth, I say!

Rider 6: Okay, she's on a Paint, so FIRST PLACE!! =)
Not really a critique, but... I really liked rider4 and rider5 pic/horses. Lol!

As for pics, rider1 and rider2 look little tense to me (may be because of horses?).
Thanks so much!
I am rider #5...more often known as Amanda and my horse is Dusky =] lol! I really appreciate the compliments/critiques they are very helpful. I placed third in that class which I was really proud of since it was only our second show and we had never shown in that big ring before (and my friends have much more showing experience)! We had ALOT of fun too!

Stepher- Thank you! You were extremely helpful! I will shorten my stirrups next time and everything else. I think Dusky is only hanging her knees because of the small jump becuase usually I think they are pretty tucked and even )but what do I know...I may pm you later with a couple photos so you could help me know if it is all the time or just over that height and what I can do to fix it if you don't mind.) Thanks again!

ox-tuff_rider-xo-thanks for your input

Equina- I liked that you focused more on the little details, when they are fixed that is what will set me apart from everyone else. And yeah i know my reins are loose and sloppy o/f but I think its because I used to have a big problem popping her in the mouth when I land so now I make a point not to do that but I will try to tone it down a little.

KittenVal- Thanks for the compliment (since it was for rider#5 and well thats me lol).

Thank you all so very much!