Critique Jumping **pic heavy** Nova/Reba
---
Nova and I are finally getting back into jumping and shes doing soo much better now after doing months of dressage/hunt seat. How do we look over fences???
Pretty soon ill get some flat pictures
1-Showing 2ft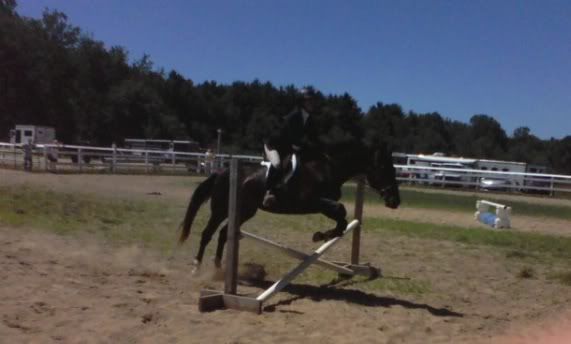 2-Jumping 3'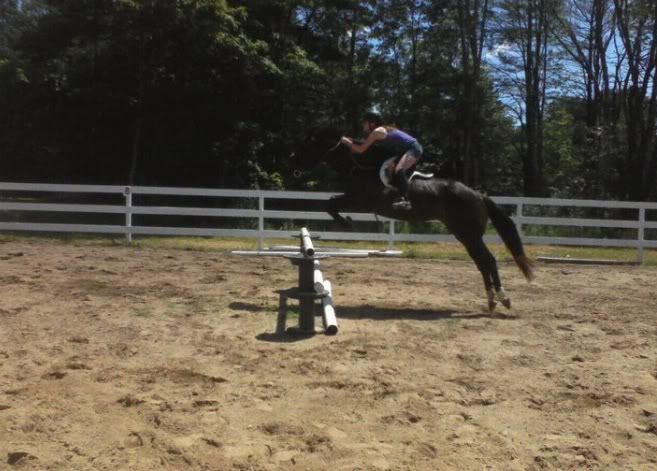 3-XC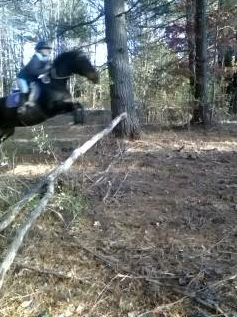 Oh and to prove we have done a lot of flat work heres a picture of her in a EQ class with me.
Heres some of me jumping reba, a perch/app I trained for 3 months. This was her first real jump: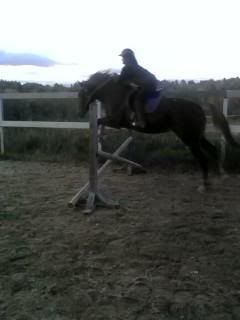 Critique me or the horses.
You have a pretty quiet leg it looks, and a nice follow of release. I like how she is using her neck to balance on. But in the second picture, thats way to early for a takeoff point, very long. This can cause her to jump flat, and she could not clear it. cute horse :)
Thank youuu :) It was either gonna be to far or to close.. im better at riding long spots rather then close.
The pictures are a little hard to see, but your leg could be a tad more forward and your heels need to be down more in almost all of them. Your back also needs to be more arched- right now it's just kind of flat. You could probably also use some more space between you and the saddle, it almost seems like you're hugging your horse's neck you're so close to it. But for that I would need someone else's opinion to be sure.
Looks like the jumper I had, sometimes takes off a bit too early which could end up to be a bad thing if there's an accident. But my jumper never had a problem other than being overly confident. Could be the picture angle but it looks like maybe some exercises in EQ could help get her flatter in the knee. Being that you work with her alot its more rewarding to see those little improvements in person.
---
Horses change lives. They give our young people confidence and self esteem. They provide peace and tranquility to troubled souls- they give us hope!
I like your position for the most part, but like a couple others have said it's the taking off too early that bothers me. Try working on striding some more, making sure to count in between jumps and even use groundpoles to get the horse more aware of where she needs to take off.
I did notice I get very close to her neck... I cant seem to stop that habit.. unless if its over lower jumps .. [first pic] Cause I always feel like i being left behind.. o.O We wont be showing over 2' hunters/jumpers for a while anyways. Her and I gotta start doing grid work pretty soon... she hates anymore then two jumps at a time.. so its gonna be fun to get get her over that issue. Anyone have that issue with their horses??? It just a confidence issue with her so I thought putting 3-4 jumps at two feet.. she still is iffy about it till she does it a few times..
I think you are a very good rider!! Only thing, in a few pictures, it looked as if your shoulders were hunched (i have that habit to) and maybe its just me, but I would put your shoulders back...
---
"Good things come to those who wait… greater things come to those who get off their ass and do anything to make it happen." - Unknown
I'm just going to add my two cent's worth to the whole long spot/ short spot discussion--in my opinion, it's always better to go for the short spot if you have a choice. Of course, I'm a bit of a hypocrite because I'm getting over a bad habit of getting too many long spots, but (this is from personal experience) if you start taking long spots and it becomes a habit, it's hard to break--and when you come to that big fence and you think to yourself "oh, i can make that long distance!" and you can't, it can end badly and in the dirt. It might feel more awkward, but it's safer, I think, to take the short spot if you have a choice. If you support through your leg you can make it look passable. Long spots are just not a good habit to get into.
Weanling
Join Date: Feb 2010
Location: Bunbury, Western Australia
Posts: 323
• Horses:
1
i like your position, shoulders, back, leg, everthing. your horse is taking off too early which is obvious :p ground poles help. if you feel that your horse jumps really powerfull and you need to go forward more, then do it. my friends horse use to have this huge jump and she was positioned for 1.2m fences but i rode that horse and jumped him, he used himself well. that's just how it was. she didn't position herself on other horse like that.
---
:::THIRD TIME A CHARM:::
Elly ::: Diam ::: Ozzie
~~~Introducing Barney~~~