Critique Lacey!
---
So I've asked you to critique her before but I enjoy hearing what people have to say... =P And Lacey isn't as chubby as she once was so it'll probably be a more accurate critique. Anyway, she's a 24 year old Arabian mare... In these pictures she kinda looks like she's getting a swayback, does it look that way to you guys? I stuck a head shot in there cuz she looks just plain ugly in the body shots. Haha In the first one she's really camped out in front, I had a more natural squared up one but it ended up being a funny angle.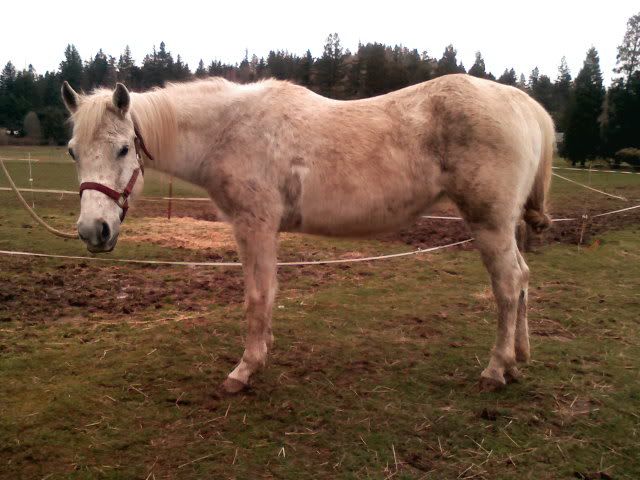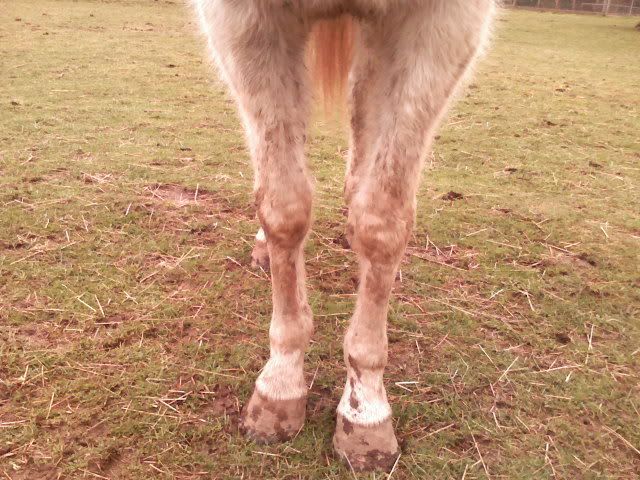 Her pasterns look...like they stick out in front of her body. I have no idea what that would be called. She looks slightly downhill and I dont see too much of a swayback.

I think she is super cute :)
She is a cute old girl. I like her.
---
quarter horses.....simply the best
Banned
Join Date: Dec 2008
Location: At my house, or stable, duh!(Michigan)
Posts: 2,479
• Horses:
3
Nah, of course she is not ugly! It has just been crappy out, my horses look the same way,lol! Critique:

She is in need of a hoof trim.

She apears to be toed-out.

And a lil swayed-back(mabey)
Poor old girl. She would probably have a fit if she knew the unflattering pix you posted of her. :) LOL. She is downhill, she toes out a little, and her neck is kind skinny. She is also pretty swaybacked but she still looks pretty good for an old girl. Her face is adorable.
She's cute! The only thing I notice in addition to what the others said is that her hind end looks larger than her front.
---
Every ride, good or bad, teaches you something new.

She needs her feet looked to but she's a sweet looking ol' girl! Her back is getting that sway look but for her age, I think she looks pretty good.
Green Broke
Join Date: Mar 2009
Location: Kansas in the summer, Kentucky most of the time
Posts: 3,028
• Horses:
3
other than her feet needing to be trimmed, i don't see much wrong with her legs. She's really straight behind but i don't know what you use her for and I come from and eventing/hunter/jumper/dressage background. She doesn't have much muscling in her topline which makes her look older. And she's built quite downhill

she's getting a little swaybacked but overall she looks pretty good for her age
She's my "project" horse cuz she has a very stereotypically Arabian attitude. I ride her english but basically she's my "doing random things and learning how to deal with scary attitude" horse. Haha I'll be sure to tell her you guys think she's cute despite how dirty she is...I try to tell her I like her when she's dirty and old looking but she doesn't believe me. =P I've been working on her hooves. My trainer/BO lady doesn't believe in having the farrier out during the winter because "having longer hooves helps a horse grip the slippery ground better" so I've been trying to trim them myself and since someone lost the trimmers I only have the rasp to work with. =/ But I filed them down quite a bit yesterday and they were looking a bit better.