Critique of a little black mare :)
---
Let 'er rip!
This is a mare at the place I'm training Shadow, her name is Flash. She's pregnant and not very well looked after.. her owners just let her sit there and do nothing with her. If she doesn't look to bad to my HorseForum friends, I'm thinking of making an offer on her after she's foaled out. Be honest please :)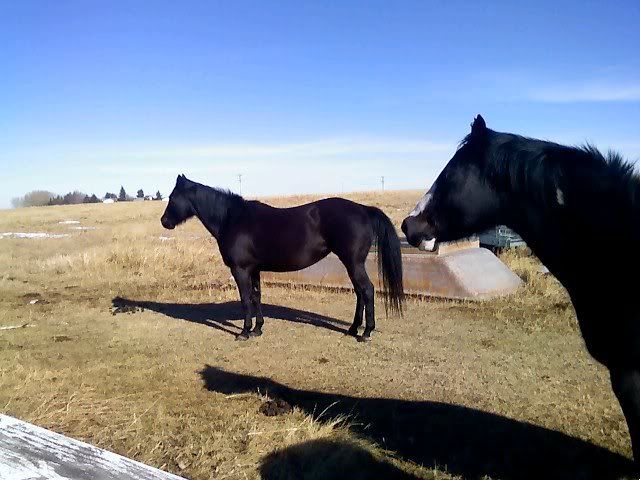 ---
The lovely images above provided by CVLC Photography cvlphotography.com
She's cute! The picture is hard to tell her neck set, but the one thing that sticks out to me is she's pretty downhill. She's got a nice back, however. :)
it looks like she has a little belly! She's very cute and i like her. It looks like her backs a little long? (i'm not sure, still learning about the whole long back, short back thing)

Does she have any markings on her face?
Yes'm, she has a little bit of a belly growing.. wonder what her foal will look like! Anyways, she has like 5 white hairs on her forehead... that's it... other than that she's completely black :)
---
The lovely images above provided by CVLC Photography cvlphotography.com
i like her. I think she has a nice looking back and forequarters.
---
WHATS REALITY?
What breed is she? I think she looks fantastic..a bit of a baby belly but other than that she looks great! If the price is right I would buy her!!
Yearling
Join Date: Sep 2007
Location: Delregans Way Performance horses QLD AUS
Posts: 773
• Horses: 0
She does look nice. What breed? With alil feed she should come up fairly nice! Buggar she doesnt have anywhite on her, i love lots of white markings on horses...hehe
Whats she in foal too?? :)
---
Delregans Way Performance Horses
Bundaberg, QLD
Australia
She looks really nice, she doesn't have much of a belly to her yet though
---
It is not just a horse,
It is the one thing that keeps me from being just a girl
She's cute!
---
Proud ownser of..
Valiant Leader, 9 yr old 16.0hh OTTB gelding..
Yoki, 5 month old 27 " miniature stud..
she does appear to be built downhill. Can't say much about her neck, but it appears like it's short and thick.
She's really pretty though. If you like her she is worth an offer.
What breed is she?