Critique me and my new OTTB
---
This is my new OTTB, Knightly. Critique my eq and his movement if you could. I know I need to work on my shoulders. But critique on anything else you notice and I will work on it!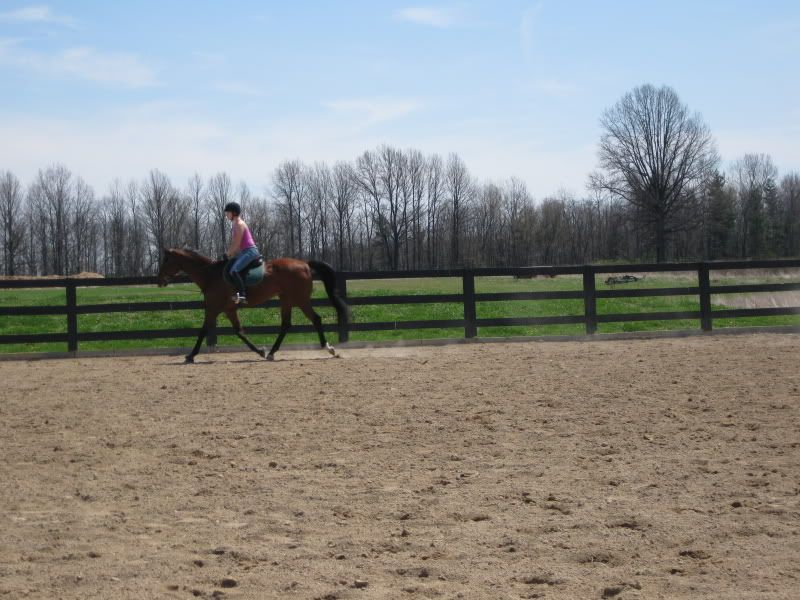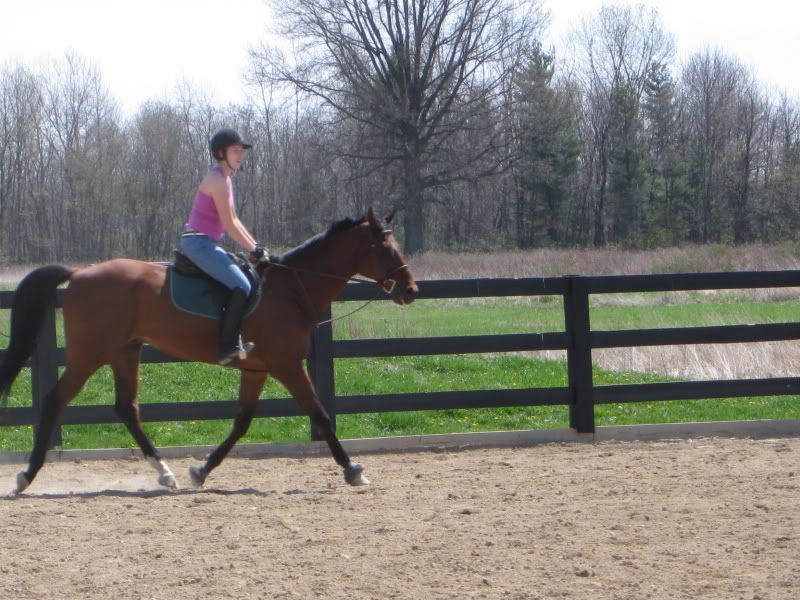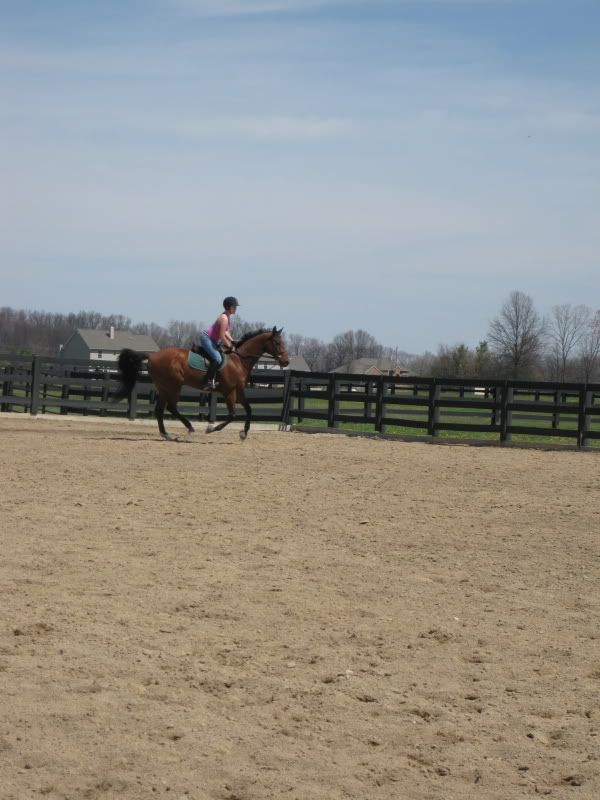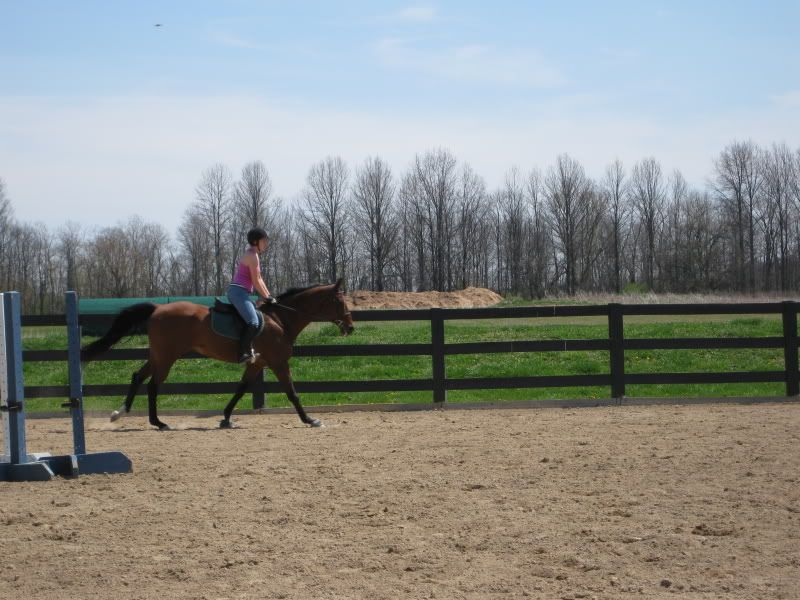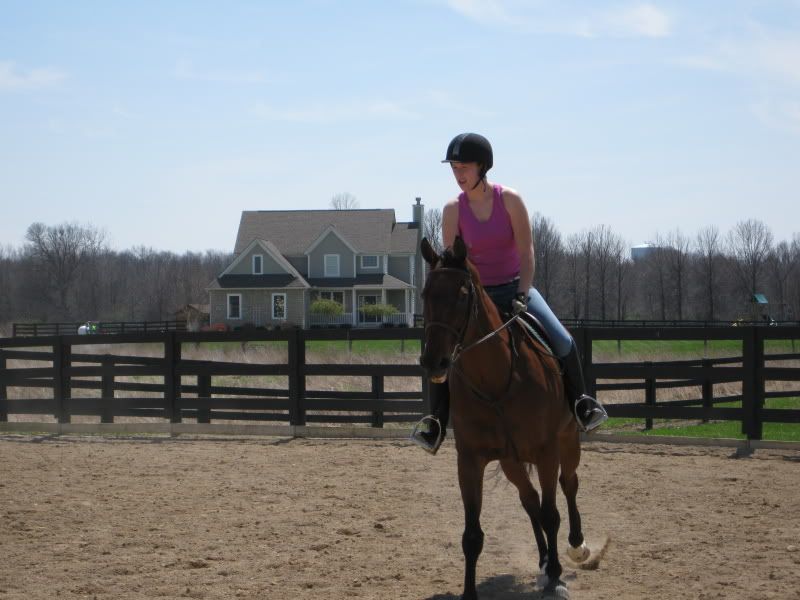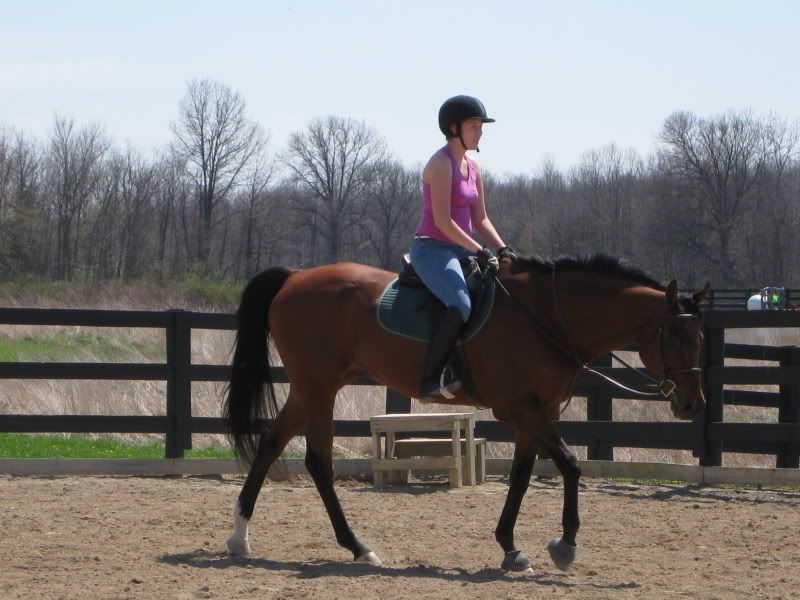 Thanks guys! Constructive criticism only, and I'm really hoping to get a critique from MIEventer!
The only things I see are your line from elbow to bit is broken. It's easily solved by holding your reins a bit higher. Once you get that fixed, you might find your horse more willing to soften to the bit some more. His nose is a little poked out in some of the pics. At the canter, I'm not sure if you're intentionally staying off his back in a light seat, or just leaning a bit too far forward and the result is your seat not staying completely in the saddle. I posted a pic of myself doing the exact same thing yesterday, so easy to say but not always to do. Your horse looks like he has a comfy trot and a nice forward canter.
[quote=jumpwhat007;291330]This is my new OTTB, Knightly. Critique my eq and his movement if you could. I know I need to work on my shoulders. But critique on anything else you notice and I will work on it!
It may just be the angle of the picture, but it looks like you are leaning back in the saddle. And shoulders, but you knew that. Bring your elbows back by your sides and lengthen your reins. Have a light elastic contact. I can't tell because of the angle and the gloves, but are your thumbs on top where they should be?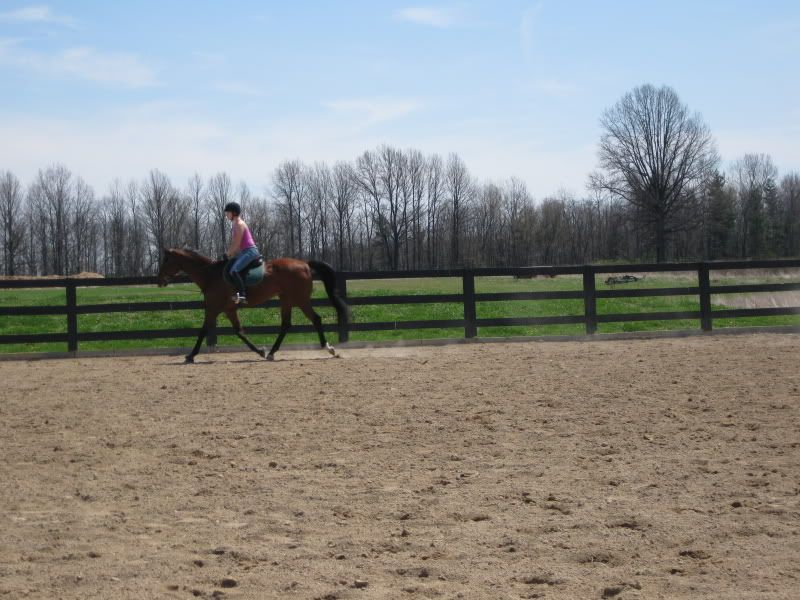 Shoulders again. You are sitting too far back in the saddle, and you need to bring your elbows closer to your body.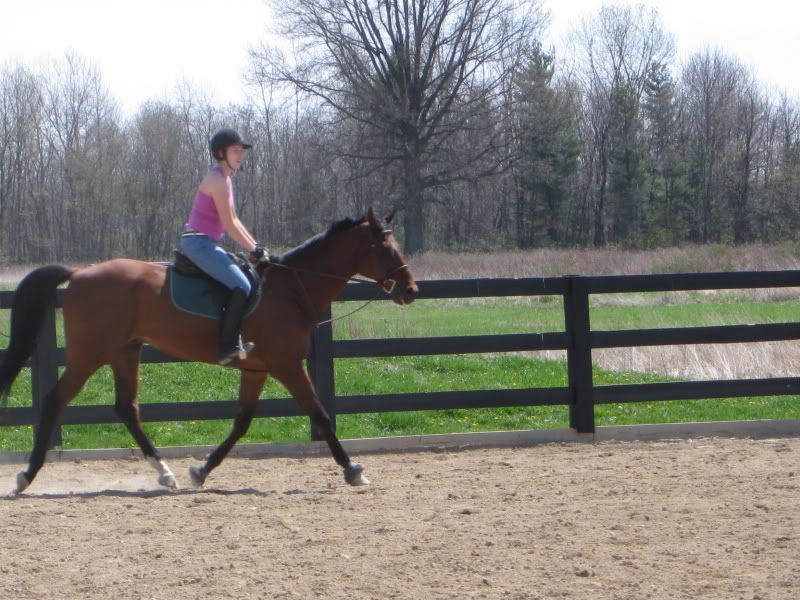 Shoulders. You are again sitting too far back in the saddle which has caused your leg to slip forward. Put your thumbs on top. Bring your elbows back.
He's got a very happy expression on his face. Shoulders again.
Shoulders. Heels down. Elbows back by your sides. If he is sniffing the groundpole and decides that it is going to eat him, you are going to come off in this position.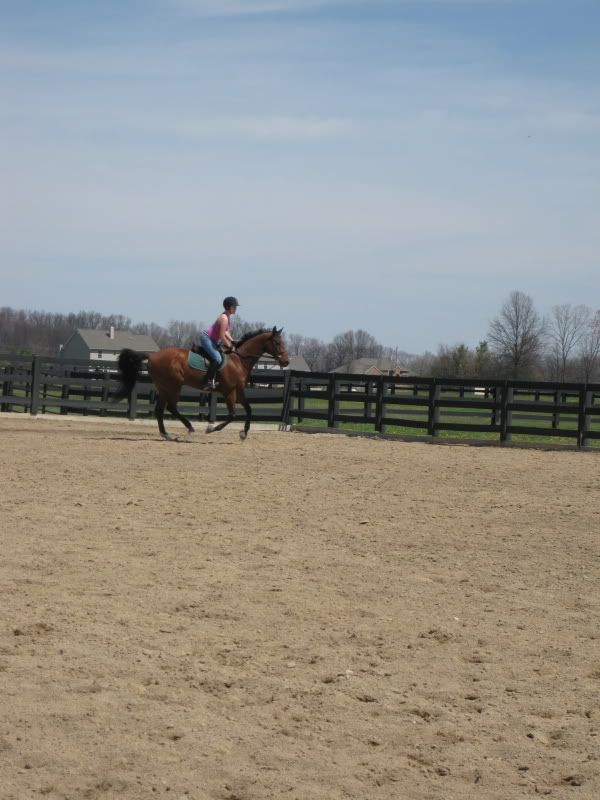 This looks good. Although your back is a bit hollow - you want it straight, not hollow. And bring your shoulders back. Make sure to maintain the elasticity in your elbows and remain soft and out of his way, yet still be there to support him.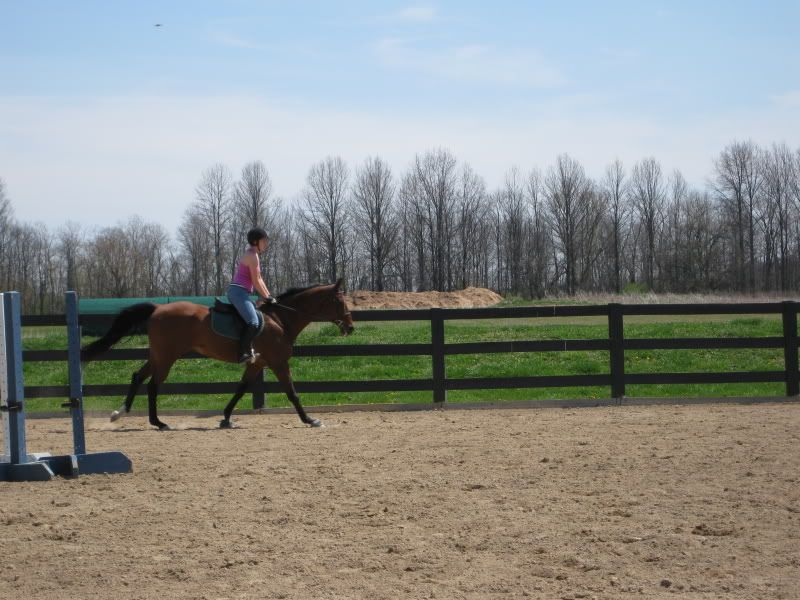 Shoulders. Your crotch needs to be behind the pommel. Bring your leg back underneath you.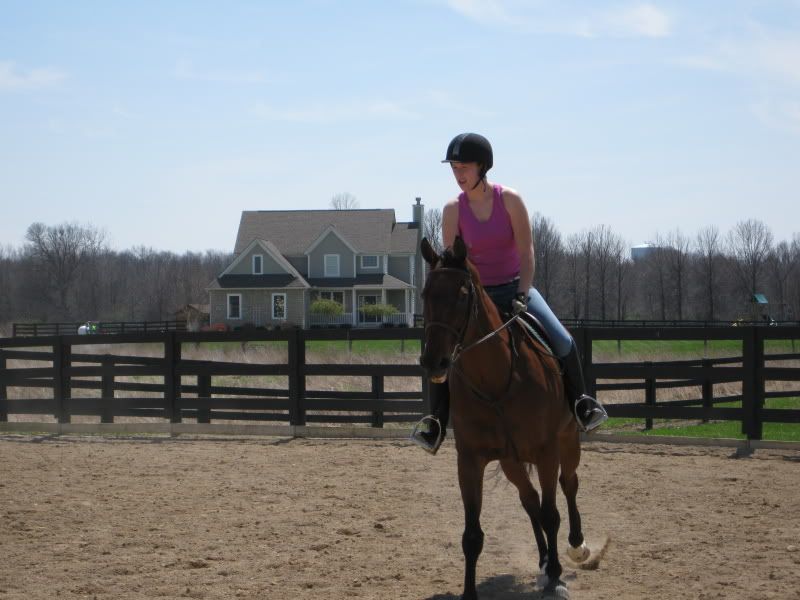 Lift your inside shoulder.
You are too far back in the saddle. Shoulders and back.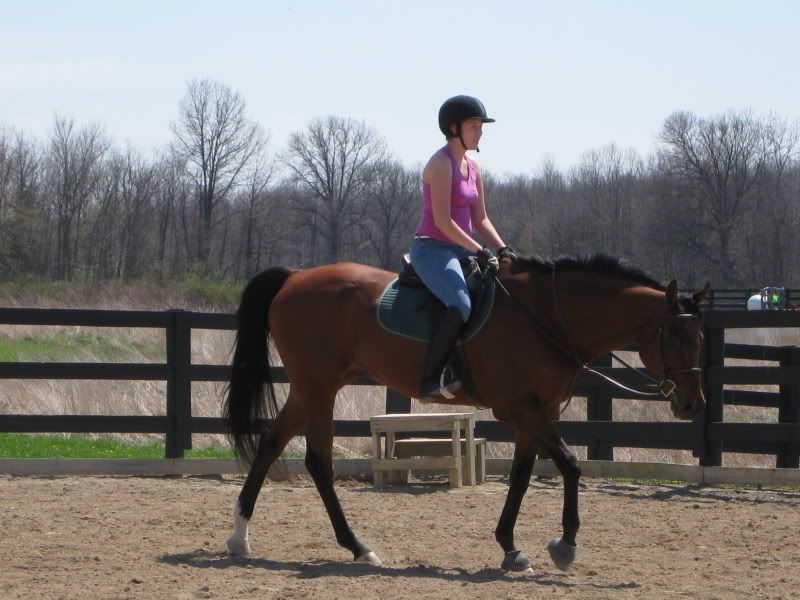 Shoulders, thumbs on top.
You guys look really good together. Why are you using a martingale on him?
---
~ The wind of heaven is that which blows between a horse's ears. ~
Your horse seems long legged and looks comfy. Is he comfy? I would suggest not closing the hip angle quite so much.
Wow, first I gotta say that he looks VERY much like my mare. When I first looked at the pic I actually thought I was looking at her! :)
Your eq looks good overall. But I do have a few suggestions. With your shoulders, it seems as though you are sluching. Try bringing your shoulders up. In the first cantering pic, you are leaning forward quit a bit. Try sitting back and relaxing, move with the horse more. As for your horse, he seems to be moving nicely. He has good reach at the trot. With his movement, I believe he would make a very nice Hunter for you.
Well, hope this helps a bit.
I agree mostly with Eventer89.. 99% of your problems can be solved by sitting in the center of your saddle and bringing your leg bag underneath you. Shoulder, Hips and Heels!!!

Keeping your elbows bent and closer to your side will help you keep your shoulders back.

Is that a derby saddle? Just curious how much did you pay for your OTTB. He is cute!
---
~ Starline Stables ~
Also...

He doesn't look like he is over-reaching in the pics.. why the bell boots? Having recently "acquired" an OTTB... Good call on the Martingale I recently got wacked in the face by a rouge head toss... (not that hes a major head tosser either!) Our horses look a lot alike mines just darker! Is your guy parrot mouthed?
---
~ Starline Stables ~