Critique me please?
---
I know my main problem is my legs, so I really need some tips on how to get them into a better position. I'm starting showing this summer. I want to do some eventing, but before I get to that, I'm probably going to start with some hunter/jumper classes. Which ones do you think would be good for me?
I might able to get a video of me on here eventually. :] But for now here are some pictures...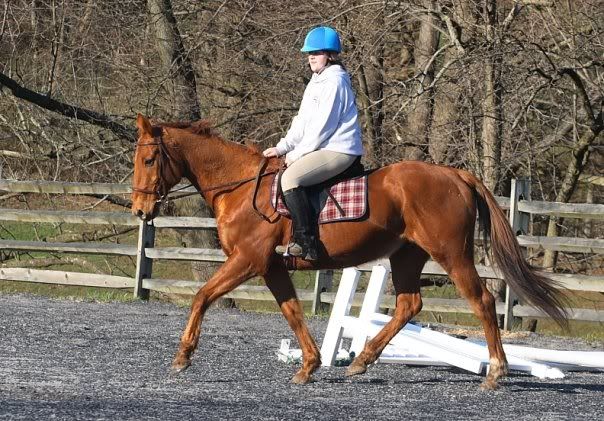 Started out low. We're just starting with jumping, but Drake's already good at it!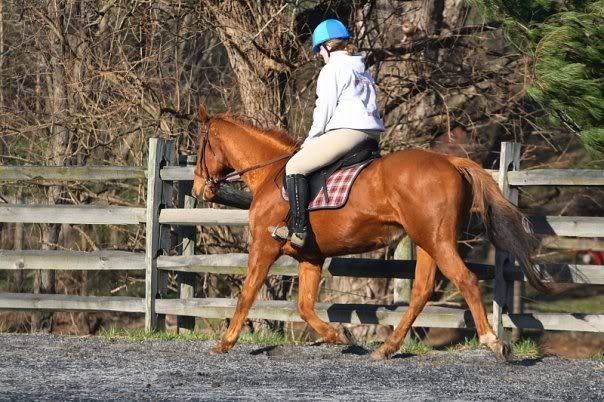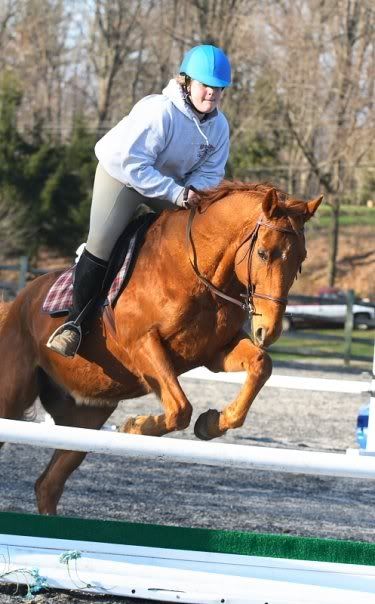 a little higher...
Please, be honest. But do not be "mean".
Thanks!
Laura & Drake the TB
---
All I pay my psychiatrist is the cost of feed and hay, and he'll listen to me any day. ~Author Unknown
Your legs need to come back more. They should be level with your hip angle. you can do this buy leaving your legs out for a few minuets or do no sturiip work. Just to get those legs flexed so they arent so tense.
---
Bailey's Mountain
6 year old tb
In the first picture, I think your stirrups may be short, putting you into a chair seat. But in the other pictures they don't look as short, hmmm.....
I see what you mean. I'm not 100% sure, but I think I may have noticed that they were short and adjusted them. Again, i'm not really sure, but you could quite possibly be correct!
---
All I pay my psychiatrist is the cost of feed and hay, and he'll listen to me any day. ~Author Unknown
Yeah, I agree with the others- your irons look too short...take them down a few holes and that should really help! I have the same trouble with my legs
---
Adcat's Star "Addy"- 5yr old TB mare.
I will try! I think the last time I did that i felt like my ankles were all wobbly. But I will definitely talk about this with my trainer when she comes.

Any ideas on whether I should equitation, please horse, whatever for hunter/jumper shows? Or is a video needed?
---
All I pay my psychiatrist is the cost of feed and hay, and he'll listen to me any day. ~Author Unknown
You need to look up and put your shoulders back. Your horse isn't going to disappear :] Just look where you want to go.
---
Put your ass on some class...ride a THOROUGHBRED
http://www.classyquarters.weebly.com
ooo, eventing, that's a lot of fun!

On the flat, it looks as if you are balancing off your horses mouth a little. Since you are bracing a bit, your legs go forward. A good way to help with this is to go onto the lunge line. Have someone lunge him for you while you ride with no reins. This will really help improve your balance so that hopefully this doesn't happen. It's a hard angle to critique over fences, but you are getting a little ahead of your horse. Especially in eventing, you don't want to get ahead because the fences are solid. If your horse was to stop and you are getting ahead, you would have a much harder time staying on.

As for the hunter or jumper... if you are showing at lower levels, show at whatever you think you would enjoy more. If you are going to be doing eventing, I suggest jumpers. You don't have to go fast, especially at lower levels, just go at whatever pace works best for you and horse. Then as you gain more experience and you learn to really support your horse you can up the speed.
Banned
Join Date: Dec 2008
Location: At my house, or stable, duh!(Michigan)
Posts: 2,479
• Horses:
3
I really do like how you release over the jump to give your horse enough head.

Try loosening the reins on the flat though.
Hey!
First of all, before I begin my critique, I think it's really really great that you are able to recognize your errors. Realizing what you need to work on is a big first step in improving yourself as a rider. In your first post, you said you know you need to work on your leg position. That's good! Now that you see the problem, you'll be able to fix it.
Your leg position is off because your lower leg is too far forward. See how, if you were to draw a line from your knee to your toe, the line would be at an angle? You want to shoot for that line to be about vertical.
To fix this, it's going to take a lot of concentration on your part. You'll need to keep checking yourself and keep reminding yourself to push that lower leg down and back. It's easy to tell if your lower leg has slipped forward... look down, without changing how you're sitting. If you can see your toe, you need to move your lower leg back more.
The one thing I do like about your legs is that your heels are down. That's good. You could try sinking a bit more weight down into them, but it's not a big issue.
Now, let's talk about your upper body on the flat. I think your upper body is more problematic here than your lower leg because problems with the upper body are much harder to recognize and much harder to fix than problems with the leg. So, I'll point out what I see and try to explain how to fix it, but it's going to be a lot of hard work until you develop a feel for a balanced posture on the flat.
I feel that you are hunching forward quite a bit.
You are arching your back instead of sitting up straight. See how in the following picture, the red line shows the arch in your back?
Arching your back causes your chest to fall forwards and your abs to cave in. Work on straightening out your back and sitting upright in your saddle to get rid of that arch. Once you've got that down, you should feel like you have so much more strength and control through your upper body. Unfortunately, it takes a while to develop a straight, upright posture in the saddle – I have a bad habit of slouching, too. But keep at it and you should see the results. =)
One thing that is contributing to your slouching is your shoulders. Your shoulders are rather hunched forward. Have you ever played tug-of-war? If you are hunching forward, all it will take is a little pull on the rope and you fall forward. If, instead, you bring your shoulders back and don't tip forward? You have so much more leverage on that rope and it will take much more effort on the other end to get you to fall forward.
Now, I'm not saying riding should be like a tug of war with your horse.
If you bring your shoulders back, it will in turn bring your chest and upper body back, and you'll have much more control. Your aids will be clearer and you'll be a more balanced rider.
Also, remember to look up. Staring down at your hands or your horse will only cause you to accidentally lean forward and throw off your entire posture.
One thing I do like about your form is that you're relaxed in the saddle – not stiff and tense. I'd much rather see a relaxed rider slouching a bit than a tense rider hanging on her horse's mouth and sitting stiff as a board.
One last bit of advice from me. I'd like to see you lift those hands off the neck! You get so much more control from elevated hands that aren't resting on the neck. This is especially important if you plan on showing in Jumpers, where control through tight. fast turns is key. Also, make sure you keep those thumbs on top!!
I know all that is a lot to take in, but don't give up. Once you develop good form and good habits, it will all come naturally. I bet you don't even have to think about keeping your heels down anymore… well, with practice, soon you won't have to think about pushing your shoulders back or looking up anymore! You've got great potential – keep up the good work and good luck in future shows!
-Equuestriaan
EDIT: GAHH I forgot to critique the jumping. I'll do that later tonight when I get the time.
---
Every ride, good or bad, teaches you something new.