Critique Moose and I jumping.
---
I know i've posted these before but we seem to have a lot of new people so I wanted to post a few again to see what everyone thought.
This is Moose (Mitch) He is a 15 year old Dutch Warmblood. In these pictures I had him for a few days but tell me what you think.
I have a lesson tomorrow so I will get pictures from that.
LOTS OF PICTURES!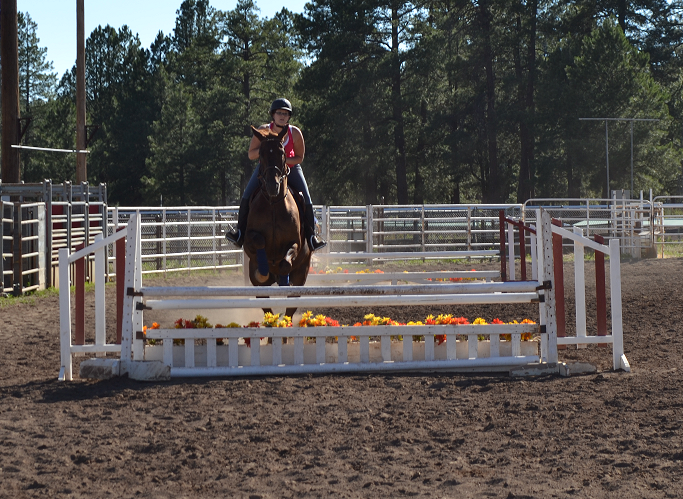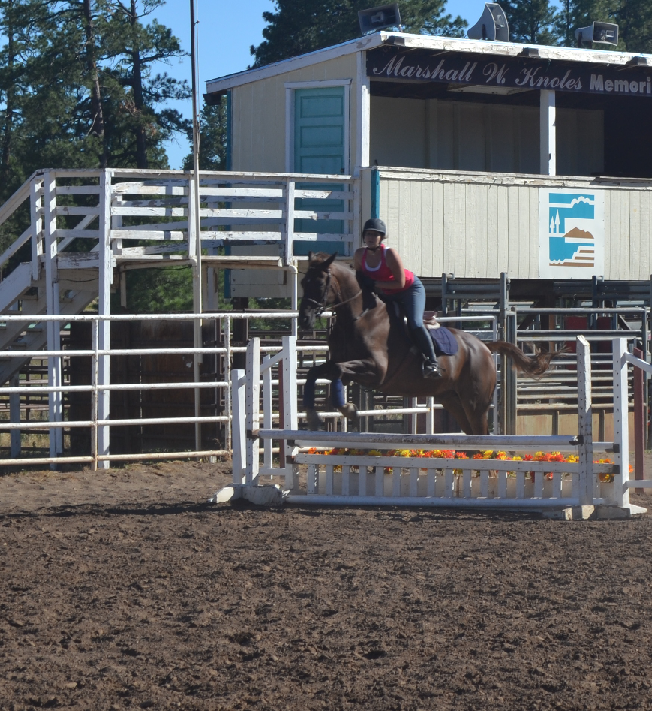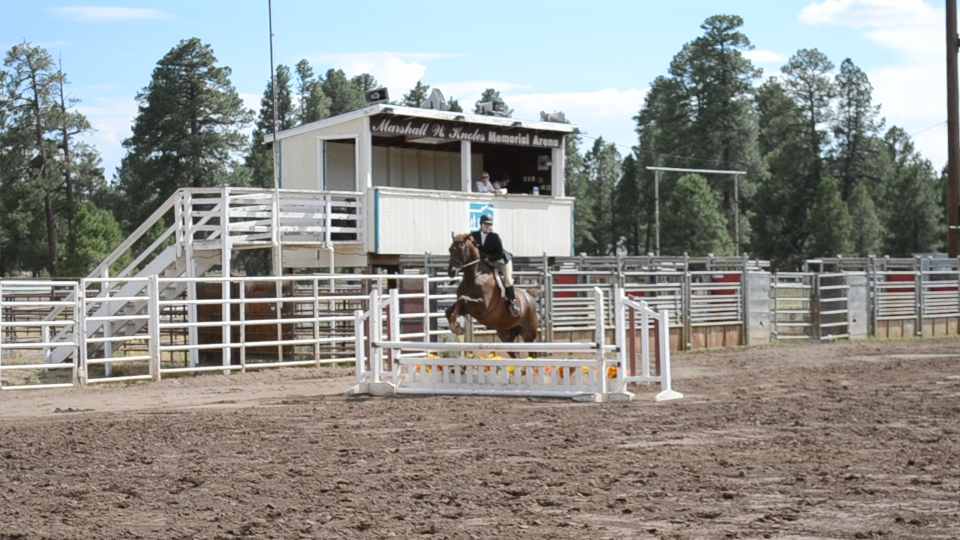 And just Moose.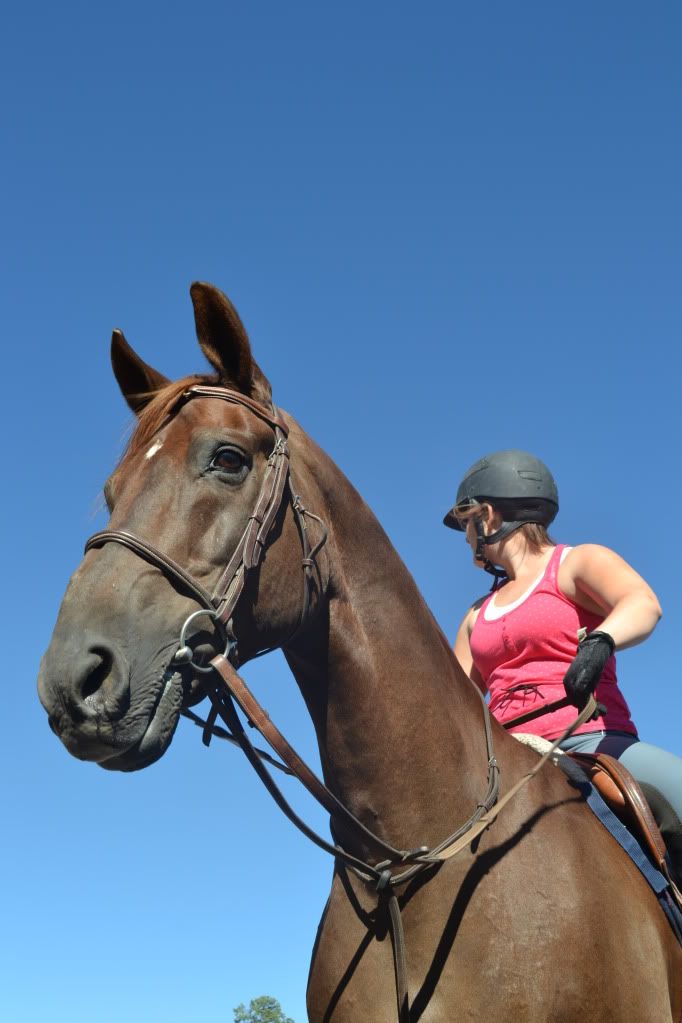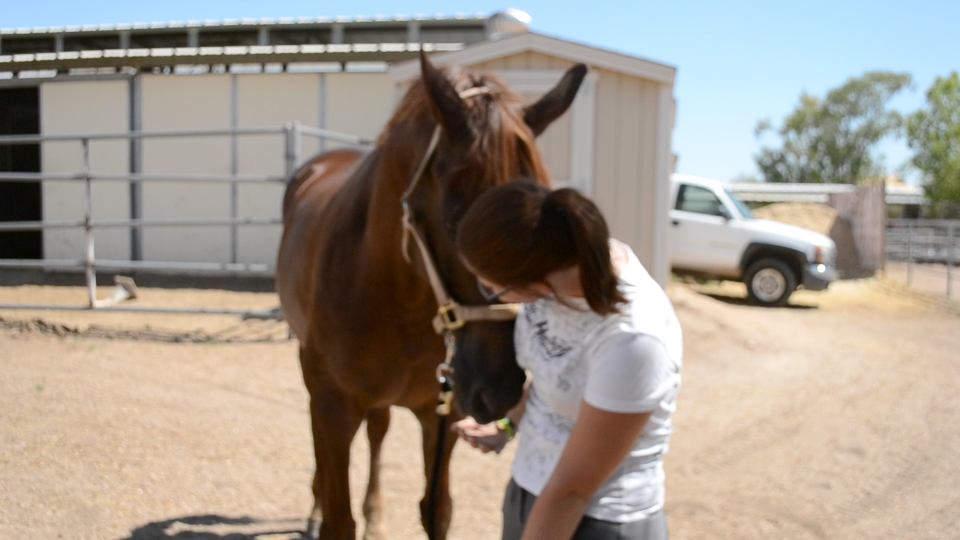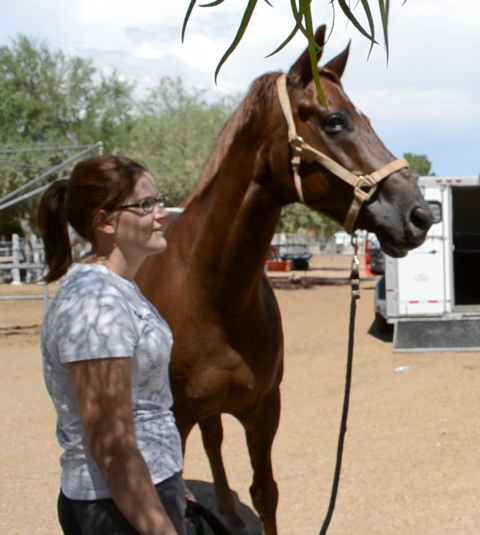 I'mnot that good at critiquing but one thing I do see is that you and your horse are jumping off center. Not sure if you do hunters or jumpers or both, but in the hunters, you need to ride straight to the middle of every fence.

You make a cute pair! He looks like fun.
---
No whisper of lover, no trilling of bird, can stir me as hooves of horses have stirred.
Wit beyond measure is man's greatest treasure!
Thanks for the critique :P
Anything else?
Green Broke
Join Date: Aug 2010
Location: Southwestern Ontario, Canada
Posts: 3,324
• Horses: 0
The pictures you have supplies make it really hard to give a GOOD critique.

The only thing that you can really see from the angles provided is that your leg slips back just a tiny bit, and you seem to be starting to duck to the left side in a few of the pictures. Not a big duck, but it could be the beginning of something that you don't want.

These pictures do not show if you are jumping ahead, getting left behind...etc.
---
It is impossible for a man to learn what he thinks he already knows. --Epictetus

AB I am pretty good at staying with him. I am working on the ducking because I have a bad shoulder so I favor my "stronger" side but I am working on keeping my body straight and tall over and too fences.
I think you two make a nice pair, you both compliment each other and seem to get along well.

For you - In all the pictures, you seem like a passanger. Like your just along for the ride. You have a solid base and a generally good position o/f, however you seem mostly just "there" in all the pictures if that makes sense haha. It doesn't seem like your riding every stride with your horse and I can see you falling off if he ducks out at a jump or does something unexpeded. I had the "passanger" problem when I rode school horses. I knew they would do thier job and even if I fell off, they would still jump the course as if I was riding. My trainer at the time didn't really care that I was a passenger, so I never fixed that problem. :( It only really got "fixed" when I got Robbie since he is not push button school horse and he makes me think and ride every stride. Now I'm not saying that your horse is push button, it just comes off to me that he is very broke and has that school horse demenor. Do you maybe have a video to post so I can get an idea if your a little more "active" that what is being shown in the pictures?
Now that I covered that haha, I really do like your release over fences and how your eyes are always up looking for your next jump. Your not laying on your horses neck which is nice to see since soooo many people feel the need to crawl up the neck over a 2'6 jump. Your toes need to come forward but your overall leg position is nice. Also, try not to do the "hunter butt" and keep your back flat rather than arched which I see in the second picture.

Your horse - Overall he looks like a very broke and capable horse. Nicely put together, most dutchies are, and a very sweet look to him. However, he seems incredibly stiff o/f. It seems like he might have been ridden into the ground when he was younger because he just looks somewhat blah when he jumps. He has no spark or look of excitement and enjoyment when he's jumping. It seems to me that he knows his job, what needs to be done, and does it. Like a routine. I don't see that he's unhappy or anything, just not fully enjoying what he's doing. If you can see, in only 1 of the o/f pictures, his ears are foward. Every other one, they are pinned back like it's pulling teeth to get him over the fence. It looks like he's just coming to the jump saying "oh here we go again.." Now this attitude isn't from you. I can tell he is an older, very broke horse that has probably been ridden and jumped into the ground at one point making jumping for him more of a chore rather than a fun activity. I suggest changing things up for him. Take him for a trail ride. Set up some barrels if you have some and do a barrel pattern. Anything to remind him that he actually likes jumping and it's not a chore. It'll be like a mini-vacation for him and trust me, he will enjoy doing soemthing new, different and exciting. Making for a happy horse!


Now pleaseeeee don't take anything I said the wrong way. I'm only posting what I see. I think you two are a good pair and I want you to succeed in whatever you do, that's the only reason why I give my honest opinion. :)
---
:: rachel && robbie ::
::
http://www.youtube.com/user/blushedx3
::
Blush, thank you. I will find video. Here's some back history for the past for years he has done big a shows with his old owner. She was practicing and was schooling a 4'3 jump and chicken'd out and they crashed. I am a big believer in body work in horse's like chiropractors and body work in general. Well they never did anything with him body work wise after that crash. So in the video he is swishing his tail and jumping pretty flat, I think it was because he was hurting and sour. I don't think he enjoys his job like he used to before that crash because the past year he didn't trust his rider and his rider was scared of him so she was very defensive in the way she was riding. So fast forward to now. We have changed the way he is shawed and he has had body work done now and is looking and moving like a new horse. I had a lesson on him yesterday morning and he was a totally different horse he isn't dragging me to the jumps anymore and I am learning how to be an effective rider. I have only been jumping for just over a year, so I have a lot to learn still.

You both look really good! For your horse to help improve his knees do a lot of gymnastic work with one strides and bounces. For you it looks like you need to put your leg back some and release some more. But otherwise you both are good together (:
---
Don't Dream it. Be it.
Bluemoon, Thank you. I will ask my trainer if we can work on gymnastics : )
Like I said I've only been jumping for just over a year, I'm still working on my legs.
:P