Critique Moriah APHA mare I used to lease!!!
---
Here is a mare that I used to lease. She is a registered breedingstock paint but her dad was thoroughbred. She was awesome at english! She is 6 years old. I really loved working with this mare, but we are moving so I cant keep leasing her.
The cool thing about her is she looks bay, but is really a zebra dun. She has a dorsal stipe. But I just wanted to know about some of her conformation faults. Thanks and critique away! I can already point out a few like I know she was a lil butt high but just want to know what people think.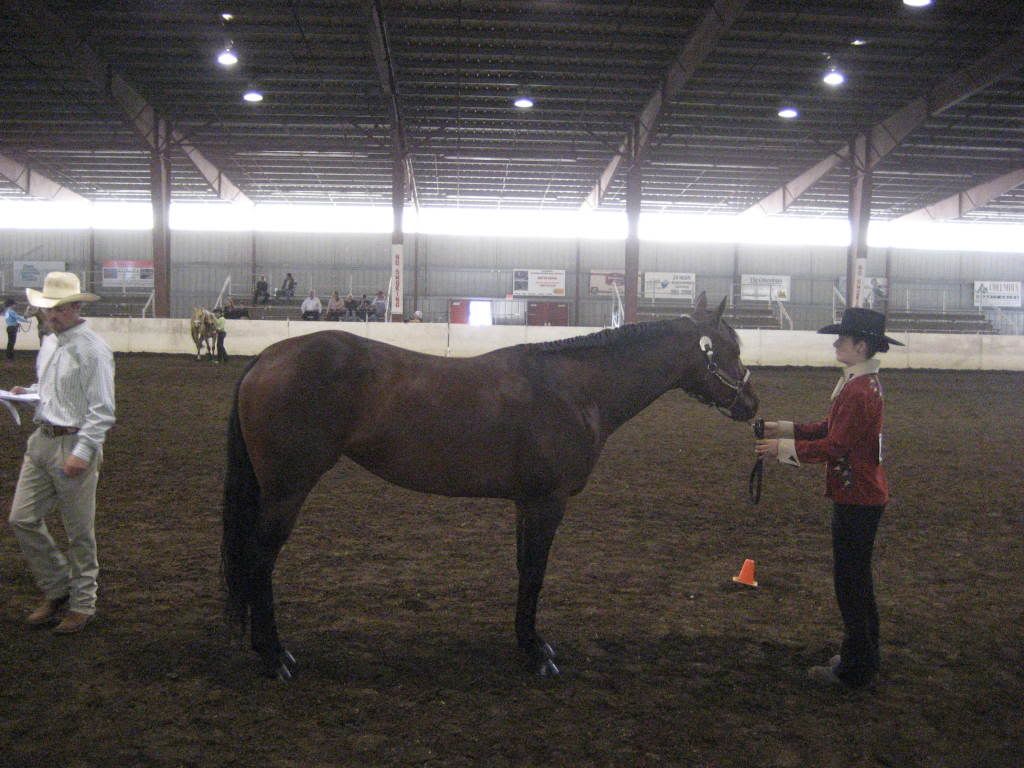 Weanling
Join Date: Nov 2008
Location: I live in that card board box you pass by every day on your way to work.
Posts: 520
• Horses: 0
I think she's cute. Yes, she's built down hill. I would prefer a deeper chest and she seems to have long pasterns. But she has a lovely face and I really like her neck and shoulder. Her back legs seem a little strange to me. I'm having a brain fart as to what is bothering me about them... but yeah. I'm sure someone else might be able to give a better confo critique.

Nothing too terrible. I like her. The only thing is that it seems like it would be more difficult to get her off her forehand.
---
Last edited by BuckOff41570; 01-06-2009 at

02:02 PM

.
What do you mean by getting her off the forehand. Do you mean it would be hard getting her to drive from her butt? sorry that term seems so familiar but I dont know where. Thanks for the critique too
I'm sorry that I can't offer a critique, but I think she's beautiful. It's a shame you couldn't keep leasing her or buy her!
Yeah she was a good girl too. We were going to buy her, but then we found out that we are moving to Texas next month and we can only afford to take one horse an there is no way I could ever give up my coming two year old Sherman because I have had him ever since he was 5 months old, but if we werent moving I would have bought her.
Weanling
Join Date: Nov 2008
Location: I live in that card board box you pass by every day on your way to work.
Posts: 520
• Horses: 0
I just mean that often times a horse built down hill, moves down hill. They tend to have a tough time getting their shoulders up and driving their rear end under them.
What part of Texas are you moving to? I live in the East part of Texas.
---
Adcat's Star "Addy"- 5yr old TB mare.
very cute! she is beautiful ... you already said she is butt high but she almost looks like she is standing on her toes. I know different farrier shoe different so maybe that is what is throwing me off ... she looks good thought and i hate anything Arabian lol (nothing personal to any Arab lovers)
---
:: Karley ::
Tucker WB/TB- 11 yr
Speedy QH/TB- 22 yr
You can tell she has TB blood. She's butt-high. I can't really critique the rest unless we went by stock horse standards, which technically she should for a BS Paint, but considering the TB blood I'll let it be. It's not that she has bad confo. She just looks like a TB and that's not a problem
im moving around the katy area either that or brookshire.