Critique My Boy?(:
---
This is my boy, Blackjack, although everyone knows him as Jack. He's a 16.1 18-20 year old gelding. I'm not too great at judging conformation, and I was hoping you guys could help me out. I know the pictures aren't ideal, I plan on getting better ones next time I go to the barn, but for now I have these. Hopefully they'll be of some use(: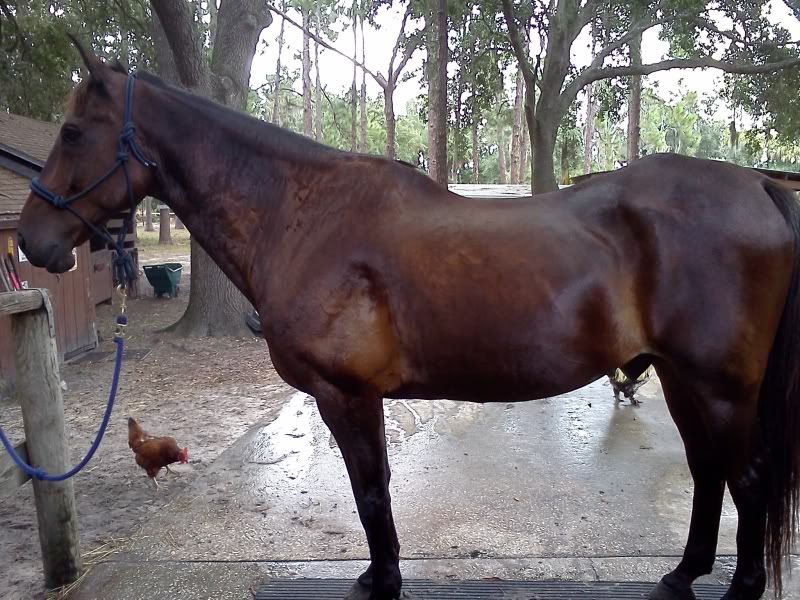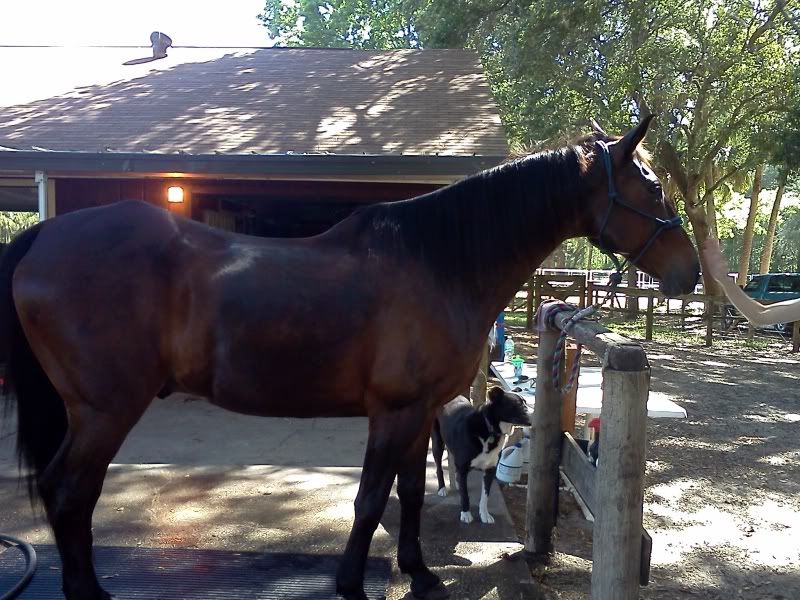 Just because he's handsome(: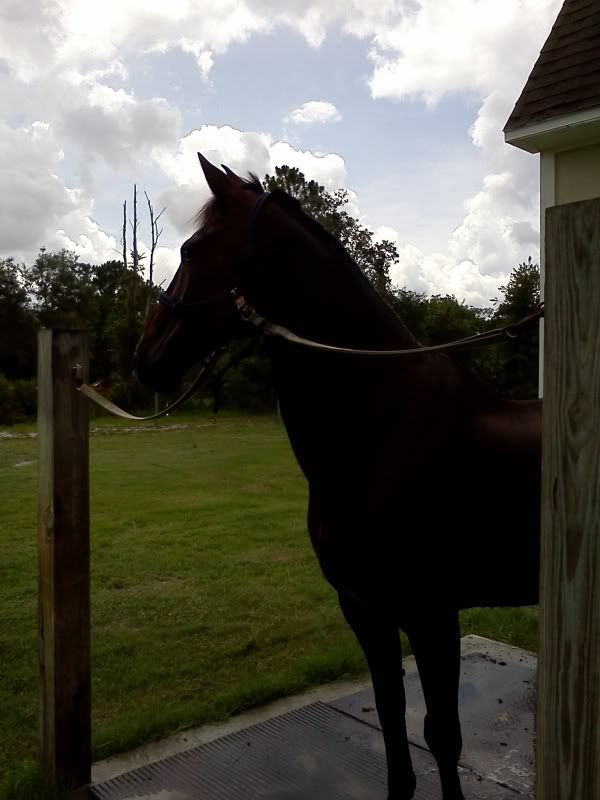 Also, what breed do you guys think he could be? He was found in a field, so he came with no papers. Any suggestions welcome(:
Thanks guys!
Looks like a Thoroughbred to me and a handsome one!
He is swaybacked, but that comes with age in some horses. His legs look good and the only other comment i really have is that he might be the tiniest bit high in the butt.
---
"If a horse fails to do something that is because he was not trained to do it. If a horse fails to do something properly that is because he was not trained properly."
www.wildestheartart.com
I can't tell if he is truly swaybacked, or if his back is just weakened with age, but I think the latter. He looks TB to me as well, but his thicker legs hint at stock horse breeding in there somewhere.
Showing
Join Date: Jun 2011
Location: Cariboo, British Columbia
Posts: 11,774
• Horses:
3
I am going to dissect your horse into 3 sections, front, middle & hind. His head & neck are great. Nice muscling at the poll, neck is long & ties in decently to his shoulder. He has a sway back (is he a standardbred?), because he has a very long back & he is older, it's gotta go some place, gravity took over. Very defined withers. On his hind, he has a pointy hip but is set ok in relation to his rear legs, he's probably a rough ride. His hoof angles & substanstial bones in his legs, make this boy superior to what I had seen at horses his age. His body condition & shine to his coat tell me this horse is extremely well cared for. Thank you for posting his picture, nice horse to look at.
I agree with both previous posts, I believe he is TB, but perhaps has some QH in him? If he is actually 18-20 years old, I think he is quite a bit more swayback than you would expect, although he is very well muscled and still quite thick for an older horse. I cannot tell without taking a look at his teeth and knowing his background etc, but I would say he is more in the area of 20-25 years of age just by looking at him.

His shoulders and butt are very nicely toned, he definatly has a TB head/face and it looks like he has the height too? I would say the only thing I can really see, and it could be because of how swayed his back is, is that his rump is quite high. In the 3rd picture though, it does look as though his withers and rump are about the same height, meaning that if his back was in shape (or guessing when he was younger) that he would have been all around good looking. Now he definatly still is, dont get me wrong :)

Looks like he is in good care, definatly not starving ;D What do you use him for? He has a very sweet eye, looks willing and loving.
---
" Life is a rodeo, take it as you get it "
Southern Colorado Natural Horsemanship


I agree with lilruffian. He has great bone, and his sway isn't much. I bet he looks awesome when he gets moving. Such a well built horse can last many years. He IS very handsome.
Ohhh he would have been REALLY something when he was young! Gorgeous front end. Nice neck, with good substance and muscle, and that shoulder is just divine. Yes, sway back that is a bit on the long side, more swayed than I would expect for a horse of 18-20. Hindquarter angles are pretty good. A touch of hunter's bump, maybe?

LOVELY pastern angles, good bone. Maybe a bit long in the cannon. Other than that he is straight and correct in the forelegs and correct in the hinds as well. Like has been mentioned before, he looks a tad butt-high, might just be his back but it may also be just the way he's built.

I agree with those saying TB with some QH. Maybe appendix?
Has he ever had an injury to the left shoulder? I see a big indentation there. Overall, nicely built horse. He does have a very long back, which I'd bet contributed to his atrophy and sway. Have you ever had him checked for back pain?
I didn't see that indentation Bubba... should have but didn't. Looks like an old scar to me. I have a friend who has a mare with a HUGE dent in her neck, you can literally fit your whole fist inside of it and still have space, and it doesn't affect her at all... but that's in the neck, not the shoulder.
Thank you guys for all your comments, they've been really helpful(: I'll be sure to tell Jack he has a few fans(;

APHAforlife: Haha he loves his food! He has been on Seminole Wellness Calm and Cool feed, but about a week ago he switched to a new food that I can't seem to remember the name of. I'll check next time I go out to see him(:

bubba13: It's very possible he suffered from a shoulder injury, however it must have happened before he was found in the field. I don't have any records before his previous owner found him about a year ago. So all I can really say is that in the past year he has been completely sound and uninjured minus a few small cuts from being a bully in the field. I haven't had his back specifically examened, but the vet has checked him over a few times and hasn't found anything bothering him. If you think it would be beneficial, I'll certainly get him checked(: I'm only about 100 pounds, so luckily my weight isn't much for him at all.

Thanks again for all the feedback, I'm glad to know he doesn't have any terrible flaws, minus his "old boy" back. It is possible he's closer to 25 than 20, that was just the vets estimate, and of course she could have been wrong. I guess for all intensive purposes I'll call him a Thoroughbred or Appendix, since that's definately what everyone has pointed to. We all thought Thoroughbred too, but I always like to get other opinions. I sure wish I'd gotten him when he was younger, I'd love to have pictures to show you guys of him when he was young and dashing!

As for comments about how he rides, his canter is to die for. It's like floating on a cloud. His trot, however, is pretty bumpy, but it's easy to post to!(;