Critique my ex-barrel racing mare.
---
This is Amber. She is 20-23 years old. Her breed is an Appendix Quarter Horse. She is unregistered, but was once registered. I don't know her breeding. All I know is that her Sire was a Quarter horse, her Dam a Thoroughbred.
Amber was trained for barrel racing, but now has become my trail horse. I have had her for 5 years, this Christmas eve will be 6 years. She is basically my "Perfect" trail horse. Doesn't spook much, calm as can be. She used to be a jiggy machine on the trails, but has calmed tons. She has hock arthritis and is given a legend shot, but other than that has no arthritis anywhere else.
I would like a basic critique is all. Tell me the good, the bad, and the ugly. I can take it. :)
Oh, and I know she has a horrible swayback.
Right side,
Left side,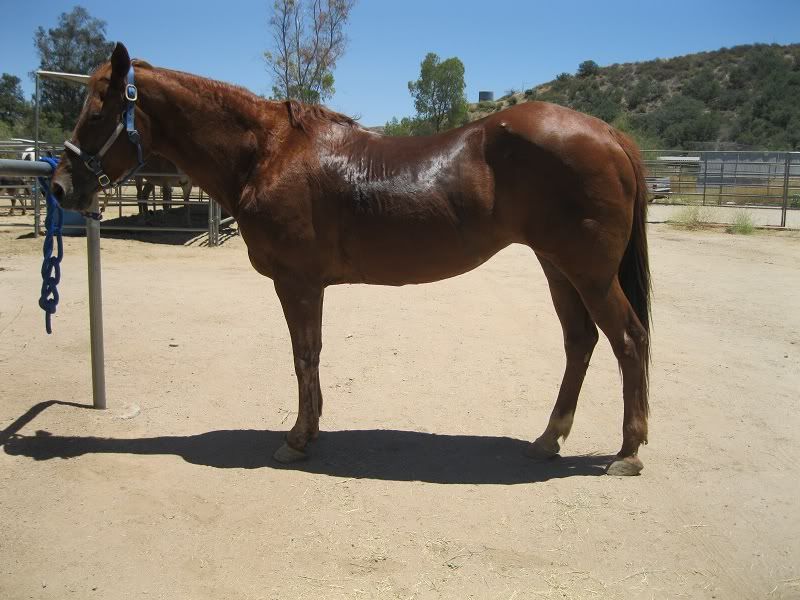 Butt, (love her butt!)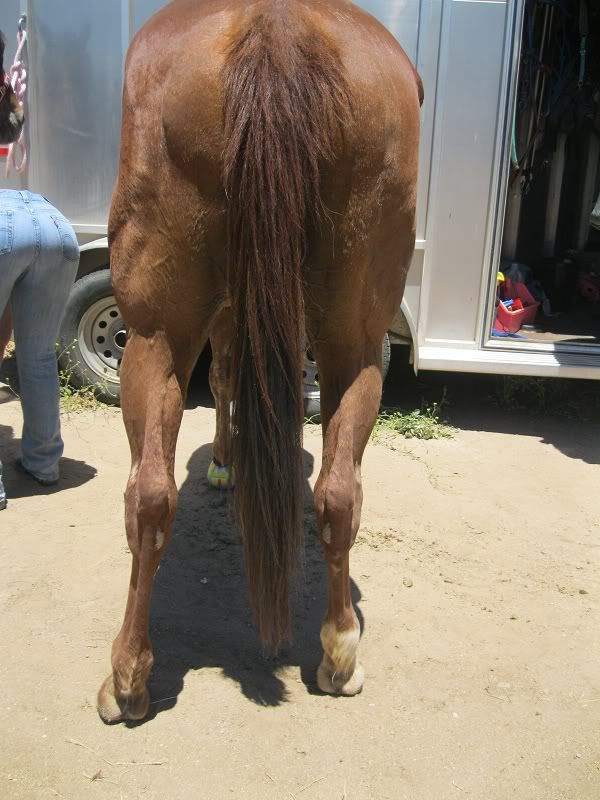 And her front,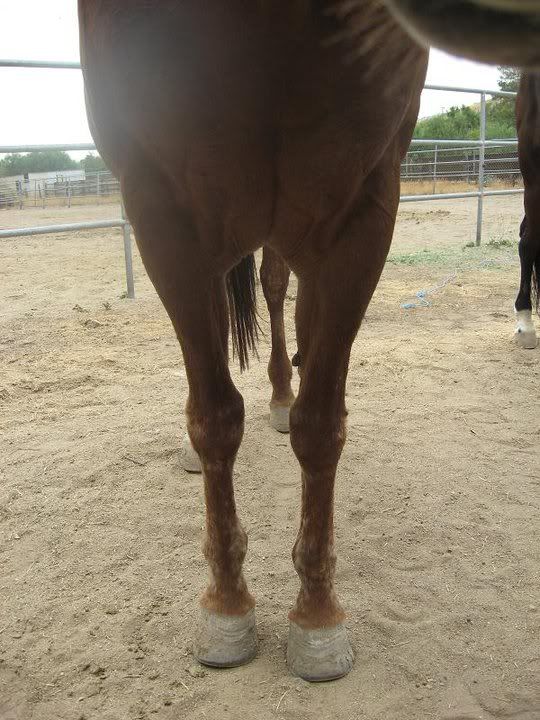 Tacked up,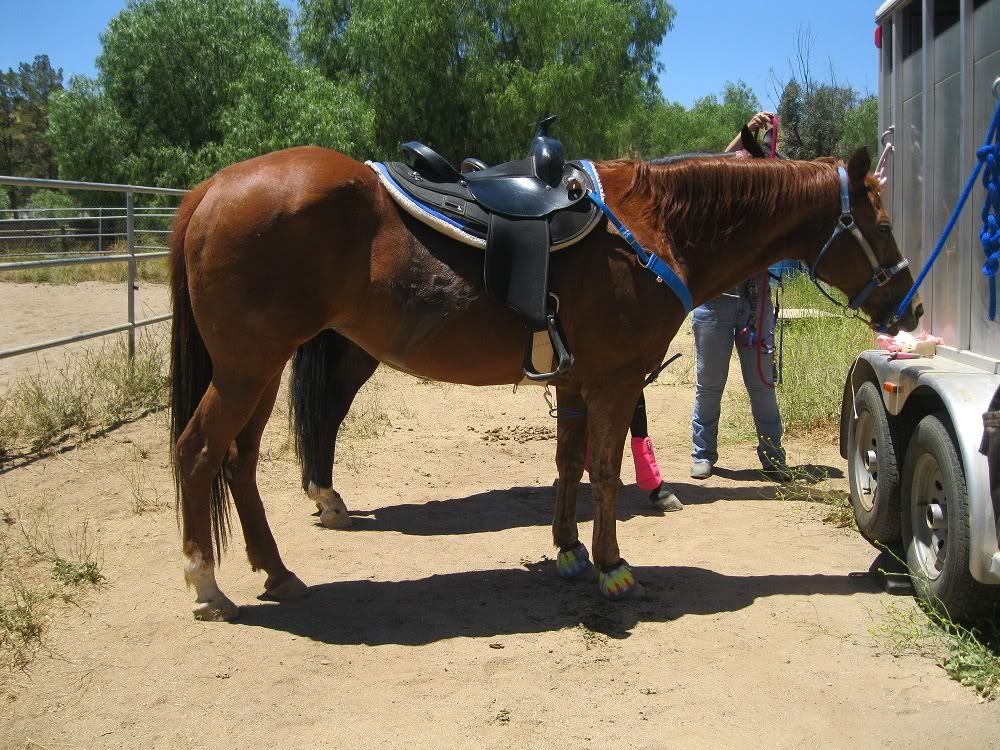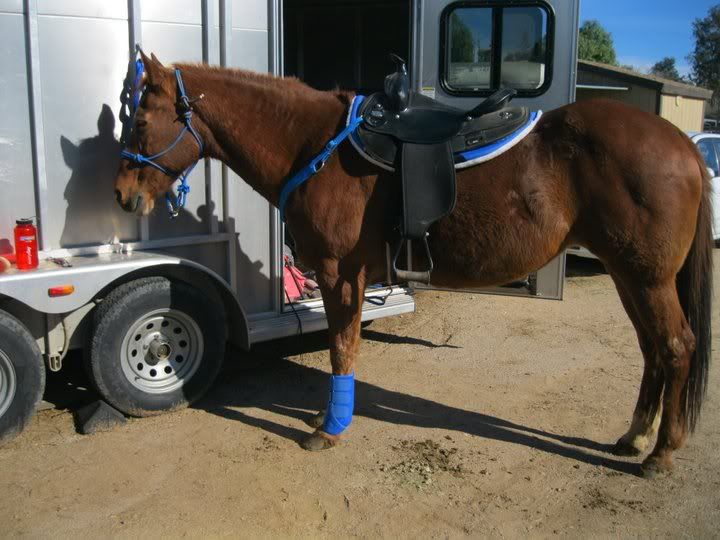 And a video of her in the round pen at liberty.
---
A horse is never old until you stop riding them.
---
Last edited by Amme; 07-19-2011 at

03:17 PM

.
Teen Forum Moderator
Join Date: Dec 2010
Location: South East Texas
Posts: 7,157
• Horses:
2
She's still definately got some spunk! haha. To me her back hocks seems a bit peculiar...though that could be the way she's standing. Nice front legs though, fairly straight and clean. I really can't tell anything about that hind photo though, with the way she's standing (what on earth is she doing? xD) Looks to me like she could use some weight though. Very sweet face and love the tack!
---
Everyone in your life is meant to
be in your journey, but not all of
them are meant to stay till the end.
I think she may be a bit camped out in the back, but it could be the way she's standing. And theirs Two butts in the butt picture!!
She is butt high but other than that & the sway back, a rather nicely formed, older mare ;)
---
"If a horse fails to do something that is because he was not trained to do it. If a horse fails to do something properly that is because he was not trained properly."
www.wildestheartart.com
Thank you everyone :)

Sorry in her butt picture I had just scooted her over in an attempt to get her to stand without cocking her leg up. Silly mare she is. :)
---
A horse is never old until you stop riding them.
First, welcome to the forum
.
I agree, a nice looking older mare. Her shoulder is just a touch steep for my taste and her hocks may be just a bit sickled, but that is all I can really pick out. She appears to have nice strong legs and good bone.
She most certainly looks like a darling and I love the kind eye she has
.
---
Always remember that feeling of looking at a big, open country over the ears of a good horse, seeing a new trail unwind ahead of you, and that ever-spectacular view from the top of the ridge!!! Follow my training blog:
http://robertsontraining.blogspot.com/
Thank you for welcoming me. :) She is a darling sweet old mare, and thank you for the critique. :)
---
A horse is never old until you stop riding them.