Critique my gelding?
---
I've had this horse since he was 7 and he's 13 now. I don't have any pride tied up in how "pretty" he is, in my opinion he's a little homely lookin' sometimes but he's a great horse and he will be the one my kids learn to ride on.
A little backstory, I bought him from a horse camp I attended when I was 14, before that he lived in a pasture by himself doing nothing. He was trained for western ranch work, but wasn't fast or agile enough and just all around more lazy than they wanted. My first horse had just died, so we bought Sox to be a safe mount for me. I have ridden him in western playdays, then when I went back to English riding he learned Dressage and jumping.
Anyway, I'll post a few pics.. Here's one of him jumping- please don't critique the girl, she's not me anyway. :)
Posted via Mobile Device
Posted via Mobile Device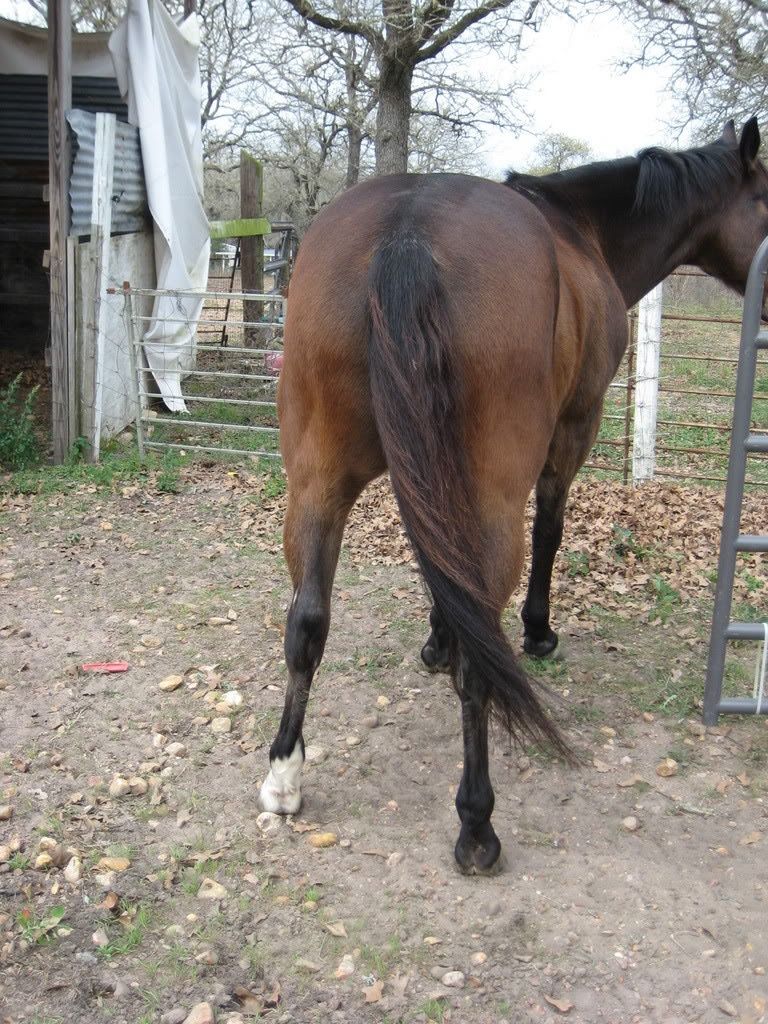 Posted via Mobile Device
Also, I was riding him at a friends house one day and her mom asked me what he was. I told her QH, and she mentioned that she thought he wasn't one, or if he was he wasn't full QH. Does anyone else see that? I don't care, like I said he's just a good ol' boy for me, but it'd be fun to know. :)
Posted via Mobile Device
Actually, hes put together welll. He had good loin/quarters coupling (not shallow) his pelvic angle is good, not that long but good, his hind legs read straight from what I can see (not a good photo), his front legs are good. Some will say over at the knee, but that very small amount beyond straght up and down actuallly means that the forearm bone is angles such that the weight goes right down into the hoof almost exactly in the center, where it should be.
His neck is short and a little low in it's attachment to the body and his head unusaully small. He looks a little chubby in that photo.
I like his looks, very steady, sturdy and reliable and I think he will be sound for a long time.
Thank you! He is very difficult to keep lean, but at least he's an easy keeper haha. I know the pics aren't the best, he lives several hours from me (but not for long!) so I don't get a chance to see him much.
Posted via Mobile Device
He is a bit long in the back and has limited range in his front end (notice in the jump photo his forearms point down and are not even). He jumps flat (probably due to the long back).

He is put together solidly.. like a horse you can rely on. If he was mixed with anything I would guess Standardbred.

He looks like a nice, reliable horse. Not pretty, not perfect, but reliable and al in all that is a very good thing.
---
There is something about the outside of a horse that is good for the inside of a man.
~Winston Churchill
(or woman!!!!
) Dinosaur Horse Trainer
Thanks Elana :)
Posted via Mobile Device
When I first glanced at the pictures, I immediately thought of Shorty, my old (now-retired and raising another Pony Clubber on a free lease, lol) QH.
They could literally be twins, except Shorty was more "wild" bay, with a touch lighter body and slivery points.

I'd vote QH for sure...and it is honestly freaky how much they resemble each other! Conformation wise, he looks solid. He's definitely a keeper....Funny, too, how guys like this don't always look like much standing still, but can somehow moooove, lol. Although Shorty was notorious for the "pony trot" ;)
Haha thanks for telling me about Shorty! I'd love to see pictures if you have any. :]