Critique my gelding.
---
Hei everyone!
I have posted pictures of Caliph about a year ago. Now he has started his way as a riding horse.
So what do you think of him. I don't mind if you are hars cause I would like to now more about his strengths and weaknesses. He is a 3-year-old gelding and has been in regular training for a few months.
Pictures are taken few weeks ago. Now he has been a bit too eager eating in the pasture so we'll be having a bit more intensive trainings.
And this is my first time taking confo shots. I hope they are good enough.
over at the knee, toed out in the back. sorry i'm not better at critiquing but he has a sweet expression and i think hes cute :)
---
No whisper of lover, no trilling of bird, can stir me as hooves of horses have stirred.
Wit beyond measure is man's greatest treasure!
I wonder what is that bump on his front left leg, just over his knee? Some sort of swelling?
He is toed out , front left and both back legs.
Has a nice strong back and good shoulders. Good neck length and overall looks like a pretty sturdy, strong horse.
Thank you.
The "bump" is not acutally so visible. I have no idea why this pictures turned out like that. It probably has been there since he was little cause no one has ever noticed something unusual. And I checked yesterday evening - both frot legs are still the same so it might be this "bump" is just not visible on the other leg on this photo.
What breed is he, hano?
The 'bump' is just a conformation fault, he's fairly over at the knee and has very short, upright pasterns. Frequent,
good
trims are a must for this guy, you want to make sure he doesn't develop underrun heels so he doesn't have extra stress put on his tendons. He also seems a tiny bit cow hocked in the back, and a bit camped under in the front & back. Nice short back, a little shorter neck than I'd like to see but it ties in well - although the short neck makes his head seem a little big. If he is hanoverian, the long ears are expected
He's got a nice upright shoulder, I could see him excelling in the hunter or dressage ring.
Overall, big beautiful boy you've got there who I would expect to also have some big, beautiful floaty movement!
Nope, no hano. Mother is a tori (toric) horse who most probably has some hano blood but quite far in her pedigree and father is a pure trakehner. Toris are bred with hano lines so i think they do look similar though. And the big ears are his mother fault
His neck is short...that is somethin I have been a bit worried all the time. And that makes me work harder while getting him move on a bit.
His movements are what makes all his bad looks good. He moves really well from the back and uses his hind end extremely powerfully. Unlike his siblings he shows really beautiful movements so I might have a chance to be back on the dressage ring one day.
I can definitely see the trakehner in his body now that you mention it! I could really see him excelling in dressage, so your chances of being back in the ring I'd say are pretty high. It would also benefit his conformation faults - jumping could put some extra stress on those tendons due to the fact that he's already over at the knee. If you want his legs to appear a bit straight, clipping his feathers would really help.
This is my ottb who's also over at the knee, he raced for 7 years and I rode him in the hunter ring for a bit until he bowed a tendon, so just something to look out for later on . This photo was in his mid-shedding stage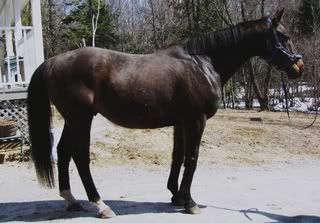 I have been clipping the feathers. But it's something I have to write down so i could remebmer it because we only clip older ones who are allready compeating and this fellow is still in his learing stage (and acting like a real teenager lately).

I'm not so much worried about his tendons. All his older brodhers are also over at the knee (a bit more than this fellow in some point). They are all sold now and are showing really good results in jumping. None of them has problems and older ones have been in the jumping ring for more than 7 years.
But I will be concetrating more on the basic dressage. We have jumped just to teach him this but I'm gessing we'll not go further than 100cm (3.3 feet?) I suppose. Not in the next 2 years at least.

I envy you. Your OTTB has a tale =) I have no idea what my gelding did but his is just a little ugly thing back there. I try to wash it after every 2 months so it would atleast look a little bit good.
I think he is very beautiful!!
---
No hour of life is wasted that is spent in the saddle

He is very good looking, The only things that I can pick up on are
He is very short backed
over at the knee
And he has very angular pasterns in front.
He is a very sweet looking chap tho