Critique my Haflinger gelding.
---
This is my 6yr 14.1h haflinger gelding. Hes never going to be a show pony but let me know what you think!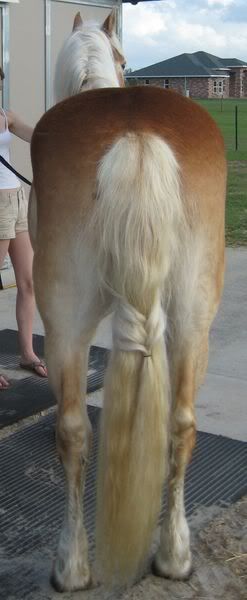 I'm not a critique, but I thought I'd say he is BEAUTIFUL!
---
Proud ownser of..
Valiant Leader, 9 yr old 16.0hh OTTB gelding..
Yoki, 5 month old 27 " miniature stud..
I found the video I made of him. You have to kinda watch through most of it even though it has nothing to do with his critique there is a couple of bits of him trotting a bit. Maybe its just one? lol Anyway it may help, it may not. Its there either way! =P
http://www.youtube.com/watch?v=JEiqKR8oRTs
edited to remove swear words :) - jazzyrider
I notice that in 99% of his pics he seems to always have his left leg infront of his right. Even in the shot of him trotting he ends with his left leg out in front. I'm not sure if thats just the way he ends up standing in most of the pics or if its a conformation flaw. Hes always figity so getting him to stand still tends to be quite a challenge. :roll:
He's adorable. He seems pigeon toed. His pasterns seem too straight. Seems downhill and needs muscling in the hind quarters.
---
"Doing what you like is freedom, liking what you do is happiness."
Hehe yeah hes quite a fatty. Hes going to be getting worked here shortly when I get a set schedule at work.
He's pretty cute!
Haflingers are so beautiful.
---
Ride more, worry less.
your guy is really cute, he makes me want to buy that breed next. I hear they are pretty good at lower level dressage. he looks bigger than 14.1hh to me.
He actually might be. I've never actually measured him although I really should. Hes the same height as the average qh w/e that might be =/. In human height I'm 5'9" and hes about 3" taller than me. I suck at estimations...I'll just ask the vet the next time she comes out. Hes a big boy but hes got a beautiful trot on him =D
Yearling
Join Date: Sep 2007
Location: Delregans Way Performance horses QLD AUS
Posts: 773
• Horses: 0
Quote:
Hes never going to be a show pony but let me know what you think!
Never say never
I love his colouring, he is just adorable!
---
Delregans Way Performance Horses
Bundaberg, QLD
Australia