Critique my horse please
---
He's not looking that fantastic at the mo but here he is :)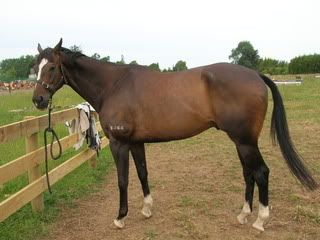 He's a looker!
The only thing I think might need improvement is muscle along the topline. Otherwise he looks good! I can't find anything that jumps out at me as being wrong.
---
The lovely images above provided by CVLC Photography cvlphotography.com
Nice boy. I like everything except the front hoofs. They look like trimmed too much on back (and angle is not great), but may be it's just a pic.
Yeah, I'd just say a lot of muscle tone in his croup, withers and topline would make him look absolutely wonderful!!
---
Have you hugged your horse today?
Yeah his muscle tone in general is not flash. He was a bit underweight when i got him so it has taken time to build him up to this level.
Yeah, just add some more muscle to him.
What a stunner!
What a handsome boy! Mommy's done him proud, just a bit more top line and he'll be perfect!
He seems cow-hocked and his back is rather long.
---
"Doing what you like is freedom, liking what you do is happiness."
Legs seem too long in porportion to his body. Love his upper body. Looks cowhocked. Yes i agree with topline too.