Critique my horses!
---
Horse One (keep in mind, in most of these pictures, he's over 18, most of them he's over 23)
Photo One, His Right Side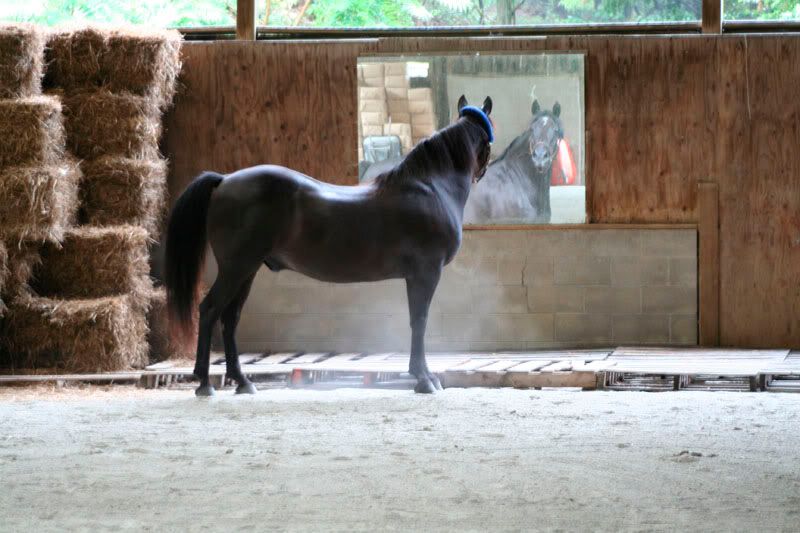 (Age 23)
Photo Two, His Left Side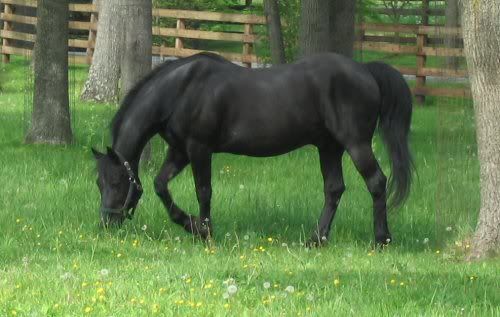 (I know its not the greatest picture, but I don't think I have any others of his left side)
(Age, 22)
Photo Three, Head & Neck from the side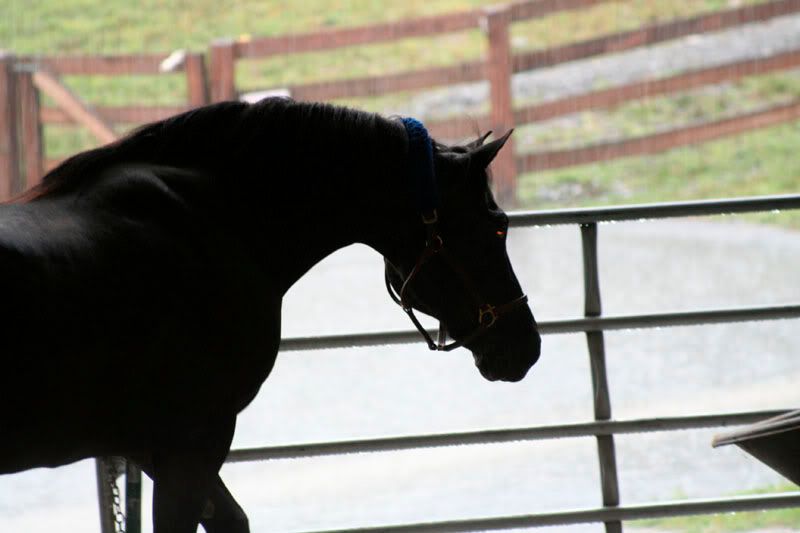 (Age 23)
Photo Four, Front Legs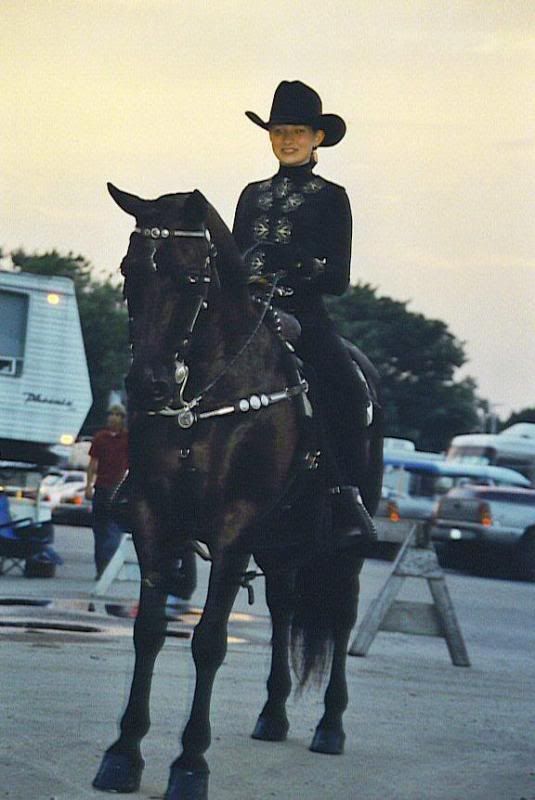 (Age 20)
Photo Five, Back Legs (not the best quality, I know.. I don't have any better ones of his back)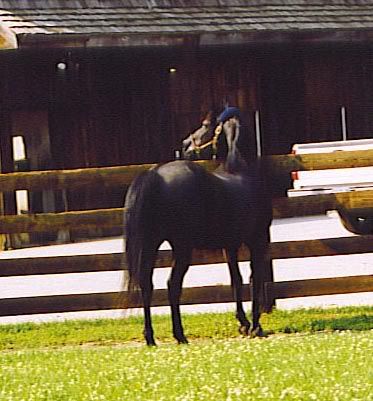 Edited- I accidentally posted before I was ready, bare with me I'm adding the second horse now
---
Last edited by drop_your_reins; 12-13-2008 at

07:52 PM

.
Gasp... he looks like a stallion! I bet he's looking in the mirror thinking "My, look at what a handsome fella I am!"
---
Satin Reign aka "Misty"... my life, my love, my everything.
hmm I couldn't edit it, so I'll put the rest here. And thank you, Misty's Girl!
My comments on Horse One:
I LOVE the way he is built, I wouldn't change a thing, except maybe fix his sway back a bit.
Horse Two
In the photos, she's two turning three in a few months. In the video she's three and was only U/S for two months. Don't critique my riding, its gotten terrible since I started training her! :P (oh and her mane now lays on the correct side! Theres a few where its laying on the left side.. I also don't have as many photos of her, so she may be harder to critique, for that sake there is a video too.
Photo One, Left Side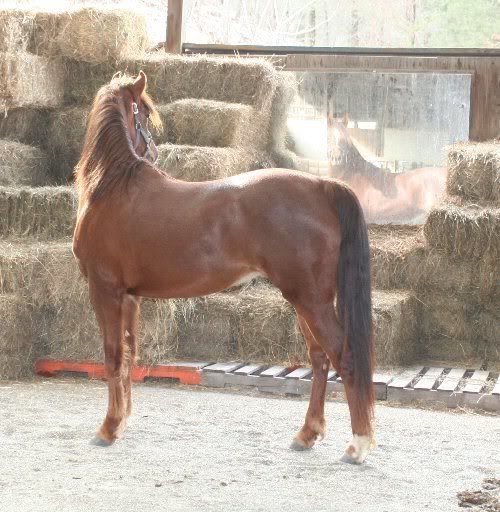 Photo Two, Right Side
(she is standing a little under herself in the front)
Photo Three, free walk/side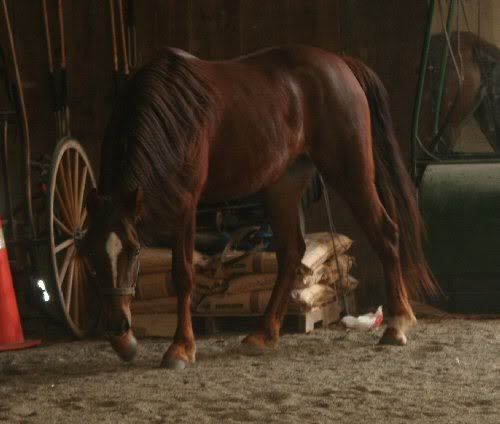 Photo Four, free trot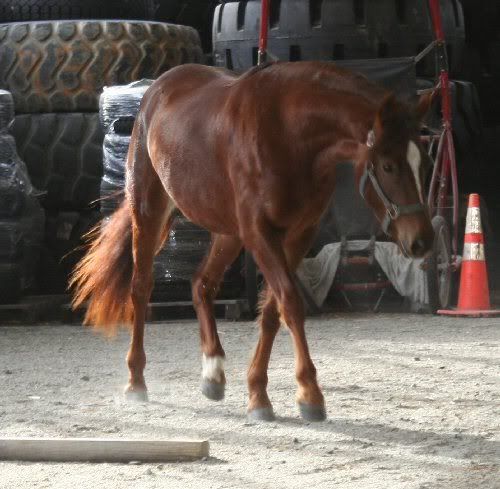 Photo Five, Right Side
(I hate this photo of her, btw, but its good for conformation purposes, I suppose.. She's not square, shoot me, and her neck looks funny here.. Her neck is a lot nicer in bridle, as you'll see for yourself.)
Photo Six, good shot from behind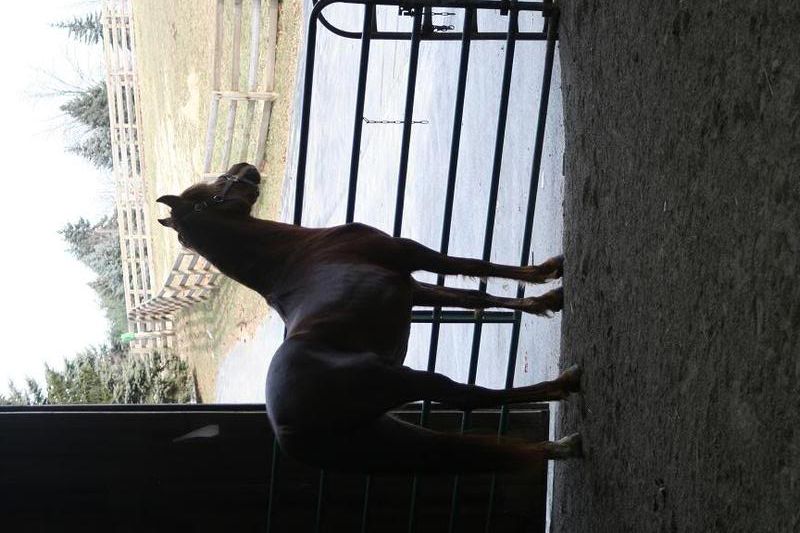 Photo Seven, Parking Out.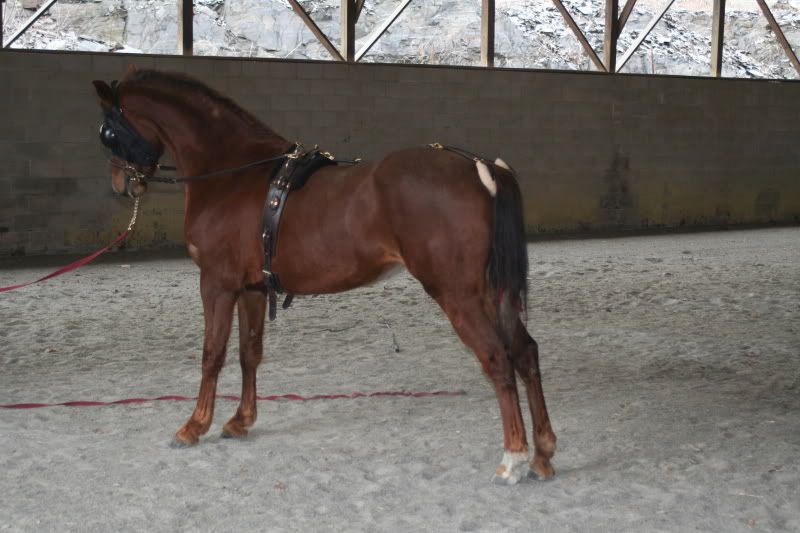 Free Movement, Trot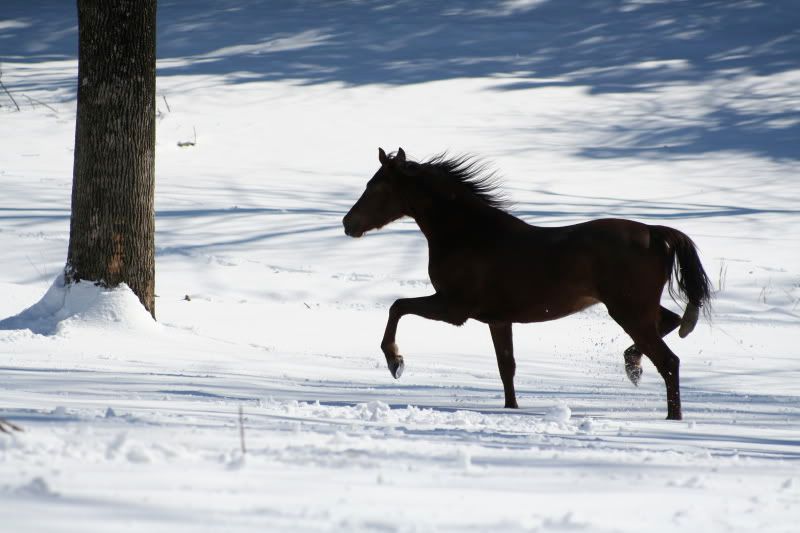 Free Movement, Canter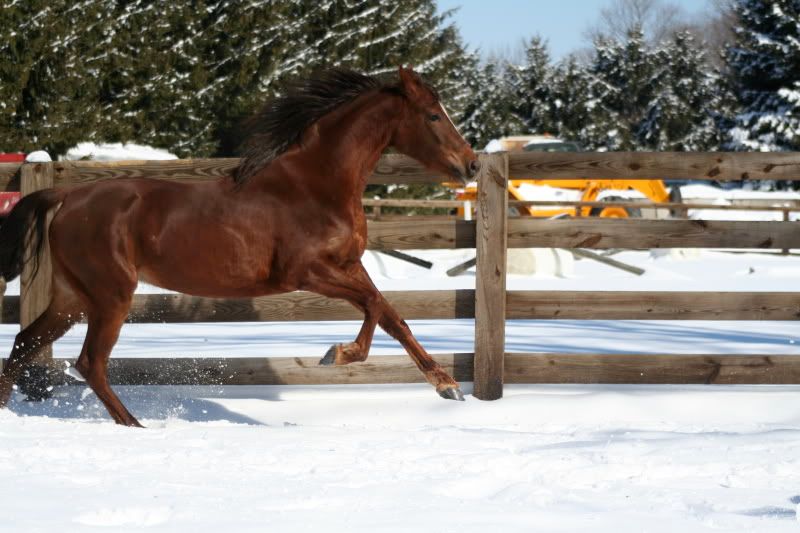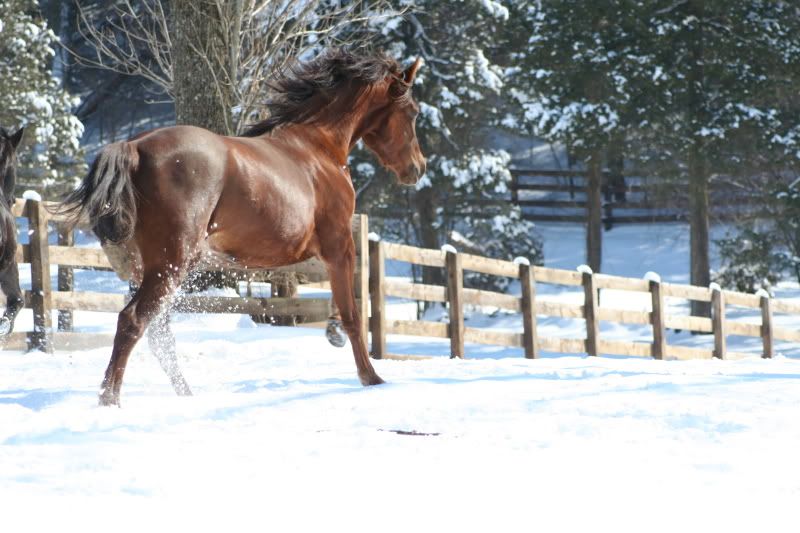 Video Stills:
Trot: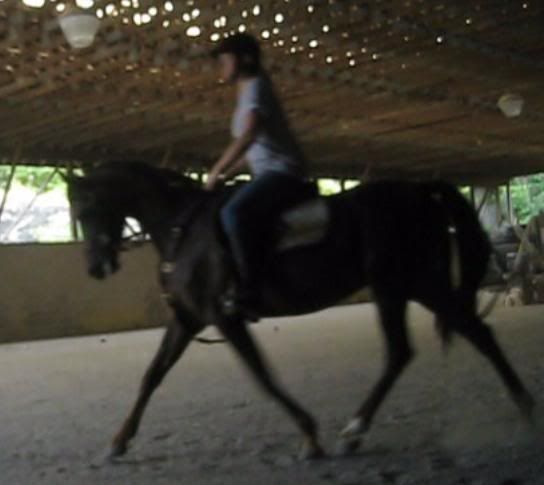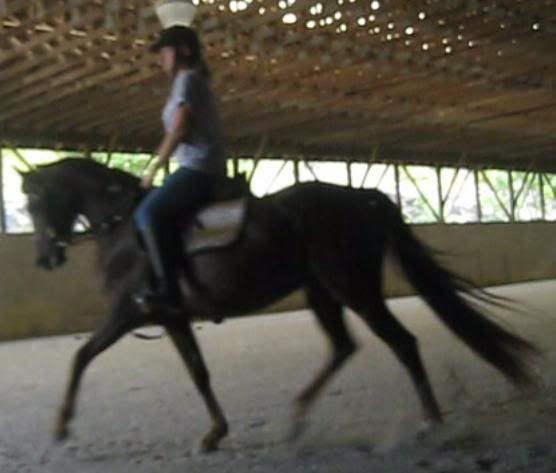 Canter: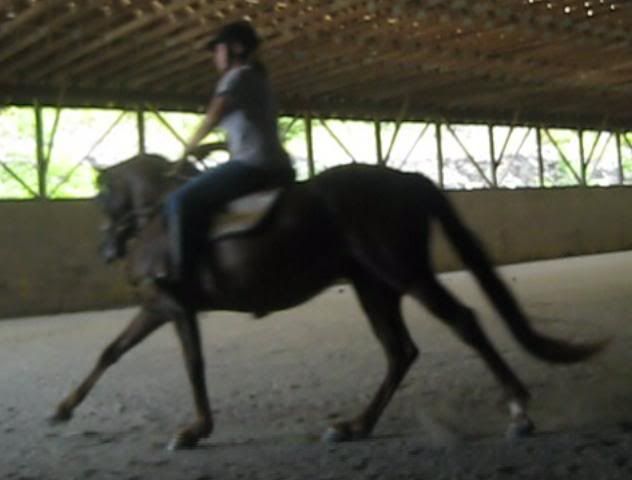 Video:
My comments,
Her conformation isn't initially impressive, but I think when you see her move, she's very impressive. That's what sold me on her. I went to see her, and they let her loose in a snowy arena, and she just snorted and trotted and cantered. She's got very big strides at the trot and canter for her petite frame! She MOVES! My least favorite thing about her is her shoulder/neck, but I think it looks great in leather, so I don't mind it as much. Otherwise, I think she is put together well, no flaws stick out at me, except her neck/shoulder.
Oh, the rub on Horse two (chestnut)'s shoulder is from her blanket.. Those were a year ago.. She has a new blanket this winter (YAY!) and no rub!
Your horses are beautiful! Especially the younger one! She is a beautiful mover! I love the hind end action in the snow! The first horse looks a bit downhill in the first photo, but otherwise not too shabby.

What are their pedigrees like?
Thank you.. I see what your saying about Horse One (Smokey), I attribute it to two things, his huge hind end and his sway back. He's probably an inch higher at the rump than he is at the withers, which is a bit of a flaw, but it does give him a lot of power and drive from behind. He also may look downhill because he does have a sway back, but he's older, age is a major factor. But thank you!
And their pedigrees, they are both Morgans:
Horse One: Windfield Gunsmoke
Windfield Gunsmoke Morgan
More on his sire:
Windfield Morgan Farm Equinox Tristan
Horse Two: Blackmeadow Boleyn Girl
Blackmeadow Boleyn Girl Morgan
More on her sire (the first one):
Untitled Document
Her dam is the cutest little typey chestnut mare! She is a sweetheart. I've always admired Stonehelm Taliesin get, particularly his grandson, Simply Maserati.. (Scarlet is a granddaughter as well)
Simply Maserati
I actually got to see him here, at the parade of champions! He is breathtaking.. I've always wanted a foal by him!
They are both beautiful and the filly is an excellent mover. In the first pic of the gelding, he looks like a Breyer model horse. It took me a minute to realize that it was an actual horse. He is gorgeous.
---
Always remember that feeling of looking at a big, open country over the ears of a good horse, seeing a new trail unwind ahead of you, and that ever-spectacular view from the top of the ridge!!! Follow my training blog:
http://robertsontraining.blogspot.com/
Your horses are beautiful. The only thing I would watch with the filly is her pasterns in the back. They seem to drop down a bit lower than normal. I've seen it before with my friends morgans. You might try riding her in polos ti help support the suspensory.
---
5 horses
7 ponies
Thanks for the tip Farm mom, I usually use splint boots so she doesn't get discouraged if she hits her legs, since she is still learning. Not in the video though, I just realized.. I can use polos though.. I never really noticed it before, but her pasterns are angled poorly compared to my gelding's.. I'm wondering if it looks worst because she is trimmed so short. She has decent hooves and can grow a decent hoof and is sound barefoot.. My gelding has immaculate hooves though, he could probably grow a 6+ inch hoof without really needing a trim, except on his heels since they tend to grow faster. She'll start spreading before he will though, I've actually never seen him spread.. sometimes we push him to almost three months and I'll just intermediately trim him with a rasp..

Anyway I'm wondering if her short hooves in those pictures play a role, either way she's probably not as hardy and shock resistant as my gelding..

And thank you smrobs!
Yah, I figured the downhill-ness was swayback related.