Critique my horsey!
---
Please critique my horse! He is a 14-year old TB gelding. He has not been ridden for the last 4 months or so b/c our Girl Scout council is stupid, so he has some flab around his hindquarters and chest area. He looks chunky, but he just has a HUGE barrel! Anyways, here are his pictures: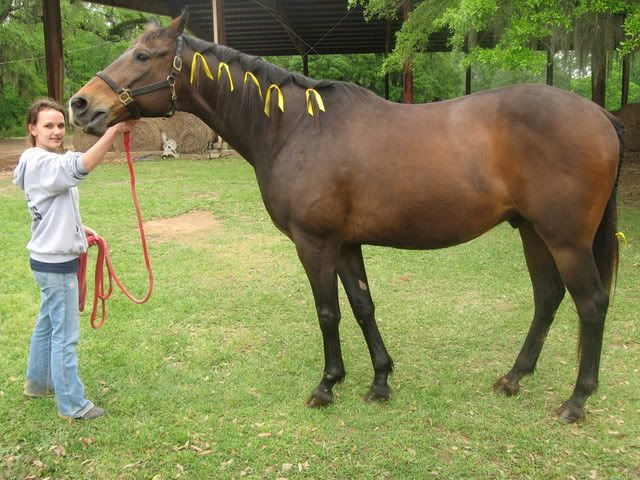 His right side. I'm by his head. I've been told he looks really big compared to me.
His rear. Sorry about his tail, but you can kinda see what he looks like.
His left side.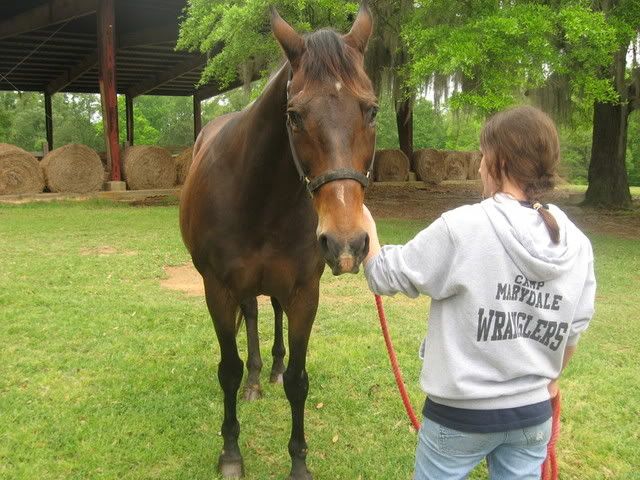 His chest, kinda. His head's in the way.
Just a cute picture of me and him!
I just want some basic confo critique. Also, does he look like he would be a good jumper? That's what I want to do with him if I get him, but I might just stick to flatwork if he's not built for jumping. Anyways, thanks![/list]
I'm not too good at these but I think he has a really nice conformation. He doesn't look pigeon toed, toed out or cow hocked, he doesn't have a steep croup but I'd like to see it a little flatter. His neck ties into his chest at a nice point, its doesn't tie in too low. His shoulder looks fine to me, it has a nice angle to it.
He's very cute. And great job on braiding him! Lol!
Thanks guys! He has pretty good bloodlines (I think.) From what I've been told, his dam is Thymus Lucy, but that wouldn't make sense because she was born in '91 and he was born in '92. So, I'm not quite sure. I'm going to look at his papers soon. Anyways, thanks for the good comments! Doesn't he look great in yellow?!
Yellow is a good color on him. :) I just bought a bay and I can decide what color to make him yet.

Do you know how he got those scars on his head?
I never got the straight story because it happened at night and no one saw. But what I heard was that someone rode him on a overnight trail ride. During the night, he must have rammed his head into a tree or something b/c the next morning, he had two sticks like stuck in his head! The vet said he's fine though. I know it was really scary!
BUMP! Anyone else wanna have a go? I want a lot of opinions!
He looks very well built to be able to jump. He's nicely put together and his hawks and knees look pretty good. I think he would have no problem jumping
By the way he looks so cute in yellow!
---
It is not just a horse,
It is the one thing that keeps me from being just a girl
thanks britt! i'm glad someone answered my question about jumping him. he does look cute in yellow!
He looks cow-hocked and seems to have a goose-rump. He's rather on the chunky side.
---
"Doing what you like is freedom, liking what you do is happiness."