Critique my jumping please! *PICS*
---
So I've had my wonderful pony April for a month today, and we've been doing a bit of everything, just getting to know each other, and the other day, my friend came down and took pics and a vid of us jumping and would love to get some constructive criticism about it!
By the way, April absolutely adores jumping, i can tell when i ride her and bounds to the jump when she knows were jumping so just so you know she does get a bit (okay a lot lol) excitable!
We only have barrels to make a jump hense the small size and lack of variety :( and im sure she could go much bigger we just dont have the chance, but here we go ...
straight
and crosspole
i really like these two pictures, i feel like im folding and giving her a decent release (i know i can still work on that, my elbows stick out a lot lol) and my legs look and felt like they were pretty darn stable, which im pleased about, but when we come into the jump on a dodgy stride, i find it really hard to 'go' with April, unless i have someone shouting out to me to fold! And i end up not giving with my hands but just bending over and i really wanna sort this out so i dont keep yanking on her mouth!
and we end up like this (poor pony!)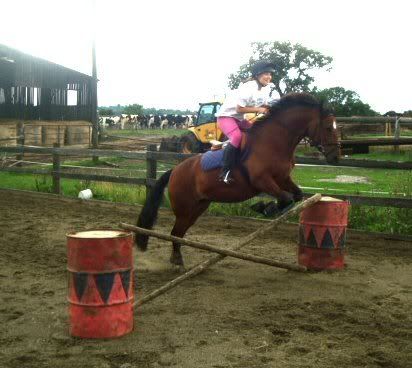 Any advice would be great!! thanks :)
Banned
Join Date: Dec 2008
Location: At my house, or stable, duh!(Michigan)
Posts: 2,479
• Horses:
3
You look super good. Te last pics ot looks like you are tying to jump it for her. but overall, you and your horse have gorgeous form
ah thank you so much its great to hear that, i used to have the utter worst position over jumps but now i think im slowly but surely getting there and its so nice to hear good feedback!
yeah thats true about the last one lol i think she got in too deep and i do this bad thing of trying to pick the horse up and sort of carry them over if they get too close :S not good but im sure i'll get there eventually!
thank you for your comment :)
Your lower body looks pretty good, but you are shoving the reins at her, resulting in your chicken elbows. Focus on keeping your elbows in and following her mouth along the top of her neck
yeah i know my upper body is the problem and am trying to work on it but good advice thank you, i find it hard to find the balance between allowing enough with my hands and chucking my reins, and have only just started to notice my elbow stick right out lol but something definately to work on!
Banned
Join Date: Dec 2008
Location: At my house, or stable, duh!(Michigan)
Posts: 2,479
• Horses:
3
also straiten up your back it looks hunched. And you have a awesome position, just try to fix the things that we told you about.
You two look cute together! Just bring in your elbows, and try not to fling the reins at her quite so much; Your back looks fine in some of the pics, so I think it depends on where your arms are winding up, that your back 'shapes' the way it does...
---
"The ideal horseman has the courage of a lion, the patience of a saint, and the hands of a woman..."