Critique my jumping style?
---
I've had heaps of people say that my position is great (most of the time!) but I just wanted an opinion from someone not from Australia!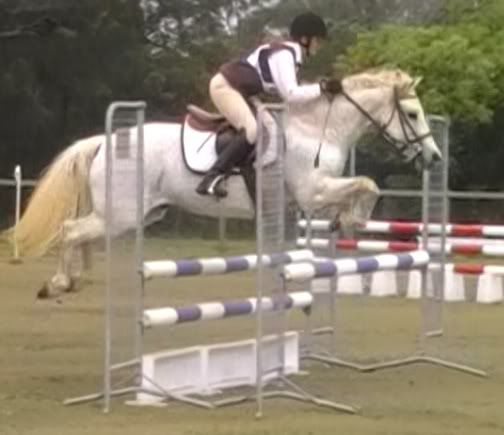 There's also a video of me in a jumping equitation (hunter) round:
---
"We are the light, in a street of sparkless matches" - Shaun Diviney
You need to put more weight in your heels so your leg doesn't slip back. Y. You may to try practicing an automatic release so you dont have to put your hands so forward.In the video you need to do release a little but more it looks like. I love that you don't over do when you jump and you just go with the horse. Otherwise you just need to work on your leg and heel. And releasing over the jump.

Oh and your horse is amazing. And lucky you in live Australia.
---
Don't Dream it. Be it.
I LOVE how you ride. I'm very jealous. I agree with Bluemoon about your leg. I think if you moved up to an autorelease it would really work well for your position.
Please tell me you won that round in the video.
---
You can never take a Thoroughbred away from a horse crazy girl.
You're a very good rider, very active, which is great. You're not just sitting there letting thre horse do the work.

More weight in your heels, release, other than that you're looking great. Your horse is amazing!
In the pictures your legs seemed to really slip back, but in the video that wasn't the case at all, and my only comment is (as the others said) more of an auto-release. If you don't know what it is google it.

I think your legs just seem to slip back over larger jumps.
---
"The wise man thinks he knows nothing.
The fool thinks he knows everything."
i think your position is great, but you need to get out of his mouth. the shank of the bit is horizontal throughout the entire video, which means constant pressure, and at one point of the video, his nose is almost touching his chest for quite a long time. other than that, i think your jumping technique is amazing
I love in the video how your jumps look so effortless :) I'm rather jealous. The only thing I can pick at is your leg (as others have mentioned) On a few of the jumps it looks like you're putting all your weight behind you on your legs, which can eventually cause you to jump ahead. Otherwise I quite like the way you ride.
---
Worth The Wait <3
Thanks for the feedback everyone!
I do have an issue with my legs going back, but I'm improving on it
and I've never tried an automatic release, but I'll give it a go next time I jump.
and eventerwannabe, i did win it :)
---
"We are the light, in a street of sparkless matches" - Shaun Diviney
I just love how you go with the horse over each jump...none of the perching you see so much of.....
What kind of horse is he/she? Besides beautiful that is....
Can I borrow your position next time I go to a show? You look great. So nice to see someone not jumping ahead for a change.
---
You just have to see your distance...you don't have to like it.