Critique my mare? Movement as well...
---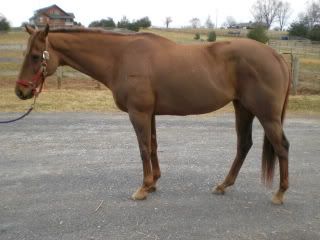 I know, she isn't standing square so it's going to be difficult, but I'm curious. She is a 12 year old thoroughbred mare. We are planning on using her as an english pleasure horse when my mother starts showing (on the local circuit), but right now she isn't doing anything except a few lessons.
You can be very honest, I won't get upset if you are critical, we aren't breeding her so it doesn't matter too much.
I
---
She is a really nice mare! Once she is really fit, she will look even better. She looks really sweet, And calm for a thoroughbred. perfect age. I would have to see her gaits to really see if she was a good pleasure mare, but other then that she looks really good!
!
She went to a hunter show last weekend with my mother's trainer. We only made her go 2'6" and she placed 4th on both in the jumping classes and a 2nd on the hack out of... 32 I think. I don't know if we can make a her a nice pleasure horse, but she was breed to be a hunter so that's always an option.

And yeah, I don't ride her much since I just bought a horse and my mother is only just learning to canter. Basically she hasn't been working since my mother's trainer broke her back. But she is back into work now and hopefully we can get her in shape soon.
She looks like she has a nice short back. Her back seems a little far back most likely due to the higher withers. No prob there, I think. She has a good long hip. Is it just mer or does her tail head seem evena teeny bit low? I think she looks very nice. She gave me the first impression of a Buddeny for some reason. lol. I agree with when she is fit and has even more muscle!
---
WHATS REALITY?
lovely mare!

the only thing I noticed right away was in the first picture. It looks like her neck is set a little low near the withers but I think that's just because her withers are tall.
Wow, I found a picture of her taken the day after we bought her about a year and a half ago. She looks like a completely different horse.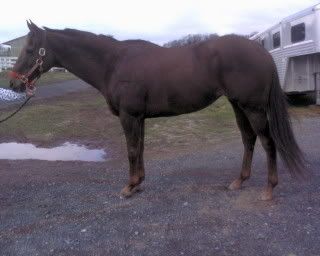 And yes, she is standing on a hill.
Oh, and thanks for the critiques so far.
I think she is beautiful the only things I noticed ares she has a very straight shoulder which means she may have a choppy trot or walk and if I wanted to get really picky I'd say her back pasterns are slightly longer than I normally see but that isn't really a noticeable.
I dont like her neck and how it joins on to her body...looks odd.
---
Lexington Farm
~
LX
She's pretty, looks like an angel, although I see some minor technicalities. She is built uphill. She also needs much much more top line muscling. Appears to have a goose-rump. She seems cow-hocked. Her neck is much too straight, I personally dislike how it ties into her chest. Also, in the first picture she appears slightly sickle-hocked. But she seems to have a lovely personality.
---
"Doing what you like is freedom, liking what you do is happiness."