Critique my mares confo?
---
Her name is Summer Breeze and she's an 8 year old grade horse. This was just after I hosed her down after a 2 1/2 hour workout a few days before our first show.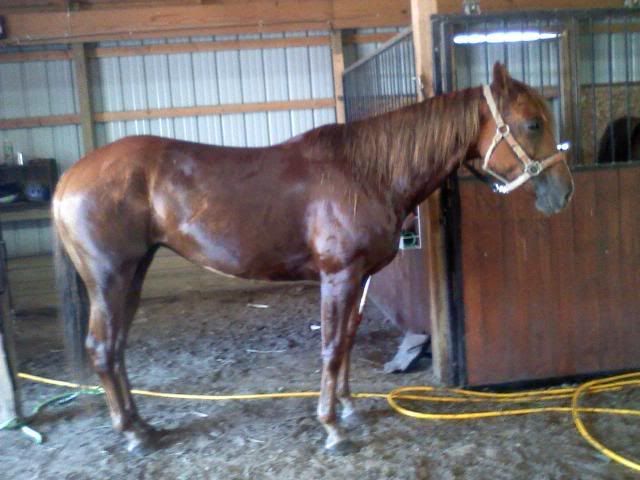 Either her neck is a bit thin or her head is a little big but they just don't seem to go well together. She is very camped under in the back and a little on the front but that is really all I see. She is a very pretty horse, I love her muscle mass. Well built but not too bulky.
Lol. Thanks. I think that halter makes her head look larger [and it was taken on my cell phone and she moved so its blurred] but I noticed the thing with her back legs too. She doesn't usually stand like that so it struck me as odd in this picture.
If she doesn't normally stand like that, then it is probably not as serious a fault as it looks. She may have been a little uncomfortable after the bath or something.
She is personally a little too thin for me. If she were to gain a little weight, it would be easier to build up her topline, chest, and neck, and therefore be more proportional to her head, lol.

She is really cute though. =]
---
"Great spirits have always encountered violent opposition from mediocre minds."

She does look a little thin, but I don't think she really is. I think it's more her build. She is definatly camped under herself in both the back and front and has a skinny neck
Lol. It's interesting that you guys say she's thin. Everytime I take her to the trainer's she loses A LOT of weight within the first week. I even took her normal diet of grain from home to the trainer's to help. She ate more than even the pregnant mare when she was there and still got thin. We recently brought her back home and she filled right out again. Anyone else ever had something like this?
She probably isn't getting the right amount of nutrition for the work she is doing at the trainers. If she's working more, she needs to eat more. It is worrisome that she loses a lot during the first week, it's never good to drop so much weight so fast. Maybe next time she is sent to the trainers, you can fatten her up first? Fat turns into muscle, and if she doesn't have any, she's just going to burn muscle to make muscle.
---
"Great spirits have always encountered violent opposition from mediocre minds."

She usually is a bit over the weight she should be at home [I spoil her to death] but when she goes to the trainer's she gets 1.5 times what she does at home in grain. I think what makes her lose weight is because at the trainer's she's on a rationed amount of hay and at home she gets free choice of hay from 7:00 am to 4:00 pm, then I work her.
There are two reasons why she would be losing the weight.

Not enough good, which sounds like this is true.

And stress, some of my horses will lose weight very quickly when they are stressed!