Critique My New Mustang Filly?
---
Hi. I'm new here. Haha. :) I just bought a new 3yo. Mustang Filly yesterday, and I was wondering what some of y'all thought about her as a Trail and Barrel prospect. Her name is Yazi which is Indian for "Little One". She jumps 3' under saddle, but hasn't been tried on jumps any higher yet. I know that these are by no means conformation shots, but I don't have her at my barn yet, and these are just the pictures that were sent to me prior to my buying her. After I get her to my barn, I'll take better picture. Thanks for the opinions!! :)
Yazi Under Saddle In The Round Pen
Yazi Jumping 3'
Yazi's Neck Brand (I was also wondering if anybody could read this, so I can get her papers. I know it says she was born in 06, but it's hard to make out the rest.)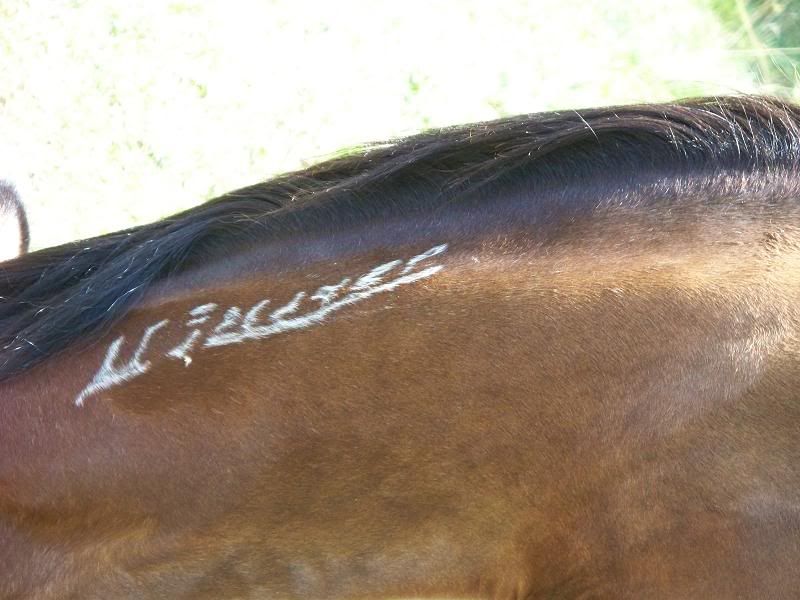 She's got some funky back legs, but other than that I really like her. She has some of the coolest markings ever!
Haha. :) The coolest one is actually on her belly!! Starting about right behind her front legs, she has a white stripe running half way down her stomach! It's so cute when she rolls!
No harsh critiques? :( or maybe i should be happy!? :)
---
~ SabreBaby. :)
you can call the mustang reg and they can tell you how to read it and what year she was born ect
---
i have my bloodhound & my horses what more can a girl ask for?
I kind of know how to read it. With the whole 8 point star and all, but these were a little difficult to read.... But thanks for the advice. I think I'll call once I get her here... :)
---
~ SabreBaby. :)
She's gorgeous. Can't critique much from the photos but she's a very pretty girl.
:]
---
I give myself very good advice, But I very seldom follow it